Generous, passionate and always involved, Paula Whitman was one of Queensland architecture's most enthusiastic participants. Jennifer Taylor and Sarah Rush remember a friend, colleague and teacher, Paula Whitman, BArch, MAppSc, PhD, FRAIA.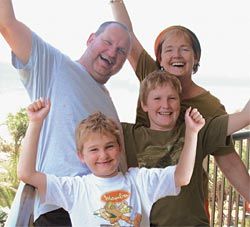 Beautiful Paula. On Monday 23 October 2006, Queensland architecture lost one of its most sparkling stars. I know no one who loved life more than Paula Whitman – she rejoiced in its every moment, sharing with those around her the glory of the world. It is hard for us to realize that that vivacious sparkle, while it is still with us, is no longer amongst us – it is now shining elsewhere.
I came to know Paula in 1998, when she was enthusiastically teaching at Queensland University of Technology, was writing her PhD, was very pregnant with Charlie, and had husband John and three-year-old William to go home to – all of which she juggled with effortless joy. As well as her rewards with the family, in 2000 she was awarded her doctorate from Griffith University. But, before too long, a further demand was to be placed on her. In 2001 she was diagnosed with cancer, underwent surgery and treatment followed.
Remarkably, she quickly put this behind her and, with courage and her winning smile, continued to look forward, never backwards. Before long, she was teaching again with renewed vigour and her magical sense of humour, bravely facing her problems openly.
Paula was always a very high achiever, winning many prizes as an undergraduate, including the 1978 Board of Architects Queensland Prize, and, in 1983, graduating with the Board of Architects of Queensland Prize, the QIT Medal and the Royal Australian Institute of Architects' QIA Medallion. After ten years in practice, she commenced her master's studies and was appointed to the staff of QUT in 1993, a position she continued to hold throughout her career.
Paula was a gifted teacher. I was privileged to teach with her in research programmes and design studios, and on student field trips, including a memorable visit with the students by train to Townsville (William and Charlie came with us). She had a remarkably relaxed and engaging manner, and an undeterred enthusiasm that was infectious. Somehow she managed to put herself and the students on the same side, working together towards some important end (and Paula would make sure they all had fun on the way). I guess it was the touch of the larrikin in her. It was always a joy to see her perform. Students described her as a "fantastic lecturer", and even more importantly wrote of her as "friendly, sincere, interested". But it was not just the students, but also her colleagues who enjoyed, and were assisted by, her generous and encouraging companionship. How fortunate her colleagues and students are to have had Paula's presence amongst them.
In 2000, in her pursuit of excellence in architectural education, Paula extended her career to lead the Education Committee of the chapter, and in 2002 rose to become deputy chair of the RAIA National Education Committee. Despite reoccurrences of her illness, Paula was determined to continue to perform. And perform she did, becoming president of the Queensland Chapter of the RAIA in 2004. She always appreciated the willing cooperation she received from the local chapter, which helped to pave her way. With her winning charm, concern for things that matter, and never-failing good humour, Paula quickly became one of the most admired presidents we have had. She was a remarkable ambassador for the Queensland Chapter in Brisbane, throughout the state, and in Canberra. How fortunate the profession is to have had Paula's presence amongst us.
One of the major contributions of her presidency and her academic career was her sustained effort to improve collaboration and communication in practice, and to support the role of women in the profession.
In 2004, she was a member of a team that won the Sisalation Prize for the publication of a book, Coalitions and Collaborations in Contemporary Practice. Paula was a member of the National Association of Women in Construction, and in 2004 was awarded the Year of the Built Environment Award for her outstanding efforts to improve the place of women in architecture.
In 2005, she published a remarkable study, Going Places: The Career Progression of Women in the Architecture Profession, which made a valuable contribution to understanding the expectations of women in architecture. How fortunate we, the women of architecture, are to have had Paula's presence amongst us.
It always seemed to me that Paula's life became enriched through her private encounters with her illness; somehow she became warmer, more joyful, and delighted even more than before in everything she did and in everything she saw. Certainly, she fashioned many of her major gifts to us, her family, friends, colleagues, students and people in the street, after 2001. She lived life all the way and, as a colleague commented, "she made a bloody good job of it".
It is an impossible task to write adequately of this wonderful woman who won everyone's admiration, and I cannot hope to give expression to the emotions many of you feel at this time. These few words are but a poor attempt to outline my reading of her ever-cheerful self and her legacy to us.
I am sure Paula would be happy to know that, on behalf of us all, I close by thanking John and the boys who, as she frequently told me, gave her the love, courage and support to carry on. Without those valuable years you gave to Paula, and Paula gave to us, Australian architects would be much the poorer.
JENNIFER TAYLOR WAS A FRIEND OF PAULA WHITMAN.
Paula's funeral
was a deeply moving celebration of her precious life. St Thomas Aquinas, St Lucia, was packed to overflowing with the sad faces of the people Paula touched – her adoring family, friends, peers and students. During the requiem mass and afterwards, her personal and professional legacy began to unfold: school captain, favourite lecturer, passionate architect, cool mum, best mate. Her funeral was like an architectural archaeological dig.
I will never forget the first day I met Paula. It was at the QUT Gardens Point campus in Brisbane. Paula was the fifth year coordinator for design. As she entered the classroom with boxes of printouts, unit outlines, criteria sheets and reading lists I quipped to my slightly bemused colleague, "Hang on boys, we have a live one here!" Paula's dynamic, contagious enthusiasm, her conversation and energy, and her cheeky, bright-eyed laugh blew us all away.
Paula could stack a lecture theatre. Her passion for architecture and the profession were addictive. I was never surprised to receive calls from Paula about exciting jobs to do, hot gossip, new "Paula" ways to extend capacity, or the long list of architectural gems that one really must go to and see as soon as possible. Paula inspired me to travel, gain international experience and to visit the buildings on her "must see list."  ›› As a student at QUT, I can recall numerous occasions on which a stream of students loitered at Paula's door. They were all waiting for a few minutes with her.
Students she was no longer teaching still came to her with their academic concerns.
She once asked me, "Do you think I'm too soft, a real pushover?" I think I replied, "Yes, of course." Perhaps this was because I would never have had her patience and concern. This is what made her such a wonderful teacher and mentor. Students came to Paula because they knew that she cared – not just for a semester, but for the whole length of their studies and beyond.
Paula had a broad concern for students and the future of architecture in Australia. She cherished youth and talent and, being young at heart, she related to all. Paula was in the business of "making architects not buildings". I remember her telling me that one of her proudest moments as the Queensland RAIA chapter president was presenting RAIA awards to past pupils at regional, state and national awards ceremonies. She remarked that some of those boys were shocking students, but that you knew, even then, they would make very talented architects. Undoubtedly she encouraged them along the way. Without this encouragement, they may have given up, but Paula didn't give up on them.
Paula was a shining light for women in architecture. She combined her skills, leadership and scholarship to promote the career progression of women in the profession. She was a mother, wife, believer, provider, designer, lecturer, writer, president, parishioner and rugby team manager and even, on the odd occasion, a tuckshop mum. Nothing was ever done by halves. She lived everyday to the full and shone love, strength and endless energy, with a smile, at every obstacle. It was passion and purpose all the way. We all miss her but know she will always remain in our hearts.
SARAH RUSH IS A GRADUATE OF QUT, A PAST STUDENT AND FRIEND OF DR PAULA WHITMAN.