… sunlight, shade and shadow. Elizabeth Musgrave remembers John Dalton.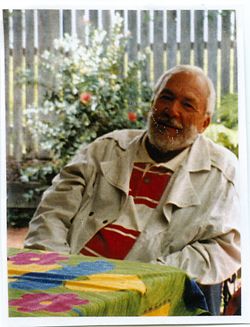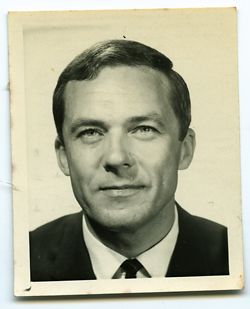 John Dalton was practitioner, critic, polemicist, artist, educator – a pivotal figure in architecture in Queensland between 1956, when he graduated, and 1979, when he entered a phase of semiretirement. Few have done as much here to argue for and promote architecture, art and design.
John Harold Dalton was born in 1927 in Leeds, Yorkshire, and immigrated on a returned serviceman's passage in 1950, aged 22 years. While working as an architectural draftsman for the Brisbane City Council he was encouraged to study architecture, enrolling at the University of Queensland and working part-time in the offices of, among others, Hayes and Scott and Theo Thynne and Associates. At this time influences were consolidating and lifelong friendships formed.
His distinguished professional career began with the Plywood Exhibition House (1956), the result of an open competition won by John Dalton and Peter Heathwood, with a design by Peter Heathwood. On the strength of their success Dalton and Heathwood set up practice, and within a short time each had completed significant works.
In 1959 John commenced practice as John Dalton Architect and Associates. Few practices can boast an output that so consistently attracted peer recognition. Architecture and Arts included a Dalton work in their "ten best houses of the year in Australia" in 1959–60, 1960–61 and 1961–62. Among them was the Dalton House (1960) at Fig Tree Pocket, which is still home for John's first wife, Sheila. An RAIA Commendation for Leverington House in 1962 was followed by Bronze Medal awards for the Wilson House, Mt Coot-tha (1964); the Graham House, Taringa (1967); the Vice-Chancellor's Residence, UQ (1972); and the Peden House, Moggill (1975). Work was also exhibited at the Lausanne Fair in 1959, Expo '67 Montreal and Expo '70 Osaka. Larger institutional commissions completed in the 1970s include the Arts Crafts and Music Building at the Darling Downs Institute of Advanced Education (1974), University House at Griffith University (1975), the Bardon Professional Centre (1976–77, awarded the RAIA Bronze Medal in 1978) and the TAFE Halls of Residence at Kelvin Grove (1978, awarded in 1979). Sadly, many of these works no longer exist or have been substantially altered. Contention surrounds a number of demolitions.
A prolific contributor to architectural journals and one-time Queensland correspondent for Architecture in Australia, John sought through his writing, in addition to his architecture, to promote good climatic design. His particular approach to "design for climate" is summed up in one of his numerous catchphrases:"Sun + Life + Useful Form = Architectural magic."¹ The play of light and shadow resulting from the composition of characteristic elements in the strong Queensland light did contribute to the development of a distinctive, idiomatic style. However, as a youngster growing up in a "Dalton house" I can attest to many hours spent basking in the sun on a veranda breezeway. Form was always directed to its proper purpose.
In 1979 John Dalton retreated from active practice, "retiring" with his second wife Sue to Allora on the Darling Downs. At Lambtail Cottage, John enjoyed a life that embraced photography, painting, sculpture, gardening, animal husbandry and visits from cherished children and grandchildren, but which did not exclude architecture entirely. In time, he re-established a sole practice, sharing space with long-time friend Dan Callaghan.
John kept friendships alive and lively through letters accompanied by his own beautiful drawings, collages and photographs, and sent in envelopes covered with exotic stamps. Shortly after my father's death, I wrote John that my decision to study architecture was entirely his fault and a consequence of watching the architect on site in control of his project. Instantly I became one of John's correspondents and, by extension, (junior) sparring partner. John remained sceptical about the role of "scholarship" in architecture as he felt that it came at the expense of the "art" of architecture. But there was nothing like a letter to brighten my day.
Sadly, John lost his battle with cancer on 27 May 2007. John Dalton is survived by his wife Sue, daughters Jane and Amanda, stepdaughter Fiona, six grandchildren and a great-grandson, who miss him greatly.
Elizabeth Musgrave is an architect and lecturer in architecture at the University of Queensland. The Musgrave House (1972) at Chelmer by John Dalton was her childhood home.
¹ Extract from an address to Queensland Architectural Students Association 1961 reproduced in Architecture and Arts, August 1961, p. 46.
Source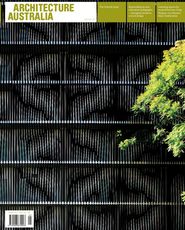 Issue
Architecture Australia, September 2007
Related topics