Vibrant to the last. John Gollings remembers his friend and mentor.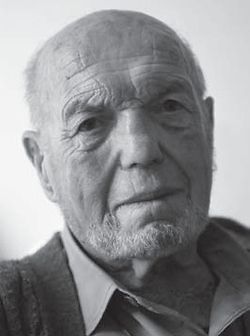 Wolfgang Sievers died in August, a month before his 94th birthday and vibrant to the last. He was a great Australian photographer, certainly the equal of Max Dupain, but with a "Melbourne" sensibility. From a background of German persecution he brought an amalgam of respect for the working man's dignity and Teutonic perfection to his stylish and memorable compositions. Not for Wolfgang the hedonism of beach and nudes or the classical compositions favoured by Dupain. His work was infused with an ongoing sense of European Modernism. His father was an art historian specializing in architecture and Director of Cultural Affairs in the Weimar Government. Wolfgang was a student and then instructor at the Contempora School for Applied Arts in Berlin, an offshoot of the Bauhaus. In 1934 he went to Portugal to escape the Nazi regime and photographed extensively. He returned to Germany in 1936 and, despite being imprisoned and beaten by the Gestapo, studied and worked at the Contempora until graduation in 1938, meeting Mendelsohn and Steichen along the way. In 1938 he escaped Germany after being called up for military service. He was sponsored to Australia by Axel Poignant, and was established in Melbourne by October 1939. Initially an enemy alien, he had trouble getting commercial work, but survived and was finally allowed to join the Australian Imperial Force. He became an Australian citizen in 1944 and demobilized in 1946.
I was one of his acolytes. I met him in 1958 while at school with his son Anders and we maintained the friendship. My first lesson in architectural photography was watching Mim, as he was known, photograph a new school hall when I was fourteen. He waited days for the wind to blow in the right direction for all the school flags to fly fully and correctly. This search for perfection was legendary – hosing down Collins Street at dawn to shoot the original Shell Building, and stopping production lines and ordering machines to be repainted and degreased before he would start photography. Mim kept a showcase in the Australia Hotel on Collins Street and I would make a pilgrimage as a teenager to see the latest work, be it industrial or architectural. Those images became my hallmark for large-format, serious, professional photography, the sort I aspired to. An early lesson was when his printer, Terry Ovenden, told me that there were no special tricks or techniques to his work – a beaten up old Calumet 4x5 camera, the cheapest you could get, with regular film and processing. It was the vision and the very controlled lighting that made the image, and with it a well-directed sociopolitical message.
In 1953 Sievers held a joint exhibition with Helmut Newton, New Visions in Photography. Both were Melbourne photographers at that stage and close friends. The architectural work was significant because it interpreted the work of people such as Frederick Romberg, whose buildings were revolutionary for the time. Sievers took inspiration from the forms and materials to make his own angled compositions, a synthesis of two progressive minds to further the commercial aims of the exhibition "for better promotion and bigger sales in business today". Wolfgang was the first architectural photographer who realized that his work could promote a designer rather than the design. He was inspired by the work of only a few Modernist architects in Australia; he preferred "clean forms and wonderful shapes". Thus Yuncken Freeman, Grounds Romberg, Bates Smart, Peter McIntyre, Alex Jelinek and David McGlashan were favourites. By the 70s, and with the rise of postmodern design, Wolfgang was disenchanted and had no enthusiasm for understanding or documenting this new work. One could argue that he used architectural form for his own end and when the form itself became complex and narrative-driven, he was unwilling to deal with it. The new architecture had to speak for itself, it was not a plaything to be overwhelmed with a photographer's "interesting angle".
He refused to photograph Parliament House in Canberra, believing it lacked a "purity of design which arises from a sustained concept, and is repeatedly marred by featurism". The importance of his work as an architectural photographer lay in the very fact that he took such a strong position. Photographers are the messengers to the public and any stand they take is noted by the public, if only by their absence. To have Mim shoot your work was a guarantee that you measured up, at least as an avant-garde Modernist.
Sievers' best work was undoubtedly his industrial commissions, the relationship of man to machine and machine to landscape. He constructed his own narrative and was almost the sole proponent of the New Objectivity for many years. In colour and black and white, his work for the Department of Trade and the big mining companies was elegant and adventurous but never romantic or pictorial.
Wolfgang died a satisfied man, with his daughter Karin beside him. With some prescience he had phoned her in Italy a few days before, saying that he had finally completed everything he had to do in life. What his closest friends knew, though, was his sense that he had thoroughly explored the human condition, had friends throughout the world, had travelled widely and held to his principles. Until the last he stayed in contact with people, constantly enquiring if they were OK or needed help. With his own rich history, especially in affairs of the heart, his advice was sanguine and will be missed by many.

John Gollings has photographed a lot of buildings over many years.