Object Australian Design Centre has unveiled its new home designed by Those Architects.
Located at the City of Sydney's Williams Street Creative Hub in Darlinghurst, just east of Sydney's CBD, the new space transforms a former car dealership into a multipurpose gallery and workshop space for Object.
The opening of the new space coincides with Object's 50th anniversary and a new direction for the organization which has supported Australian design for half a century. As well as a new premises, Object also underwent a rebranding process and reframed its focus from exhibiting the work of Australian designers to more of a conduit between the public and designers, with more capacity for workshops and seminars. Programs for children are also a new focus. Object is seeking to create design awareness from a young age in order to create a brighter future for Australia through design.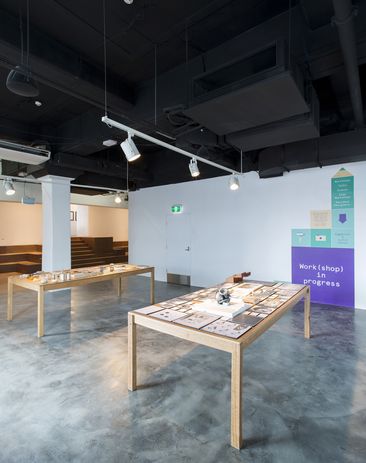 Those Architects have responded to this new direction with a design that embodies the concept of "playfully sophisticated."
The new space occupies three existing shopfronts on William Street. "We unified the two spaces to the east which face William Street and Palmer Street," said Ben Mitchell, a director of Those Architects. This move placed the gallery space where it would be most visible along the busy William Street.
An existing level change between the two spaces might have been a disadvantage in creating a unified gallery space but Those Architects have turned this on its head. "We made a penetration through the party wall between those spaces and connected those two spaces with the bleachers," Mitchell continued. The bleacher acts as both a stairway between the galleries, as well as providing seating for groups of 40-50 children or adults.
"It was a critical part of the brief that Object would not only be able to be use space the for galleries but also that they could have seminars and workshops," Mitchell said. The bleachers allow just that, without the need for added furniture.
At the western end of the site are the offices which are accessed via Barnett Lane at the rear, thereby activating the under-utilized lane way.
The materiality of the new gallery is bothtactile and functional with pegboard used to clad office pods and acoustic insulation used as internal cladding that doubles as pinboards.
Those Architects won a closed competition to design the new gallery in December 2014.