Amalgamating three previously separate services – drug and alcohol, community health and mental health – the O'Brien Centre at St Vincent's Hospital in Darlinghurst, Sydney, had a highly complex brief. BVN Architecture was appointed to take up the challenge which was all the more difficult because of its site – a narrow corner block on Victoria Street, directly adjacent to the heritage deLacy building.
The first architectural decision was to celebrate rather than obscure the facade of the 1890s heritage deLacy building. By pulling the O'Brien away from its neighbour, a courtyard was created on the street corner and the deLacy facade is revealed with its fine details, period corbelling and 1930s colonnade. The western facade of the O'Brien building, made of 182 panels of perforated bronzed anodized screen, provides a contemporary counterpoint to the existing building without over- powering it. On the places where the two sites border one another, the deLacy building is used on a number of occasions as a screening device in the many courtyards and outdoor areas of the O'Brien building. This way, the heritage look is revealed, while acting as a physical barrier to enclose and protect patients.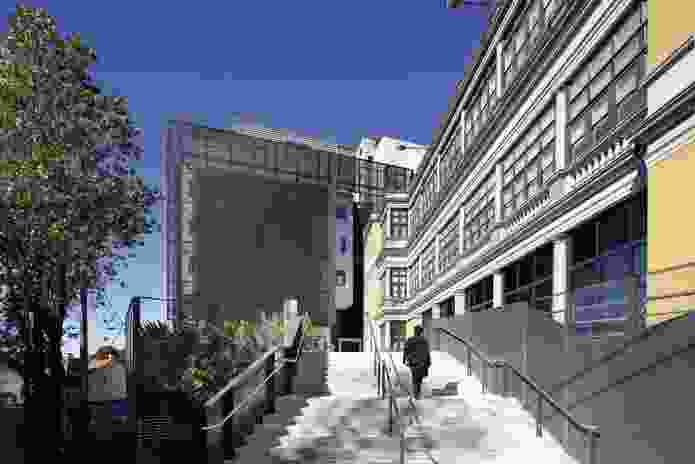 The operational brief of the building is complex, requiring facilities for a range of patients with different special needs, as well as having to be serviceable for visitors and providing a workable, positive environment for staff with often-stressful jobs. Rather than making assumptions about the way that hospitals are usually run, BVN's design approach focused on the functional brief and how best to create a building to service those needs. "We looked at things like how people experience the building, how you use natural light, the importance of staff, the importance of visitors," explains BVN principal Tracy Lord. "Questioning what's going on, why things are a certain way, and considering it as a piece of architecture rather than a clinical space."
Another of the major architectural decisions was to put an atrium in the middle of the building, creating a stairwell from levels three to seven, with a glass roof and glass facade. This solved a number of problems associated with the unusual site as well as allowing natural light to filter into the core of the building and allowing views out. "One of the problems with traditional hospital design is that corridors are enclosed," explains Lord. "What was important for us is not just that it's nice to see outside and get the sunlight but also that it's easier to understand the building."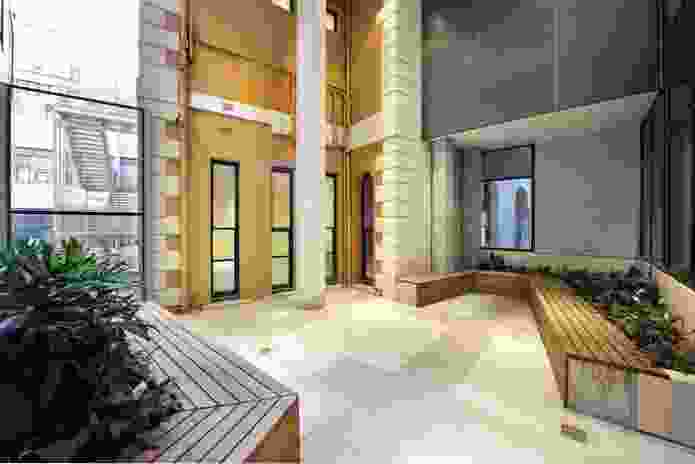 Incorporating the research and development of commercial workplace design, O'Brien's staff areas were set up to encourage collaboration and communication between staff. Open meeting areas, large function rooms and other spaces for bumping into one another facilitates the cross-pollination of the three previously separate services. "We used things that in the commercial sector are taken for granted but in the health sector haven't come through yet," says Lord.
And because the building is brand new, light and open with well-considered functional spaces, the experience of the space is ultimately more positive for staff and for patients alike. "In the end it boils down to having a nice environment to feel comfortable in," says Lord. "Whether it's a director's office or a mental health bedroom, there still needs to be the same amount of care and love to the project."
Credits
Design practice

BVN Donovan Hill
Australia
Project Team

Tracy Lord, Cristian Castilo, Michelle Farman, Joe Fiumedunisi, Paul Panell, Rodrigo De Mello, David Kidston, Julie Wong, Craig Burns, Daniel Londono, Kate Shepherd, Alex Suen
Consultants

Builder Richard Crookes Constructions
Fire services Arup Sydney
Heritage Godden Mackay Logan
Hydraulic services Waterman, Planet Plumbing Group
Landscaping Oculus Landscape Architecture & Urban Design
Lighting Steensen Varming
Project manager Coffey Projects
Structural engineer SCP Consulting

Site details

Location 390 Victoria St, Darlinghurst, Sydney, NSW, Australia
Site type Urban
Category Commercial / public buildings, Interiors
Type Commercial, Health

Project Details

Status Built
Design, documentation 9 months
Construction 22 months

Client

Client St Vincents Hospital
Website stvincents.com.au

Source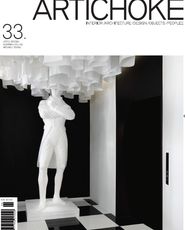 Issue
Artichoke, December 2010
Related topics