The recent Occupied exhibition at the RMIT Design Hub speculates on what may be imminent. Meditating on the data of swollen cities, the exhibition wonders about a near future where – despite the growth in population – most of the material city already exists. Accepting this provocation, each work offers insight into architecture's future.
Twenty-three works by multiple exhibitors – mostly from the discipline of architecture, but also from the aligned practices of art, film and performance – convey how responsiveness and adaption can release practice from a tabula rasa mindset. Each work engages design that is at once dexterous and modest. All provocations operate in a context that is inherently impure and culturally loaded.
Design Hub curator Fleur Watson explains that Occupied emerged from her interest in a particular work by Grace Mortlock and David Neustein. At the Chicago Architecture Biennial, the directors of the Sydney-based practice Otherothers had proposed a polemic, singular and captivating critique titled Offset House. The simple architectural model offered an antidote to the failings of the suburban McMansion by stripping back the material of neoliberalism and reconfiguring it internally and externally to propose a new suburban future.
Watson recognized that the questions raised by Offset House were vital for both design practitioners and the general public. Watson, Mortlock and Neustein joined together to co-curate the Occupied exhibition, with national and international practitioners asked to respond to an increasingly obvious position: architects must find alternative practices that counter the many spatial and material problems produced in a neoliberal city.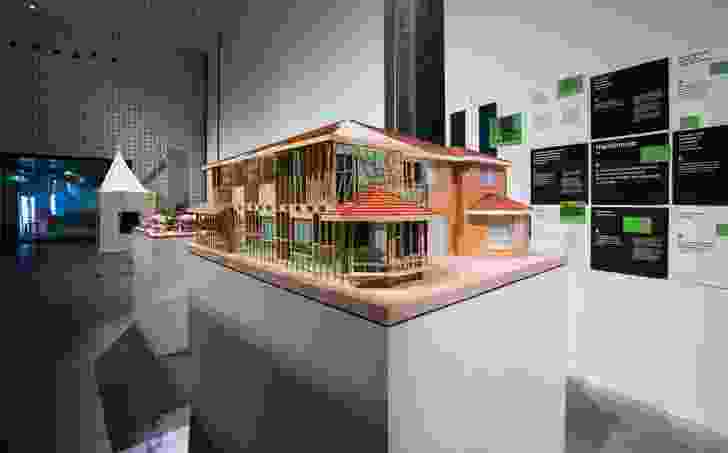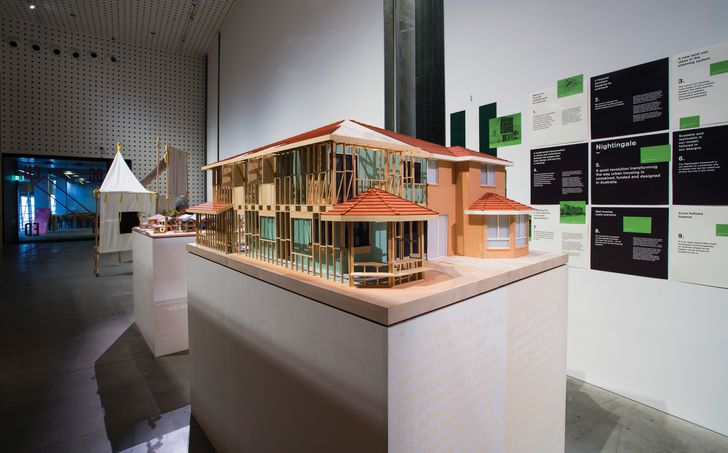 Occupied, as a loaded name, predisposes the exhibition to adaptation, provocation and appropriation by many groups. The exhibition resists providing one clear position. Indeed, the impact and success of the exhibition (and of the Design Hub in general) lie in its careful curation and ability to make contact with so many audiences. Educators, policymakers, scholars, professionals and the general public all want to gather around the ideas communicated in Occupied.
Borrowing from the methods of Offset House, the Design Hub project space is cleft by an exposed stud wall. Bunnings-sourced materials make for a lo-fi vibe but the placement of this over-scaled oblique plane reorganizes the main gallery space carefully. The compression forges its own occupation and partitions off one long room and a row of "interior" rooms niched with speculative wonders to discover.
Among the interior rooms, a panorama by MAPA titled Owner Occupy: Terra Nullius Ad Infinitum, the dwelling-gathering shows stills taken from a film and conveys the ease with which young people dwell in shared communities. Another room is the dressing space for Atlanta Eke's dance performances, with random objets and costumes intriguingly flung at the rear wall. It is hard to resist returning to see her perform in the flesh. TOMA invites visitors to literally occupy its room in Never Discuss Politics at Home . Making a cuppa and hanging out in the archives allows for an in situ experience of sociopolitical questions raised by neoliberalism. TOMA extends the relationship to the Occupied theme by hosting (and preparing) a lunch every Thursday. Invited guest and anyone keen to converse on important questions arising from the exhibition gather. The housing market? The privatization of the urban environment? Informal ways of living? Welcome.
On the outer side of the wall, works from practices are exhibited as a way to "learn from" material research. Here, the projects point toward responsiveness and adaptation. For example, Melbourne-based practice Baracco and Wright Architects examines the ecology of landscape and Vokes and Peters' Brisbane-based office reflects on its bespoke suburban projects at a civic scale.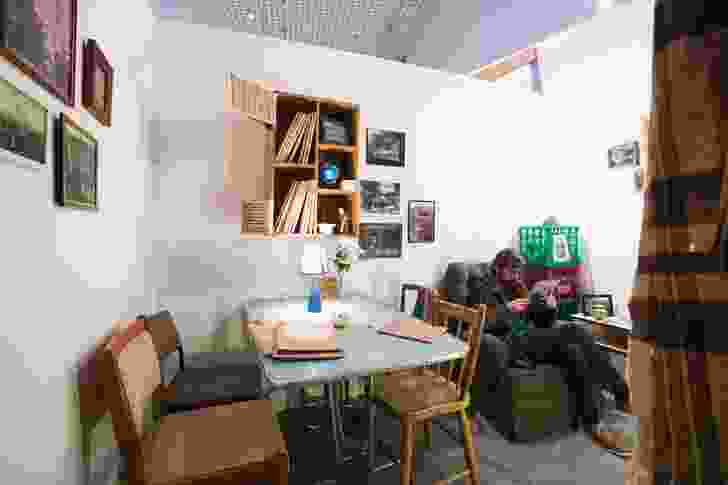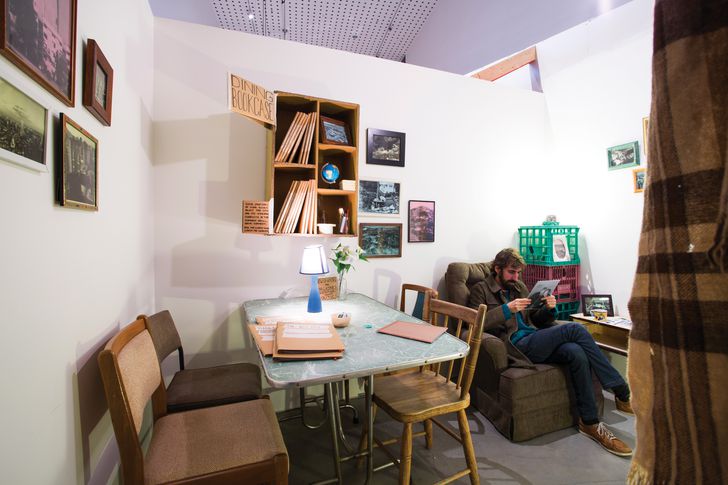 One of the most interesting works in the exhibition is the Supershared loft that floats above the main exhibition. The brainchild of Jacqui Alexander and the unparalleled collaborative power of Sibling Architecture, the small and leasable platform is an optimistic microcosm of the booming sharing economy. Intensifying the exhibition theme through performative and unpredictable programming, Alexander and Sibling use social media platforms Gumtree, Couchsurfing and Creative Spaces to make it possible for anyone to book and use the loft space ad hoc. This Supershared space in Design Hub allows for collaborative occupation and dynamic connection to the exhibition that reveal (and critique) the possibilities of the sharing economy.
Project Room 2 has a different vibe. This exhibition space is defined by a filmic complexity that revels in, yet resists, the neoliberal. Lyons Architecture, along with four other practices – NMBW Architecture Studio, MvS Architects, Maddison Architects and Harrison and White – examines RMIT's New Academic Street project. Layers of drawings are placed on a light box, such that each can be lifted to reveal the line work and intention from a previous incarnation of the site. Throughout the duration of the exhibition, students, practitioners and the public have crowded this table to investigative the material archaeology of this site. This very manual act of uncovering conveys so much more than each architect's design. As NMBW director Nigel Bertram suggests, each drawing exposes the material labour of a previous design as well as what endures and what, through revisions and adaptation, goes missing.
In a final turn MAP (Callum Morton, Nic Agius and Andre Bonnice) with Toby Reed's aligned film creates a dystopian vision, Future Happiness , in which Sean Godsell's Design Hub has itself been transformed into a casino. In its sceptical respect there is a reminder that the future may be risky.
In each of the works there is a deep confluence with Occupied's pressing questions: How can architecture do more with less? What prevents architecture from letting go of sweeping yet redundant visions? And ultimately: how can architecture remain relevant in a transforming economy? These works remind us that the themes explored in Occupied are urgent and relate to a not-so-distant now.
Source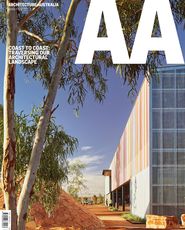 Issue
Architecture Australia, January 2017
Related topics