Talking about an architect's appearance seems facile, so let's get this out of the way quickly: Odile Decq dresses as a goth, has done since college days in the late 1970s. Top-to-toe black, teased, inky hair, pale skin and a lot of dark kohl – she uses her look like a depth-gauge: if you can't see past the surface, you're probably not going to understand her.
"It makes some people suspicious and I can sense that right away," she says. "I know from experience that nothing interesting happens with people who can't get past the barrier of prejudice."
In the same way, you need to look beyond the façade of an Odile Decq building to get a clear idea of the architect's intent. Her GL Event Space in Lyon reads as a gauzy glass volume cantilevering 28 metres over a riverside promenade – but inside is a riot of robust, criss-crossed I-Beams from which the structure is suspended from the fourth floor. The Regional Contemporary Art Centre in Rennes (FRAC Bretagne) looks like a series of massive, stacked blocks – variously transparent and reflective or occlusive and matte. But inside, the building is defined by an asymmetric red volume that ascends to the roof terrace, traversed by steel and glass elevator shafts, ramps and bridges that create a complex interior dynamism belying the exterior's cool. The recently-opened Le Cargo startup incubator in the 17th arrondissement of Paris features a street frontage punctured by round apertures, allowing glimpses into an interior in which a viscous blob seems suspended in mid-air (the blob houses a mezzanine conference space).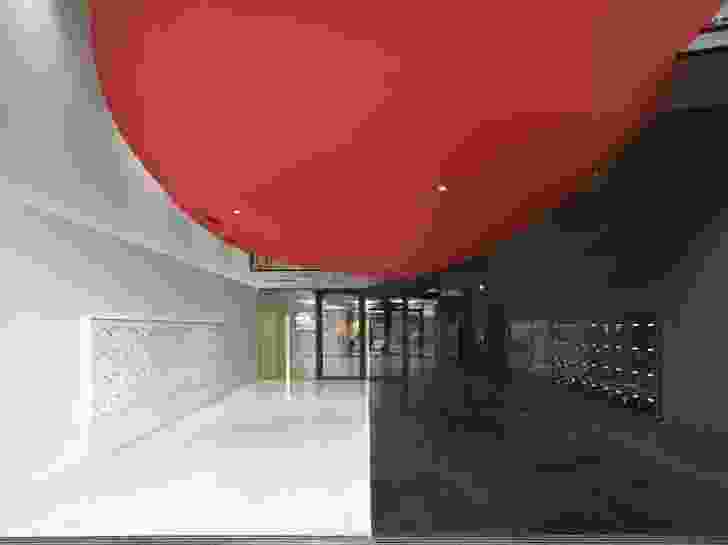 Decq designs her buildings from the inside out.
In Australia earlier this month for an appearance at the Sherman Centre for Culture and Ideas (SCCI), Decq also presented her work to students at the University of QLD School of Architecture. She's been a jobbing architect for 40 years and an educator for 20, and her MO is a gentle chiding of her audience. "Why does everyone always ask me that question?" and "I've not heard that question for a while!" are provocations, encouraging those around her to think for themselves. It's the same approach she takes at the architecture school – called Confluence – she set up in Lyon in 2014 and recently relocated to below her studio in the Marais district of Paris.
"There are no classes, the students do their own research online, then we guide them in analyzing, synthesizing and communicating their findings," she explains. It's a pedagogical model Decq first unearthed in Finland, and then adapted to the evolving information economy. Decq's school is not recognized by the French system which she says is "conservative, sexist, and moribund." Instead, it is accredited by the Royal Institute of British Architects.
Decq has spent her careering swimming again the current.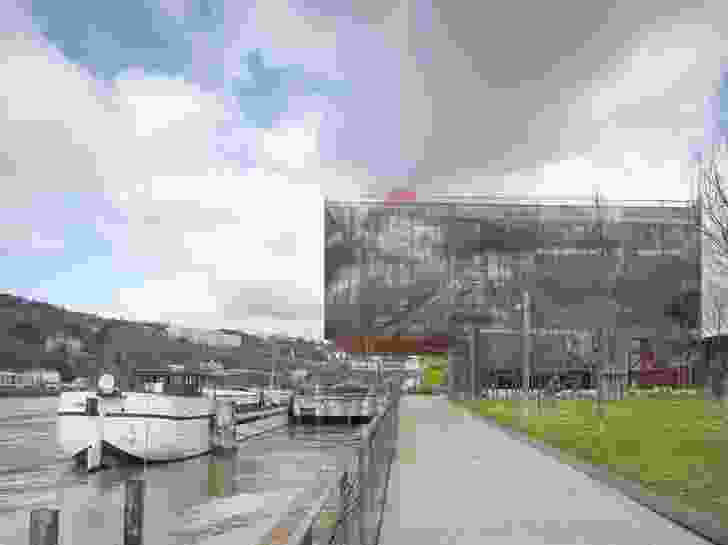 Born in Brittany, she studied for two years at the École Régionale d'Architecture de Rennes where the director informed her she didn't have what it took to be an architect. Setting this opinion aside, she transferred to National Architecture School at La Villette in Paris, paying for her studies by doing research for architect Philippe Boudon.
Upon graduating with a degree in urban planning she set up her own studio. It was the beginning of the 80s, and a young female architect was a rarity. It felt almost impossible to get traction. She brought her boyfriend (later, husband) Benoît Cornette, also an architect, into the business. Her ideas were radical and strong, and she started to be invited onto the conference circuit. Gradually, her name became known. A decade after graduation they won their first major commission: an office complex for the Banque Populaire de l'Ouest (BPO) back in Rennes. A long, rectilinear, steel-frame building, it was the first in France to feature a suspended glass façade. (Squint, and it looks like a precursor to Jean Nouvel's Foundation Cartier which was delivered four years later.)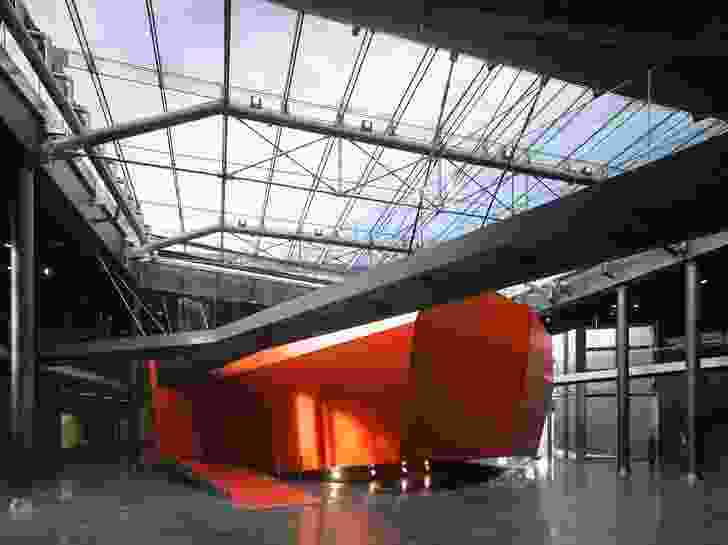 When Cornette died in a car accident in 1998, Decq carried on. "But it took a long [time] for people to admit I could do it on my own," she says. "Only [Massimiliano] Fuksas and [Bernard] Tschumi said to me, 'Odile, we know your'e going to make it." (As far as votes of confidence go, not negligible.)
Decq draws by hand, and model building is a crucial part of her design process: giant maquettes are scattered about her Paris office. She says that the time it takes for an idea to pass from the computer screen to the eye to the brain is too fast – from the hand to brain leaves more time for reflection. She knows this is physiologically inaccurate, but it's a lovely poetic conceit.
There's something about this hand-made quality that inflects all Decq's work. The architect's touch is visceral, her output – though still not extensive – is self-assured, uncompromising. Deft.
"I work like a parasite," she says, "slowly taking over from the inside out."