Touted as the biggest purpose-built co-working facility in the Southern Hemisphere, the B:Hive covers 11,000m2 over five floors and can cater to businesses ranging in size from a single person to those with up to 250 employees.
Designed by BVN Australia and Jasmax, the offices are striking and playful in appearance, centring around an expansive atrium topped by a huge skylight, known as the shroud. The star of the show is an orange staircase that feels as though it belongs in a playground or water park; it spirals through the atrium, linking the different levels and providing a centrepiece for the open space.
"The stair has a lot of charisma. It's not shy," says Jasmax lead architect for the project, Cameron Pollock. "It is the focus that most people gravitate to but it operates only in the context of the space as a whole, with the light that comes through that massive skylight and the planting around the base. The role that it's playing – to connect and link that space vertically within the building – is what helps it resonate so well. That was one of the fundamental ideas for the whole project."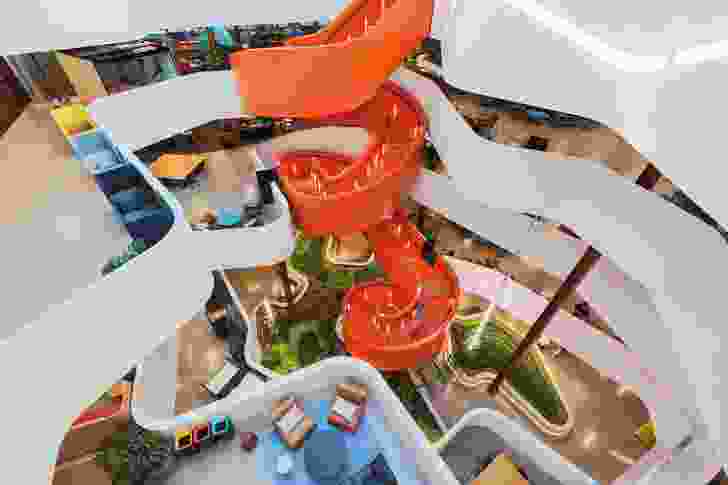 The five floors have curvaceous edges around the atrium border that allow for interesting spatial arrangements. This aspect of the design was somewhat intuitive, says Pollock. "The functionality of that space works in real terms, with furniture and spatial layouts for traffic flows and fire egress ways. There are all sorts of very nice vantage points that you can recognise within the space and be a part of. In terms of outlook and acoustic design and the mixing of the air through the building, these curves function better than a straight, rectangular shape would."
For tenants, the building allows for a fluidity that suits the uncertainty of business. All going well, tenants are able to upsize their spaces to allow for more staff or, in times of decline, downsize, using the building's flexible, custom-designed partitioning system.
This process can take just an hour to action but there is a lot of behind-the-scenes planning that goes into making a change, explains Smales Farm CEO Paul Gunn. "If you move one wall, it obviously affects the office on the other side. So, we have it set up at the moment with two adjustment times per year where each tenant can make a call about whether or not they wish to expand or to contract.
But, as businesses change organically throughout the year, often you will have one tenant who wants to get bigger and one that wants to get smaller, so we can do that outside of those pre-arranged times."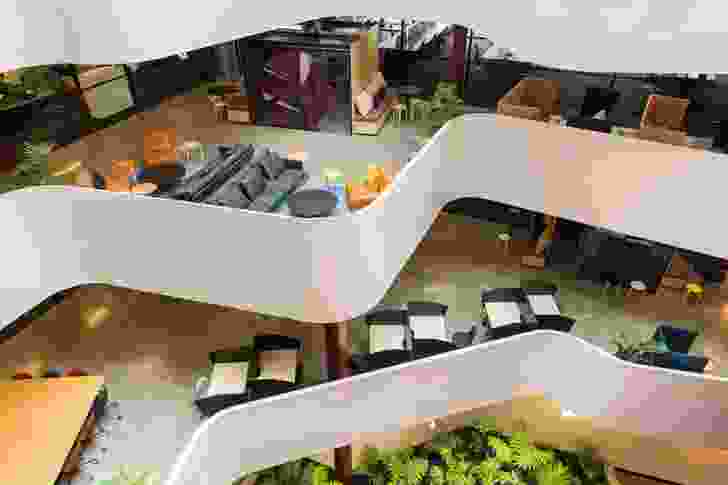 Tenants can also play with density in office arrangements, adding more desks to, or taking desks away from, an existing space. "We have a charging table which sets out how the pricing regime adjusts up or down depending on how people increase or decrease their density," says Gunn.
The B:Hive offers two styles of accommodation for businesses: dedicated offices for more-established businesses of six or more people, and dedicated desks, which are for single operators or those who do not need enclosed office spaces.
"In the dedicated desk community, we've had some great stories of people from separate businesses joining together in banks of desks and enjoying the collegiality and the social aspect of coming to work within a community, as opposed to working at home or in smaller office arrangements. In addition to that, we see businesses cross-pollinating off one another and providing services to each other," says Gunn.
Goodside
Up until the end of last year, the hospitality precinct, Goodside, was a construction site causing bother and noise at the entrance to the B:Hive. Now, it is a hive of activity in its own right. Tenants of the precinct include the BurgerFuel spin-off Shake Out, Grey Lynn institution Ripe Deli and bagel specialist Goodness Gracious, to name a few. Unlike at other similar precincts, visitors to Goodside can combine items from different restaurants or even eat their own packed lunches at the long black tables outside.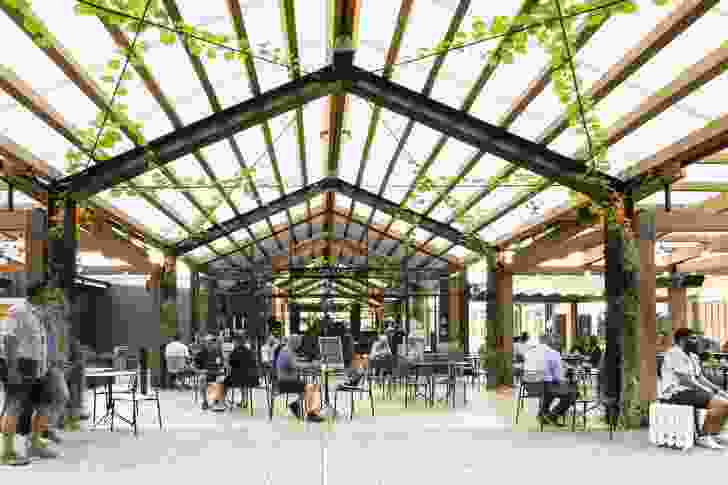 The design is outdoor-centric and reflects the history of the area, which was, of course, a farm, explains designer Paul Izzard. "The idea is to create a non-urban environment, bringing it back to the farm. It brings the idea of providence and authenticity into that hospitality precinct, with the greenery and timber and green arbours. It transports you somewhere else instead of feeling like you're eating lunch in the office car park."
Future development
The size and location of Smales Farm make it ripe for different styles of development. Plans are in the pipeline to build another building that plugs into the B:Hive, making it a larger hub. There is also an intent to create residential offerings, which would require a zoning change for the Farm – a process that is currently in its early stages.
This article first appeared in Interior magazine. Read the original article here.
Related topics