People, places, products, art and fashion: these are the things that inspire the speakers of Artichoke Night School session fifteen, held in Brisbane in August 2014.
Three industry experts, Stefano Scalzo, Alison Kubler and George Livissianis, came together to address the topic, "Once and for all: what inspires you?"
Stefano Scalzo, principal at architecture firm Lyons, finds inspiration in the human stories behind the work of the practice. During the design of the Queensland Children's Hospital, the personal accounts of patients, carers and health staff influenced many of the design decisions. "There are two entrances to this hospital because a patient explained that the last thing they want to do is walk through a big atrium – they just want to just go upstairs quietly and start their treatment," Scalzo says. Responding in this way to the direct requests of patients inspired an "empathetic approach" to the design process.
Place, nature and the city were further sources of inspiration for Scalzo. He cited these themes as directly informing the design of the Queensland Children's Hospital. A colour palette derived from nature and a building form that captures views to Brisbane city combine to reflect this place-inspired thinking. Scalzo concluded that in recognizing those components unique to the site of the architecture and by reflecting their presence in built form, "a public building can engage in a conversation with the city."
Alison Kubler, art curator and author, draws inspiration from the creative worlds of art and fashion. These disciplines, she says, are interesting because they are historically opposing, yet in many ways considered to be complementary. Art is bound by purity and longevity, and conceived without commercial imperative. Fashion, on the other hand, reflects a moment in time and is largely commercially driven. The recent phenomenon of these two disciplines coming together in a collaborative forum creates many more interesting possibilities for both art forms. "We are at an interesting time in culture where disciplines are fluid and in flux," Kubler says. "This hybrid time is inspiring."
The collision of the art and fashion worlds is the basis of the book Art/Fashion in the 21st Century , co-authored by Kubler and Mitchell Oakley Smith. This publication charts the collaborative work of artists and practitioners, like Tracey Emin for Longchamp and Takashi Murakami for Louis Vuitton. These alliances have resulted in highly sought-after, limited-edition collections that have catapulted fashion and art into a new economic stratosphere. At the same time, these collaborations have dissolved the traditional boundaries of the singular discipline, demonstrating that to fashion, art can bring longevity, and to art, fashion can bring contemporary culture.
Interior designer George Livissianis, who is known for his work in retail and hospitality design, is inspired by the people he works for. He seeks to understand their personality and character to achieve an outcome that expresses their "quirks." As well as this, he is very much focused on experience; on the part of the clientele. At The Apollo, the highly awarded Greek restaurant designed by Livissianis, a pared-back approach is employed to compel the experience of the food to front and centre.
Livissianis's Jac + Jack retail fitout at Emporium Melbourne takes inspiration from the essence of the brand it serves. "The approach of Jac + Jack to fashion was simple and minimal with great quality," Livissianis says. "This directed how we would treat the space and resolve details." In this way, Livissianis lets the brand and product inherently direct the treatment of the interior.
These three speakers from three creative disciplines revealed general consistency in what inspires their work and thinking. It was agreed that regardless of the source finding inspiration, or a seed of an idea that will serve the longevity of a project, one that the client, user and public will understand and emotionally invest in, is part of a greater search towards design authenticity. Without such a source of inspiration Scalzo says, "we operate in a vacuum," and creative endeavour simply can't exist.
The Artichoke Night School series is presented by Artichoke magazine in partnership with Space Furniture. Night School session fifteen was held at Space's Brisbane showroom.
Source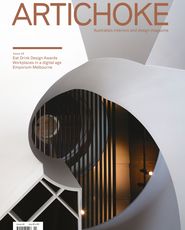 Review
Published online: 29 Aug 2014
Words: Michelle Bailey
Images: Lara Masselos
Issue
Artichoke, December 2014
Related topics