Leah Gallagher and Marjorie Dixon, of Kin Architects, formed their Brisbane-based practice in 2017 with a desire to design people-centric architecture that respects the history and context of their city .
It was a frank and honest conversation about their fears around moving to independent practice that proved Leah Gallagher and Marjorie Dixon's compatibility as partners in the business of architecture. The alumni of the University of Queensland's School of Architecture founded Kin Architects in the knowledge that their skills were complementary, their sensibilities compatible, and their fears would be overcome.
"I'm someone who feeds off other people's energy," Marjorie says. "My fear about becoming a sole practitioner was based on the thought of sitting alone in a room and never producing enough work. The thought of chasing jobs and meeting clients was something I felt comfortable with and was something Leah had feared. Leah, on the other hand, was very confident about being able to deliver the work."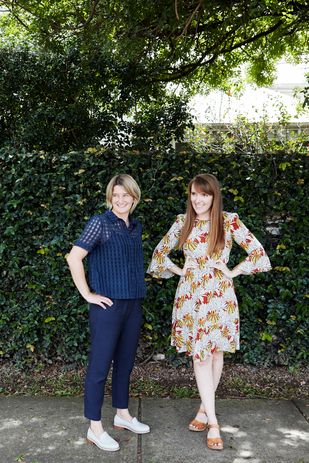 Few would be so eager to divulge their weaknesses, but Kin Architects, as the name suggests, values honesty and works hard to forge meaningful relationships with clients and consultants. "It's a complicated thing, architecture, and I think people don't want to be guided by ego, but rather by someone who can be supportive and understanding through-out the process," Leah says. "We design with empathy; for the building, the neighbourhood and our clients."
The pair show pride in adopting a nurturing attitude to complement their client-centred approach. "We see our value as service providers and as people, willing to form relationships with a team and be inclusive," Marjorie says. Trusted relationships with other architects in the industry have made the transition to independent practice a smooth one for the directors. Their strong connections to an extensive network of like-minded professionals in fields such as property development and fashion have guaranteed a steady stream of work, from corporate fitouts to residential interiors and residential alterations and additions.
Kin Architects' strong Brisbane roots have helped to shape a material expression closely tied to the traditions of the city. "Brisbane architects have been exploring making with timber and tin for a long time and there is a fascination about how Queenslanders are put together," Leah says. "This has prepared us for how to use materials for different applications; the practical side (will it rust, rot or cost a lot?) and meaningful side (how does it feel to touch, is it beautiful, what memories does it hold?). Our conversations about design aim to strike a balance between these things."
Marjorie's childhood has strongly influenced her architectural thinking and continues to inform her sense of duty toward the local built and natural environments. "Having grown up in a Queenslander in Toowong, Brisbane, I feel a lot of nostalgia for peeling weatherboards and decaying mangoes," she says. "I have so many memories of running between the house and yard, building treehouses and spending hours lying on the verandah, staring at the tin roof. It wasn't until I started studying architecture that I realized how many happy memories were stored within that house. I feel a responsibility, now, to honour that for all our projects and our clients."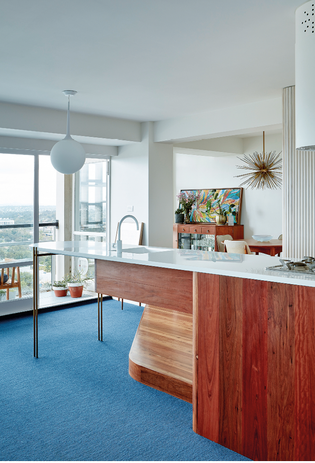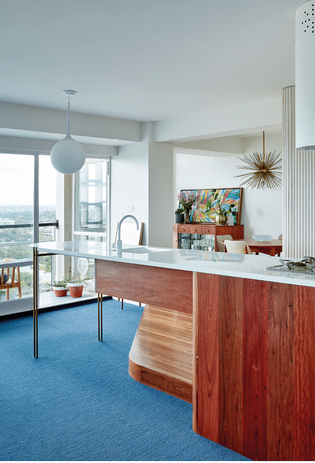 Respect for the history and context of the city, as much as its climate and culture, is embedded in the work of Kin Architects. Pursuing a landscape-driven response has been key to acknowledging the city's subtropical identity. "With a lot of our current renovation projects, we are coming across beautiful post-war houses that have lost their connection to the landscape through unsympathetic renovations," Leah explains. "We try to reinvigorate the landscape, remove the add-ons where appropriate and extend to strengthen the connection to the garden, sky and outdoor living – we think [that is] the essence of the Brisbane lifestyle."
While Kin Architects strives toward a contextually appropriate outcome, it is a dedication to process and delivery that distinguishes the practice. Leah and Marjorie leverage technology wherever possible in order to resolve design problems, test engineering and service coordination and document their architecture. And clients are invited to experience each virtual step. Digital models are shared online and imported into an interactive app, enabling clients to "walk through" a scheme on their personal devices. Virtual reality tools bring another dimension to the experience, allowing clients to virtually step inside the project. Fly-through videos shared across various social media platforms have further introduced an increasingly broad audience to Kin Architects.
"3D modelling is a big part of how we design and communicate our ideas," Marjorie says. "Being able to bring our ideas to life and show our clients in a really exciting and interactive way is something we really value. Anything that makes the experience for clients more engaging is something we are keen to adopt."
Source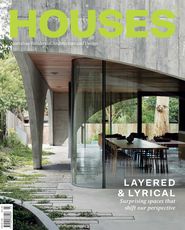 Related topics