The great challenge of one40william is its site, or rather that its site is a city block, over an underground station and adjacent to a railway precinct at one edge of Perth's CBD. The project essentially transformed this city block into a city fabric.
This new fabric works on several scales and levels. At the scale of the city, the massing of the building provides a rich addition to the built form of Perth as it responds to the variety of built form around it. It provides a sensitive response to the GPO, the Commonwealth Bank and the restored heritage structures along Wellington Street. At the scale of the building, the floor plates take the form of a series of parallel slabs, allowing light and air to permeate the workspaces within. At the scale of the pedestrian, the project provides a dense network of laneways and public places such as Globe Lane, Railway Square, Railway Lane and Postal Place, which tie the project to its surroundings and link William Street to Wellington Street and the Murray Street mall.
Within the project itself the configuration of the commercial space responds to the imperatives of commercial flexibility while providing for a high quality work environment. A significant aspect of the floor plate configuration is the potential for tenants to identify with their particular wing of the building, or internal address points along informal cross spines and common atria, and therefore take the idea of the fine-grained public domain into the vertical dimension. The treatment of setback levels as planted gardens, some with accessible spaces, further reinforces the urban liveability of the project. This aspect of the project also recognizes the legitimate need of occupants to see something worth looking at.
The 5 Star Green Star Office project also makes one more significant urban contribution that transforms this part of Perth: it fully engages with the Perth Underground Railway Station. The project enhances connectivity with the surrounding city by providing the railway station with appropriate entrance spaces that are highly visible and fully integrated into the placemaking of the building itself.
– Jury citation
… the impressive 140 William Street building is to be officially named Gordon Stephenson House … "Professor Stephenson was a great West Australian who made a profound contribution to the planning and development of the city of Perth," [State Finance Minister] Mr O'Brien said. "Professor Stephenson came to Perth in 1953 following a commission from the State Government to prepare a plan for the metropolitan region of Perth and Fremantle with J. A. Hepburn. Their plan was completed in 1955."
– www.mediastatements.wa.gov.au, 28 August 2011.
For a full list of awarded projects see 2011 National Architecture Awards – the winners and for more awards discussion see Rachel Hurst and Rory Hyde's responses to the awards and the jury overview by Karl Fender.
Credits
Architect

Hassell Perth
Perth, WA, Australia
Project Team

Dirk Collins, Peter Dean, Peter Lee, David Hunt, Peter Rouhliadeff, Mark Jeavons, Patrick Vereker, David Southern, Scott Davies, Nick Walker, Timothy Shannon , Paul Katsieris
Consultants

Acoustics AECOM Perth
Builder ProBuild
Building certifier John Massey Group
Heritage consultant Lovell Chen
Hydraulic consultant Hutchinson Associates
Interior design Hassell Perth
Landscape architect Hassell Perth
Mechanical and electrical consultant AECOM Perth
Project manager NS Projects
Structural consultant WSP
Town planning Hassell Perth

Site Details

Location 140 William Street, Perth, WA, Australia
Site type Urban
Building area 46000 m2

Project Details

Status Built
Website http://www.one40william.com.au/Core/Content/Public-Home-Page/Content2911.aspx
Category Commercial, Public / commercial

Client

Client Cbus Property
Website cbusproperty.com.au

Source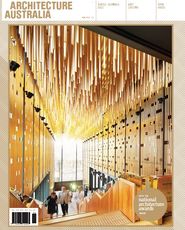 Issue
Architecture Australia, November 2011
Related topics