On a beach in Qinhuangdao, a port city on the north-eastern coast of China, a major new contemporary art museum is buried among the dunes.
The building is the project of architecture firm Open, which was founded in New York by Li Hu and Huang Wenjing, and now has offices in Beijing.
Dubbed the Dune Art Museum, the building was commissioned by tourism company Aranya and is run by China's largest independent contemporary art institution, the Ullens Center for Contemporary Art.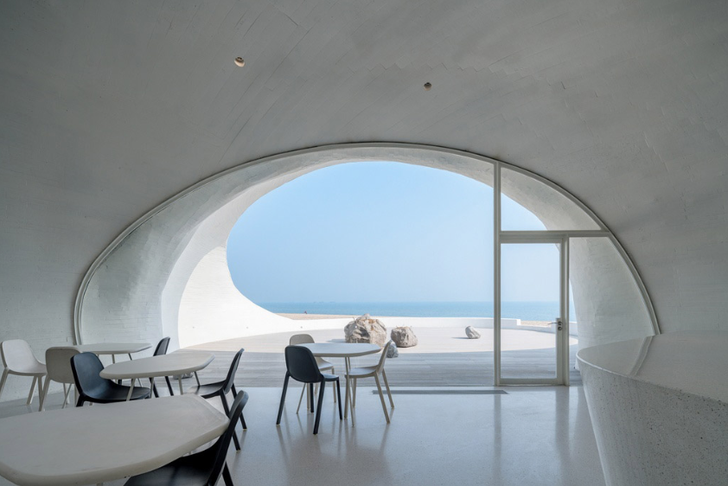 After three years of construction, it opened in October with its inaugural exhibition After Nature, which explores humans' encroachment on nature, and includes nine Chinese artists who span a range of generations, born between 1942 and 1988.
"Simple, pure, and touching, the design of the Dune Art Museum is a return to primal and timeless forms of space," said the architects in a statement.
"Largely enveloped by the dune, its interconnected, organically shaped spaces echo those of caves – the earliest form of human inhabitance, whose walls were once home to some of man's first works of art."
The museum includes ten galleries and a cafe and is spread over 930 square metres. The building's concrete shell was hand shaped by local workers – some of whom were former shipbuilders – using formwork made from small linear strips of wood and other materials.
The architecture firm said the irregular and imperfect texture left by the formwork was retained to allow traces of the building's manual construction to be felt and seen.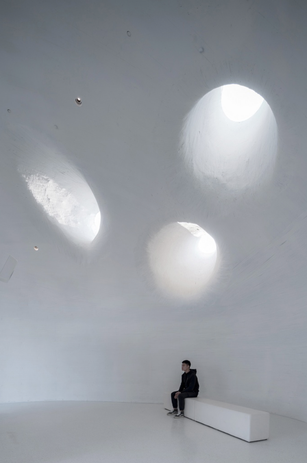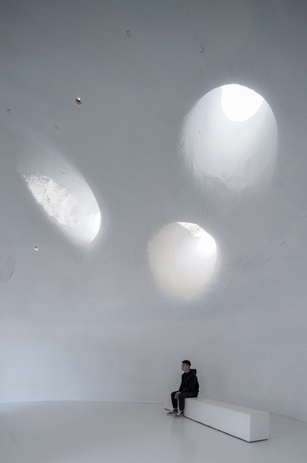 The architects said the decision to create the museum underneath the dune in the first place was born out of a desire to protect the vulnerable dune ecosystem – an attempt to halt the levelling of dunes to make way for damaging real estate developments, the likes of which have already been built in the area.
"Respect for nature is displayed not only in the building's unique relationship to its environment, but also in its efforts towards sustainability," reads the statement.
"Openings throughout the building, each with a different orientation and size, frame the changing expressions of the sea and sky throughout the day, and also provide natural lighting for the museum's spaces at all times of the year. A sand-covered roof greatly reduces the building's summer heat load, and a low-energy, zero-emission ground source heat pump system replaces traditional air conditioning."
A twin museum, the Sea Art Museum, is proposed for the near future and will be connected to the Dune Art Museum via a long walkway. It will only rise out of the sea at low tide. Together, they will form a "dialogue by the sea."