WHY ARCHITECTURE MATTERS 1


Bright and complicated stories. Not style. Ian McDougall argues that architecture that matters makes inventive and exploratory contributions to community and culture.
It seems
indulgent to be writing about why architecture matters. It seems part of the eruption of text that is about nothing; flick-throughable magazine babble, rather than an exploration of the ideas that might reside in recent projects. I'm not averse to a bit of propaganda, but the desire to find anecdotal answers to the meaning of existence seems like a substitute for real discourse. If something in the activity makes the heart leap, why do we constantly ask if it's OK. If one loves architecture, the wonder at its physicality and its potential, we don't need to endlessly ask, "Is this worthwhile?" What needs to be talked about, and maybe argued about, is the actual material of the activity. We need to debate what it is that our work is saying. To misquote journalist Lilly Bragge's article on Sean Godsell, "[Architecture] is littered at the moment with smart-arse architectural one liners …" What's the one liner in contemporary work?
What do the media gatekeepers think is the most valuable (or is it accessible) aspect of architecture? Houses. What form does most published material take? Earnestly refined lodgings of suppression, looking unlived in; smooth and reductive money pits.
According to the magazines, we have become like the designers of expensive German cars, our efforts more seductive than challenging, more vain than propositional.
Where architecture matters might be in a different spot to the Robin Boyd Award.
Architects can and do make meaningful contributions to their communities through the provision of buildings that serve society.
In the Arte Povera field, McBride Charles Ryan's Templestowe Park Primary School, a Victorian Architecture Medal winner in 2005 (but without mention in the Nationals), demonstrates the potential to improve the lot of the smallest unit of community – the Education Department catchment.
Colleges, schools, libraries, community centres – these are the basic elements in which communities profess their cultural presence. Every time an architect completes a finely designed school of complexity and allusion, they propose a world of ideas for the community. In Victoria, in the recent past, the opportunity for school projects to become intellectual hubs (not just yer local facility) has been denied by the methods of procurement. The government decided some years ago to acquire new buildings in the same way it tenders for the supply of toilet paper. Using a single project management agency, they packaged up buildings at a generic cost (too cheap), regardless of location or context, and rolled out competent but uninspired teaching blocks.
Fortunately, this process is being reviewed.
The provision of the artful, the experimental, the conjectural, in the most prosaic of building types – this is where architecture matters.
But to backtrack. While architecture is besotted with the individual house, the challenges of the design of the suburbs, be it town planning, tract housing or affordability, are left unattended. It is thirty years since an RAIA award was given to a house that was specifically designed to be repeated, a mass-produced product. In 1978 there was a Project Housing Award in the Victorian programme, jointly won by Terry Dorrough (Pavilion House) and Cocks and Carmichael (Rectangle House). The next year, it was won by Williams and Boag (Sun House), but it was discontinued by the 1981 awards. These awards were at the end of a twenty-five-year interest by mainstream architecture in the design of private mass housing and suburban living. The current interest of our best residential architects is not in the unwashed desires of Howard's heartland, but in individual exemplars.
This is a great shame. It is the result of a confluence of conditions: the disinterest of architects and the rhetoric of connoisseurship; the lack of vision and arrogance of the real estate/marketing industry; the antagonism and inertia of the building industry; the fact that major development companies have a fiscal heart.
Interestingly, there are glimmers that the profession and government wants this to change. At the recent excellent reHousing conference, the issue of architects getting involved in the provision of tract housing was raised again and again. Peter Mould, the NSW Government Architect, presented the results of that state government's efforts to statutorily require architectural involvement in medium- and high-density housing. The results are not diamonds of revolutionary design, but they do mitigate the worst of developer cynicism. Here, the architectural results do matter, particularly as these buildings will be up for an eternity due to the petrifying ownership of the strata title.
Nevertheless, this focus is on the inner city. There is still little architectural interest on affordable, well-designed homes in the suburbs. Architects need to think differently about how they are commissioned (and the RAIA could do more to think this through), how they structure fees and how much of the project they are involved with. It is difficult for architectural firms, as SMEs, to deal with another network of SMEs, house builders. The best architecture has come in partnerships with hegemonic clients like state housing authorities – witness the roll out of mass infill housing in Victoria and New South Wales in the 1980s. But public housing has all but disappeared. Now we have large development and building companies like Stockland, Delfin and Mirvac. These companies have the potential (and possibly the vested interest) to be innovators in the suburbs. Indeed, they already preach this, and have made a number of leaps in housing typologies for the heartland. If architectural culture and the hard-arsed cultures of the housing industry could get together with the goal of better designed suburbs in their sights, architecture can matter.
One line on environmental issues. Since Milo Dunphy (1960s) and the hippy days of Baird and Cuthbert or Tone Wheeler in Architecture Australia (1970s), architects have been leaders in environmentally sustainable design. We knew it mattered.
For me, architecture matters where it is about our thoughts and actions that relate to a world we try to make. When it is full of the texture of our lives, real, open and explicit. Work that is about an endless searching. It is the opposite of style. It matters when buildings are made of bright, complicated stories about belief and physicality; when they try to talk to you.
Whether they are in the bush or in the city, they should be full of foibles and frailty, but also of strength and resolve. Architecture matters when it works for its community with integrity, passion and humour.
IAN MCDOUGALL IS A DIRECTOR OF ASHTON RAGGATT MCDOUGALL.
WHY ARCHITECTURE MATTERS 2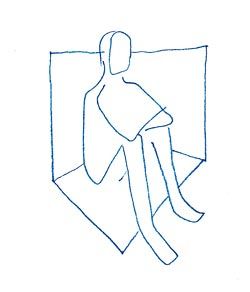 Architecture does matter … just not as much as some other things in life. Shelley Penn reflects on what architecture can offer an affluent society.
It's interesting
that we feel the need to make statements about why architecture matters, and to do so in several consecutive issues of
Architecture Australia
. Did someone ask?
Or is it just that this question is eternally floating in the professional ether?
Are we trying to convert non-believers?
In this forum, probably not. Perhaps we're staving off our own doubts, giving ourselves a collective pep talk?
In my experience of architectural practice, every discussion with or presentation to a client is educative and evangelistic in some way, and I don't think I'm an exception. In my current work with Victoria's state government, everything we do is about advocating good design at some level – explaining why it matters, why government should invest in it, nurture it, seek it out and celebrate it.
At the same time, I doubt the meaning and value of my work on a daily basis. For me, the reason for studying and practising as an architect was my belief in the poetic capacity of architecture to enrich the human condition. But when I look at my small children, particularly when they're ill or in need of comfort, it's impossible to prioritize architecture as something that matters more than they do. Or, when a friend is diagnosed with cancer, the pursuit of an architectural detail which is imperfect but good enough seems frivolous.
Architecture does matter, but two things need clarification before I can say why.
Firstly, what is "architecture"?
I'm taking this to mean the good stuff.
For me, here, architecture simply refers to intelligent, authentic, responsive work which does everything it's supposed to do well, and offers something to the spirit too.
It includes landscape and urban design – I don't see them as separate from architecture. It does not include rudimentary shelter, nor competent buildings which offer nothing beyond their immediate function (not even when they've been designed by architects).
Secondly, the premise that architecture matters is arguable.
Sorry if I'm being obvious, but let's replace "architecture" with various other words … Does food matter? Does water matter? Does hygiene matter? Does medicine matter? Does education matter?
Architecture does start to look like a luxury in that context. It's pretty hard to argue that architecture matters when you're barely surviving in a war zone; or if you're homeless in midwinter in New York City; or any of numerous other scenarios where just living is a major feat.
It's not that architecture doesn't matter, just that it matters less than some other things. In an affluent society like ours, where for most of us, the essential needs are met, architecture matters a lot.
Here are some research findings: architecture can speed up recovery from illness through delightful spaces, particularly visual and physical connection to landscape; it can encourage kids to stay at school – to feel valued because the quality of the place tells them they're worth something; workplaces which are well designed increase productivity; and high-quality residential developments achieve larger financial returns.
Good architecture and good urban spaces are generous, offering something to their immediate and greater environments.
Public places which are non-exclusive and accessible, places where anyone can sit and delight in the sun, the view, the form and craft of a space … these offer reprieve, safety and beauty, perhaps most importantly for the homeless who have no other place of their own. These places are less likely to be vandalized, and more likely to be used by their communities.
Construction has a huge impact on ecological sustainability. Architecture which is good is socially, economically and environmentally sustainable, by definition. It reduces consumption of space and resources, production of emissions, and waste products, misuse of energy and of water.
Architecture matters because it makes us feel valued, makes us healthier and improves our wellbeing. Architecture does not have to be grand – the smallest space, if well designed, offers an experience of beauty and delight. Architecture feeds our souls and psyches, provides spiritual sustenance and enriches our lives.
SHELLEY PENN IS ASSOCIATE VICTORIAN GOVERNMENT ARCHITECT.