In Brisbane's Tattersall's Arcade, the new Optiko store designed by Stephen Cameron Architecture is more museum than shop with historical, rare and distinctive eyewear showcased in the manner of a curated exhibition. Owner and creator Michael Makras sources vintage and contemporary frames from designers worldwide, selecting them on the strength of their design merit, quality and heritage. The design of his latest store has the making of the distinguished pedigree of the spectacles sold there.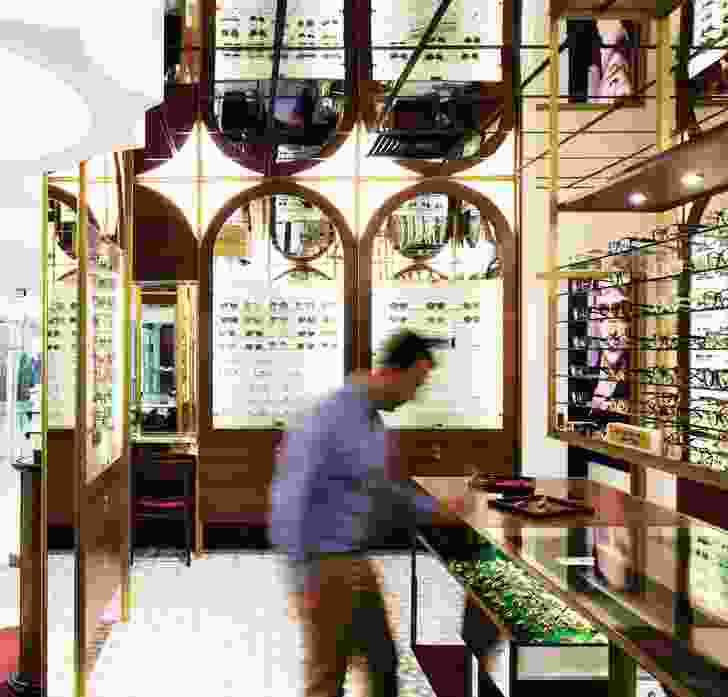 Optiko, the store, is intimately connected to Optiko, the brand, which was developed by Makras and is bound equally to traditional and avant-garde design. With this mind, the fitout combines old-world luxury with contemporary "theatre" to complement the personality of the collection. The store's location – at the heart of Tattersall's Arcade, completed in 1926 by architecture firm Hall and Prentice (architects of Brisbane City Hall) – helps to infuse a sense of history with this relatively young brand, which has steadily developed a cult following of devoted optical connoisseurs.
Stagecraft and spectacle distinguish the store's design with a space that evokes curiosity and invites exploration. Collections are arranged in cabinets by brand and style and positioned to minimize a feeling of exposure. The modular display systems, each framed by a trademark timber arch, suggests at once "museum collection" and "backstage" to elicit a collegiate and expressive personality simultaneously.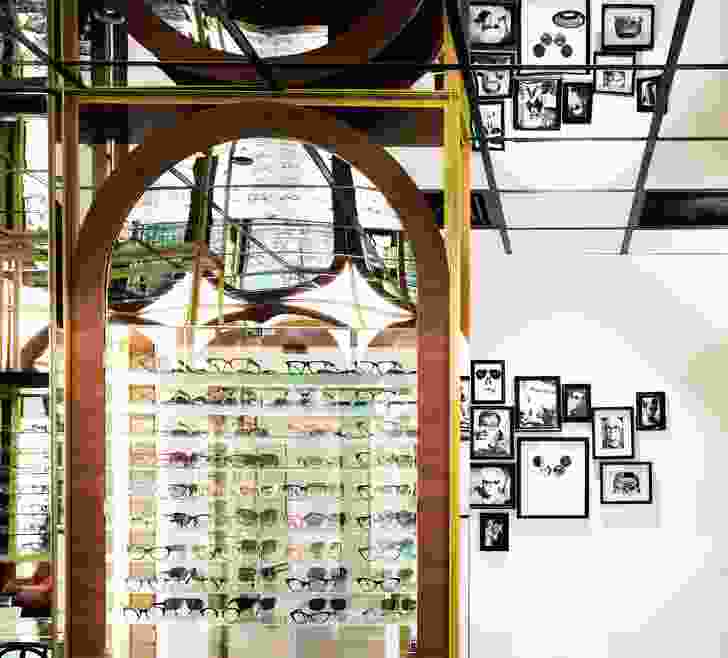 A backdrop of backlit, frosted glass paired with clear glass shelves positions the product front and centre. The mirrored arches and mirrored ceiling are consistent with the "cabinet of curiosities" effect, which architect Stephen Cameron says takes its inspiration from Sir John Soane's Museum in London, established in 1837. The charm of this historic museum comes in the experience of the optical illusions created by mirrors and skylights and in the many hidden drawers and cabinets containing a bounty of curious artefacts. The intention at Optiko was to recreate some of this magic, encouraging the buyer to explore the store as they would a museum.
Makras passionately shares the stories behind the brands curated for Optiko with inquisitive clientele. When he talks, for instance, about the eyewear created by British company C. W. Dixey & Son and worn by the likes of Sir Winston Churchill, his respect for the history of this art form is unmistakable. He brings a thorough understanding of his trade to the store, and has an uncanny knack for sourcing otherwise undiscovered brands.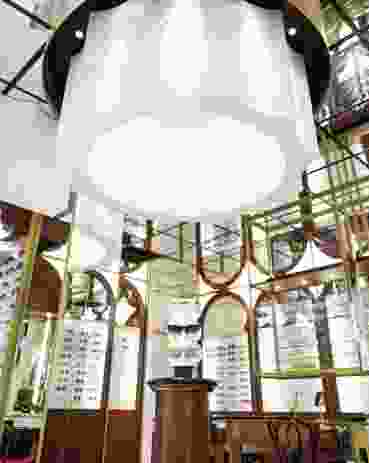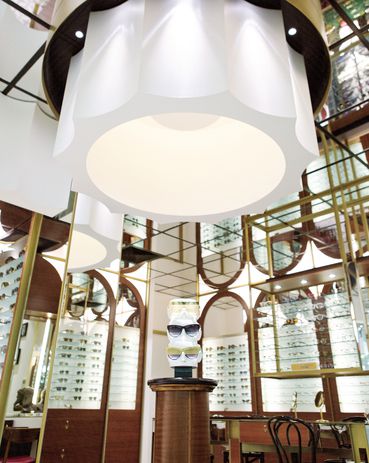 The detail and craftsmanship, inherent in the frames stocked at Optiko, are intimately part of the making of the store. The appreciation of a trademark-red screw or a rare and exclusive acetate constitute a language of detail and craft that Cameron has sought in the finish of the interior. Brass drawer pulls and cabinet hinges have been expertly selected for beauty and useability. The terrazzo floor tiles, handmade in Italy and dutifully sourced for this application, could not marry more perfectly with the setting or design intent, down to their central arch motif. Other classical references, including the fluted drum lamp, express fragments of a forgotten architectural language that are abstracted here with a sense of theatre to emphasize the collision of tradition and contemporary that the brand supports.
Optiko is not the least bound to fashion. It is, however, driven by exceptional design and timeless appeal, which is true of product and interior. It is not surprising to hear that some optical frames stocked here simply do not sell at a given point in time, a fact that doesn't negate their inclusion in the collection. Such is his dedication and belief in the product, Makras is content to wait years for a pair of frames to reach their optimum appeal and have their moment in the spotlight.
Products and materials
Walls and ceilings

Ceilings are custom-made mirror panels with black suspended grid.
Windows

All existing glazing and trims.
Doors

Cavity sliders with brass flat trims over spotted gum architraves.
Flooring

Handmade terrazzo floor tiles from Jatana Interiors.
Furniture

Joinery veneers in Turpentine from Sharp Plywoods. Brass powdercoated aluminium joinery framing. Bentwood stools. Other furniture from owner.
Other

Vintage hardwood display pedestal and glass terrarium from local antique shop.
Credits
Design practice

Stephen Cameron Architecture
Qld, Australia
Project Team

Stephen Cameron
Consultants

Builder Formula Interiors
Lighting Inlite

Site Details

Location Brisbane, Qld, Australia
Site type Urban

Project Details

Status Built
Completion date 2014
Design, documentation 2 months
Construction 2 months
Category Interiors
Type Retail

Source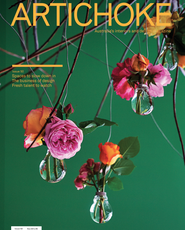 Project
Published online: 11 Jun 2015
Words: Michelle Bailey
Images: David Hanson and Chris Proud
Issue
Artichoke, March 2015