Ian Oelrichs FAILA ASLA
Landscape Architecture Australia wishes to congratulate Ian Oelrichs on being awarded a Medal of the Order of Australia in the General Division for service to the tourism industry, particularly through education and regional development.
Ian has had a big career that is reflected in this award. Industrial design and landscape architecture form the foundation for his direction in business and educational work. From Forsite Landscape Architects in Sydney in the 1980s, he went on to introduce EDAW to Australia. He was involved with infrastructure, tourism, residential and mining projects. During this time Ian was national president of AILA from 1987 to 1989 and Australia's representative to the International Federation of Landscape Architects for ten years.
This was the platform for him to diverge into tourism and sustainable development. Ian's initiatives on his move to the Northern Rivers region of New South Wales were prescient of what was later to follow in these industries. The breadth of his interests and involvement is exhaustive and continues to have a landscape architectural premise, with an emphasis on the "nexus between business and ecology" as a sustainable model for projects.
His work in regional development has allowed him to set precedents in this area. With his multidisciplinary and team approach, involving community and volunteering initiatives, Ian was instrumental in such projects as "forming Invest Northern Rivers that was the investment attraction arm of the local development board; the first regional land use strategy in New South Wales based on sustainability as well as the first regional ecotourism plan in Australia."
Such work is indicative of his energy and focus. Ian has chaired and sits on various committees and boards of organizations, nationally and internationally, public and private, that foster strategic resource management, tourism and community development initiatives.
Marion Blackwell AM, BSc, FAILA (Hon)
Landscape Architecture Australia wishes to congratulate Marion Blackwell on being named a Member of the Order of Australia in the General Division on 26 January 2011. She was awarded for services to conservation and the environment, particularly through the Australian Native Plants Society and the profession of landscape architecture.
Marion's work is largely based in Western Australia, although she grew up on a property in New South Wales, where she showed an affinity for the landscape. She arrived at landscape architecture via science, completing a science degree in Sydney. In an ABC interview with Peter Thompson she says "all aspects of botany was what primarily interested me at that time."
She went over to Perth when her husband joined a medical school there. She established Blackwell & Associates in the 1960s and became an Honorary Fellow of the AILA in 1981. She is involved in numerous councils for Heritage, National Park and Flora, and environmental committees and authorities that express her passion for the Australian landscape.
Her work as a designer, teacher and conservationist has involved her in many diverse issues including reserving the Bungle Bungles (in Western Australia) as a national park, and working on projects such as the North West Shelf Environmental Impact Statement/Environmental Risk Management Plan, Murdoch University campus, Aboriginal Cultural Centre in Carnarvon, Greening of Jigalong and Harold Boas Gardens in Perth in 1976.
Source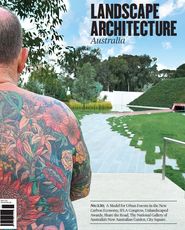 Issue
Landscape Architecture Australia, May 2011
Related topics