Once upon a time in the Land of Opportunity Graeme Gunn rang me at work and suggested we have a chat, and we did: after games of squash and refreshments at the Yale Club; on the New Jersey Turnpike, where our hired car (with me driving) missed the Princeton turn-off; in the Rainbow Room atop the Rockefeller Center where we ate, drank and laughed at Henny Youngman; at the bar in the Four Seasons (de rigueur for architects of that era); and at the Garden, where the Rangers beat the Black Hawks; it was there that he explained that he had been retained by RMIT to establish a degree course. In passing he offered me a job. At that moment I had no money and Melbourne was far from my thoughts, but some months later I was flown back to the Sydney Opera House to design a production of Don Giovanni, and I found myself employed at RMIT as a "temporary part-time" staff member, a position I held for fourteen years. Graeme Gunn's career at RMIT enabled my own, and I watched his with interest.
Paul Keating and Graeme Gunn may well have been the last of this country's great autodidacts.
Graeme played football a bit for the Demons and worked for Roy Grounds but his lack of a formal education (RMIT gave him an honorary degree so he could officiate at degree conferring ceremonies) enabled him to see education in architecture as a world of ideas, the newer the better, rather than a matter of preserving constituencies. The cut of Graeme's leadership style was Henry Buck's plus a winning cocktail of genuine curiosity and personal charm. He gave generously of his time and on many occasions put his hand in his own pocket to pick up a bill that the school had not budgeted for, often at a restaurant. He swiftly rose from Head of Department to Head of School.
Politics is about getting things done. Here his style and worldly sense of the possible rapidly moved architecture up to the Vice Chancellor's high table. The school's ongoing visibility quickly gained the confidence of the VC. Fortunately this is still the case (after eight subsequent Heads of the School) and this situation has greatly benefited Architecture's sense of identity and academic buoyancy and has enhanced the RMIT brand. The culture established by Graeme and a successful leadership succession over the years (which required some luck) has enabled Architecture to have the genuinely international design profile it enjoys today.
His commitment to students and to listening to and reflecting upon their opinions made him some enemies within the department's senior teaching staff. But secure in himself, he took heed of the next generation. At one point a particular staff member was voted onto Council with the express intention of getting him sacked. But Graeme is a Leo; he does not enjoy losing. He took the heat and saw off his foes. Graeme is a doer and a chancer, and he employed like-minded staff. The contribution of Terry Summers should be here acknowledged.
A moment came when there was an obvious need for a landscape department. Graeme mysteriously created one (like the Lord creating Eve from Adam's rib) as a by-product of nothing more than the architecture department's petty cash account and departmental credit card. It simply needed to be done, so he did it. In spite of RMIT's torpor, Graeme personally headhunted that wonderful designer Professor Jim Sinatra from North Carolina, and coaxed him and his family to Melbourne. And we have all been enriched by that initiative.
The academic world moves on and the morality play that was the eighties has been replaced by our present-day managerial world of "institutional transparency", where chasing money and kudos looms large. Graeme Gunn's ten years of academic leadership in the fast receding eighties established an academic culture that should be remembered and treasured. It could be characterized by the following:
A commitment to the world of ideas rather than the dogma emanating at that time from academic Britain, then another form of imperialism.
An atmosphere of civility among staff that still exists, and with it a continued sense that teaching the design of buildings can still be a toothsome thing, a work to be relished.
A commitment to listening to students and the ideas that preoccupy them, often in preference to senior staff. For some years during his time on the bridge First Year was actually run by a group of senior students, with some startling success.
A concern for the region as a shared tribal inheritance, with Melbourne the city as a base for urban research.
The School of Architecture that Graeme Gunn left behind (in the end he had had enough of it) has evolved into the leading architectural design school in this country. It is so in large measure because it was properly established in the first instance, and the culture Graeme Gunn did so much to create represented an enablement of ethics, not just skills, in order to clear the eyes and fortify the arms of the young.
Back in the mists of time I remember whinging to him about something or other of a personal nature. Graeme paused for a moment, then he said, "You must face the sun". It struck me then as unusual advice. I'm inclined to think now that it sums up what he bequeathed to the school. It was the gift of hope.
Source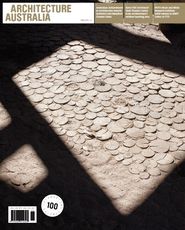 Issue
Architecture Australia, March 2011
Related topics