Our Houses: Architecture without ego
In a session entitled "Designing houses for artists and rockstars," you might expect a lot of vain posturing from architects and their clients. The latest Our Houses event, held on 26 October 2011 at Melbourne's Treasury Theatre as part of Melbourne Architecture Annual, brought two architect–celebrity pairings to the stage. Stuart Tanner spoke with Violent Femmes co-founder and bassist Brian Ritchie, and Chris de Campo with renowned Australian conceptual artist Callum Morton. But celebrity attitude was nowhere in sight.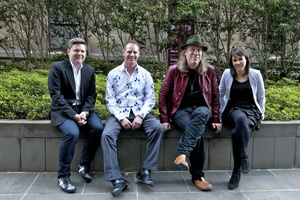 There's no denying that Brian and Callum live up to their "rockstar" billing. Brian is the authentic musician, sporting long hair, a red jacket and outlandish broad-brimmed hat on the night. As event organizers stood with the speakers, waiting for the event to start, Brian told band stories. How did people put events like this together before mobile phones? he mused, before bringing up his touring history. You just turned up and did what you said you were going to do, he said. Meanwhile, we hoped Callum would do exactly this: in true celebrity style, the frenetically busy artist was late flying back into town.
All took their places in the end, and the conversations that took place focused on collaboration. As Houses editor Katelin Butler said, introducing the session, Our Houses aims to demystify the architect–client relationship.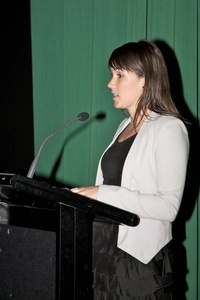 Callum, whose Ghost World exhibition was reviewed by Naomi Stead in the Nov/Dec 2010 issue of Architecture Australia, selected Chris primarily because of an existing friendship. He'd visited the architect's home multiple times and become familiar with the way it worked. Stuart and Brian had met in the "old fashioned" way, as Brian put it: he and his wife Varuni had looked for architects on the internet. But they then bonded over bringing similar books to the table as inspiration, shared interests in music, and their appreciation of traditional Japanese architecture like that of the Shokin-tei Teahouse in Kyôto, and its values of connection with landscape, wabi-sabi, and age coming with beauty.
Talking about the design and construction of Brian's Arm End House, in a beachside location near the mouth of the Derwent River in Tasmania, Stuart spoke of appreciating the "lovely humility" of Brian and Varuni's succinct brief. Later, in question time, Brian told how in his view, "the best collaborations are when you choose to work with someone who's exactly the right person and you do your thing and they do their thing, and there's no control."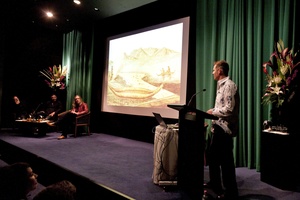 In the case of the Arm End House, the end result of client, architect and builder allowing each other their own input into design and realization is a house that cedes to its site's distinct character and natural beauty. Reprising the vernacular of the low-key Tasmanian shack in an unpretentious two-bedroom structure that opens to the elements through the use of movable, shutter-like grills, the house brings out the textural qualities of local timbers to create a warm, immediately homelike experience.
Though extremely different in style, Callum Morton's East St Kilda House, designed by Chris de Campo, shows similar values of humility.
The two semi-detached residences built on a single site where Callum's former home (a dull suburban affair) once stood are acknowledgedly "brutalist," and draw on the language of the fortress. Chris showed a whimsical photo of two of the houses's occupants peeking over the walls of raised, hidden courtyards like soldiers over a battlement. There's a distinct sense of hiding and turning away from the world in retreat to private life. Callum notes that the privacy the house affords lets the inhabitants overhear the conversations of neighbours and passersby, in which they refer to the house as a "prison" or "power station," or comment that the residents "don't like windows, do they?"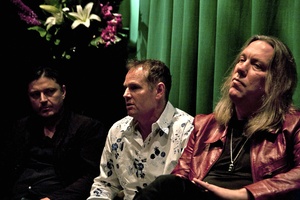 In the East St Kilda House, then, humility shows in a deference to materials and technique, as well as to a certain kind of tradition. Chris speaks with passion of his practice's commitment to the science of insulated precast concrete, and of creating buildings that, in a functional sense, "look after" their occupants. This architecture is cost-effective, durable, and energy-efficient: sustainable in the true, and not just the greenwashed, senses of the word.
Callum is comfortable saying that as a client he did have specific requirements for Chris to adhere to. There were budgetary pressures, for one thing, and for another there was the challenge of creating residences for two interconnected families. The one site is now also home to Callum's sister-in-law, her partner and their children.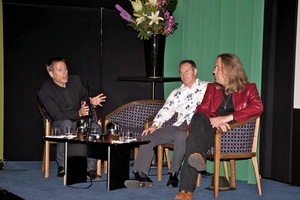 In this respect, there's less of a sense of unbridled creative freedom than in the Arm End House. But again, in spite of a denial that this is any kind of pompous, strictly ideas-driven architecture, Callum shows his appreciation for Chris's practice having developed a "mature language" of "materiality, modularity," and "neomodernity." He views Chris's work as moving away from an interest in the image in architecture to reliving a classic modernist conversation about form following function and being dictated by materials and techniques. Callum calls this "sort of nostalgic," in which again we can see humility in the practice of a deference to previously-established values.
So where the session title called on the images of genius, glamour and vanity, of the "artist" and the "rockstar," what we actually saw emerge in conversation was the artist's willingness to efface themselves in the process of creation. Callum perspicaciously refers to Chris as "an egoless architect, if that's possible." While these are homes for people with reputations and practical needs, the way their creators talk about them reveals the true artist's commitment to the work for its own sake. These houses have their own life and integrity, and stand independent of their makers.
---
Chris de Campo and Callum Morton on the Arm End House
Bonus: Peter Malatt, your Vespa is being towed