While interest in 3D printing can be as fleeting as plastic bunnies on the mantelpiece, it can also begin important discussions about the future of design.
The exhibition Out of Hand: Materialising the Digital, on show at Sydney's Powerhouse Museum until June, is about much more than 3D printing. It demonstrates the extraordinary breadth and creative potential of making and manufacturing today, where boundaries between the digital and the material are disappearing.
Out of Hand offers a refreshingly nuanced take on contemporary digital manufacturing's position at the frontier of conventional manufacturing. Digital information is portable, transferable and transformable; it can be shared and reproduced locally and globally. The possibilities for form, materials and data are expanding exponentially.
Fittingly, the objects included in this exhibition demonstrate a vast array of techniques, from CNC milling and laser cutting to digital knitting, as well as various forms of 3D printing (also called additive manufacturing).
Curated by Museum of Applied Arts and Sciences (MAAS) principal curator Matthew Connell and his team, Out of Hand draws from and further develops a 2013 exhibition at the Museum of Arts and Design in New York curated by Ron Labaco.
The Australian iteration includes many objects from the MAAS collection and makes a number of significant contributions to public thought. First, it breaks into issues of big data and data collection, allowing data complexity to be visualized in accessible and startling ways.
Second, it explores how the natural world can be scanned, digitized and remodelled, exposing minute detail and developing new forms with great problem-solving potential.
Third, it expands our understanding of time, pushing us to consider innovation and its consequences in much longer time scales than we are usually accustomed to.
Expressing data
The exhibition grapples with the way data can be shaped by creative practices. While data is collected in diverse fields – examples range from fashion design, cinema and visual arts to marine biology and biomedical engineering – the impact of digital technology on the expression of this data differs in each discipline. It is therefore in the design and production of material objects that we are able to recognize how data operates across and between traditional boundaries, addressing important issues in novel ways.
Measuring Cup (2010) by Australian artist Mitchell Whitelaw is an example of data manipulation as an interdisciplinary design practice. The cup is constructed from climate data, with each horizontal layer of the form representing a year of average temperatures in Sydney – radial line graphs layered chronologically from the bottom up. The cup can be comfortably held and would probably be perfect to drink from. But the ergonomic lip is not informed by user behaviour – rather, it gives shape to the warming trend of recent decades. This produces what the designer calls "a moment of haptic tension." While the cup's digitally rendered design demonstrates the accelerating pace of global warming, it also produces a human-scale connection to data that is more powerful than facts alone.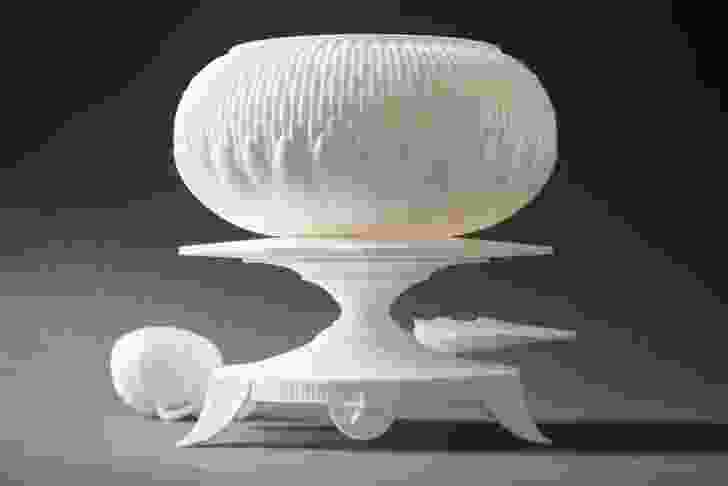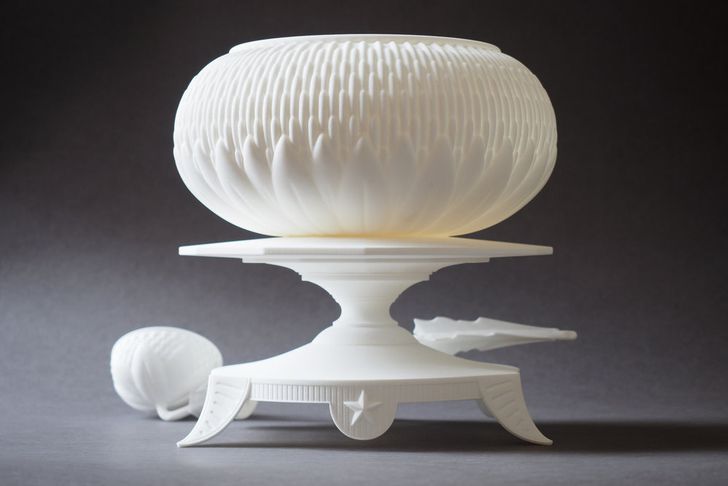 Exposing nature
Nature-inspired flowing forms are synonymous with the work of the late Zaha Hadid. The dynamic shadows and reflections created through the transparent surface of Liquid Glacial Stool (2015) seem to shimmer, performing as a record of time and space. Like many objects produced through advanced manufacturing, Liquid Glacial Stool mixes digital and manual processes: CAD files were required for the CNC milling of the acrylic, but the final, ultra-glossy finish was achieved by hand-polishing. The result is a compelling amalgamation of the natural and the artificial, as well as the digital and the manual.
In a commission made specifically for the MAAS exhibition, iconic drawings by French-Australian artist Lucien Henry (1850–96) are brought to three-dimensional life by Sydney industrial designer Andrew Simpson of Vert Design. With a little creative licence, Simpson converted Henry's detailed drawings into CAD files and printed the objects using selective laser sintering (SLS). The 3D realization of the Waratah soup terrine allows for a much richer experience of Henry's highly original balance of shape, form and surface detail.
Extending time
Out of Hand stretches our perception of time, encouraging visitors to consider possibilities beyond the short-term. Connell explains,
We are inclined to view our circumstances through the cycles of the financial year, the parliamentary term, the time that our children spend at primary or secondary school … But many processes in culture play out over much longer timescales. When we view the world through different time lenses, different truths can be revealed. [The MAAS exhibition provides] the opportunity for people to think beyond the timescales that have come to dominate our understanding of our world.
Out of Hand makes it clear that 3D printing is not new, and reveals affinities between technological, social and political practices over history. The inclusion of eighteenth century porcelain is a reminder that additive manufacturing methods are connected to one of the oldest forms of 3D modelling: the clay coil. Pointedly, the exhibition includes a porcelain bust of Baron Schmiedel, a court jester to Augustus the Strong, King of Poland (ruled 1694–1733). The bust – made by Johann Joachim Kändler in 1793 – was forged in Europe's first factory to make hard-paste porcelain, the precise formula for which was only discovered by Augustus's chief alchemist after he had been imprisoned in order to crack the formula. (So that's one way to boost innovation: authoritarian decrees.)
Past and future are fused spectacularly in the work of Barry X Ball, who sets out to "improve" sculptural masterworks to make them "more perfect." Using a combination of 3D modelling, CNC milling and hand carving and polishing, the Baroque sculpture La Invidia by Guisto La Court (c. 1670) is transformed into the radiant and mottled Envy (2008–16), made of golden honeycomb calcite. Like Vert Design's soup terrine, Ball's works demonstrate how emerging production techniques have the potential to profoundly rupture our understanding of authorship, authenticity and individual creativity.
Out of Hand ultimately reminds us that technology and innovation are not just about all that is shiny and new. While also offering historical precedents, the exhibition as a whole points towards future possibilities, demonstrating how evolving form and materiality will help us overcome future challenges.
Out of Hand: Materialising the Digital is on at the Powerhouse Museum, Museum of Applied Arts and Sciences (MAAS) until 25 June 2017.
Related topics