A visitor to the multi-level Marina Bay Sands Convention Centre and Shoppes (sic) finds themselves contemplating the nature of stairs if only for their absence. The stair's quick, efficient but romance-less cousin; the escalator, dominates the complex. Ubiquitous, narrow and steep the shifting treachery of the Marina Bay escalators have already claimed the shins and fingers of several junior WAF attendees. So on the opening day of the festival for 2013 it was especially pertinent to hear Kim Herforth Nielsen from 3XN discuss the centrality of stairs to his firm's designs.
In his afternoon talk, The value of delight: quantifying satisfaction, Nielsen described stairs as a critical social element within their buildings, an "interactive form" that was instrumental in making users feel more engaged with both the space and their fellow occupants. Citing their Ørestad College in Copenhagen, Nielsen described the stair as a focal point of knowledge exchange between students, where students can "learn from each other." For 3XN these social meeting areas, stair or otherwise, are key to successful environments.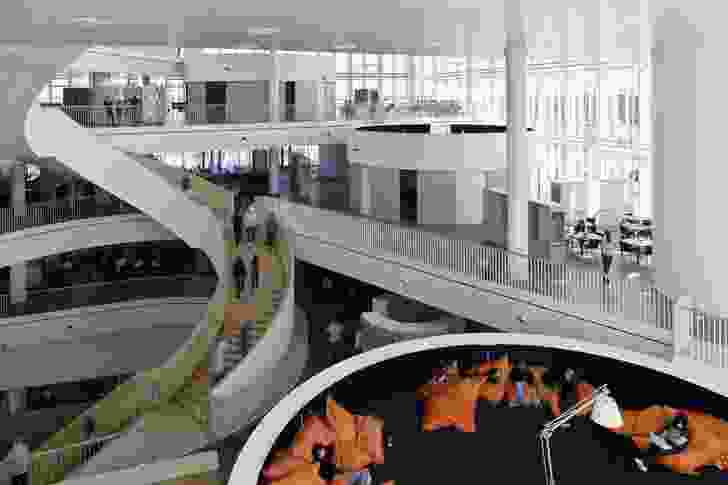 The Marina Bay Sands complex probably fails that test. Other elements 3XN cite in creating environments that make for happier (and more efficient) occupants were visual transparency: users are informed about what is happening within the space and engaged with it, and spatial diversity: users can select the right environment for the task at hand.
Also speaking at the session was Nielson's colleague, Mille Sylvest, an architectural psychologist from 3XN's research arm GXN, who touched on the practice's implementation of surveys and interviews to gauge user response to spaces. This tantalizingly suggested the possibility of quantifying the social and emotional benefits of one design over another, but a deeper discussion of this process of evaluation or measurement didn't eventuate.
So ultimately, delight itself eluded quantification, winning out over moderator Paul Finch's attempts to extract from the panel a metric for this quality. Finch offered that there was a fleeting element of the unexpected in delight and described his own reaction to the Marina Bay Sands as "astonishment," but not "delight."
Related topics