Sydney is dotted with many small communities that are captured and held in isolation by their surrounds. In some cases the edges of these communities are defined by their natural geography – for example, waterways and cliff faces. In other instances they are defined by civic infrastructure – roads and institutions and large open spaces left green by the city. This house by Nobbs Radford is found in one such isolated pocket. Bound by parklands and major roads, this remote island is like no other part of the city. Over time it has evolved to display particularly significant and unique urban characteristics.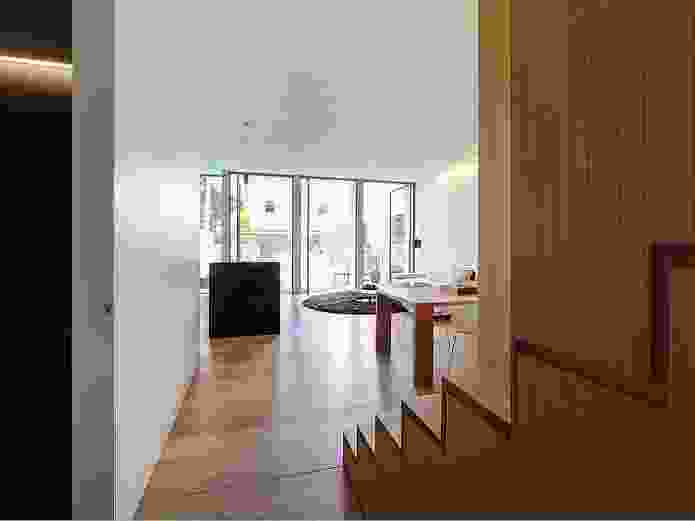 A number of the grander streets are towered over by mature figs, while smaller ones retain their pre-motorcar scale, allowing pedestrian access only. These laneways evoke images of Jimmy Bancks' Ginger Meggs skipping up the pavement and neighbourhood children playing hide-and-seek after school throughout the maze of local friends' houses. Wandering down the streets and laneways you are conscious of the fact that here the street is considered as much a part of the living space as the dwelling itself. People spill onto the footpaths and you are constantly stepping around or over pot plants that have long since broken free from their owners' property boundaries. These are little lots with little houses on them, refreshingly modest in a city that seems to have wiped the very definition of modest from its consciousness.
However, there is an inherent challenge in designing a new home on one of these small lots – how to enable contemporary family living in tight spaces. Increasingly, we are asking for more to be done in less space. The convenience of being able to walk to school, to the supermarket, to the hospital, to the high street shops and so on needs to be balanced with fitting everything in – three beds, living, dining, family, kitchen and laundry. Oh yes, and a pool!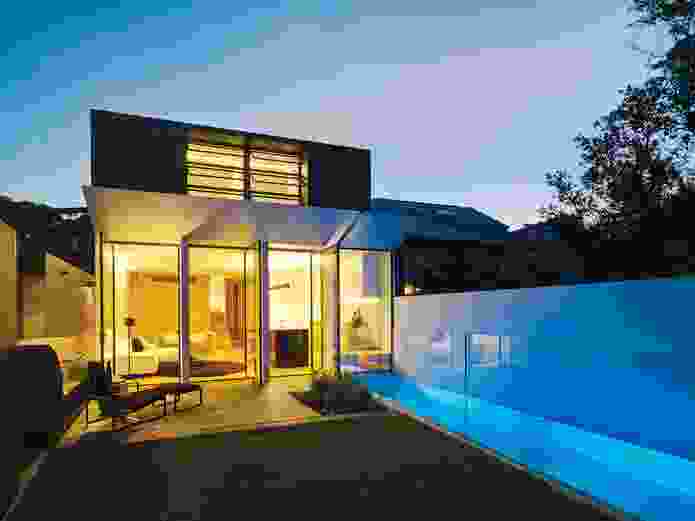 In a small act of generosity, this family's north-facing plunge pool opens onto a small rear yard, which in turn opens onto one of the Ginger Meggs lanes. You can imagine the constant knocking on the back gate that would occur during the long hot Sydney summer weekends, as the neighbourhood kids are drawn to the pool like bees to a honey pot.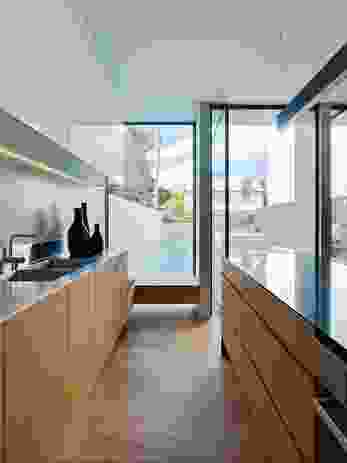 Nobbs and Radford has planned a simple home, systematically creating bigger spaces by making use of every conceivable nook and cranny. The bones of the original cottage can easily be read and form the living and dining spaces directly off the street entry. With the removal of a few walls, the once poky spaces benefit from the inclusion of the original hallway in the plan. These more formal spaces are split from the kitchen and casual living by a change in level (two steps down) and a TARDIS-like timber box that contains the staircase, laundry, storage and airconditioning unit. This is a beautifully crafted object. You can see how much pride the builder took in constructing it. It is also the only place in the home where the architecture asserts itself to define spatial organization.
The family spaces and the kitchen sit to the north of this warm timber box and open onto the rear yard and pool. The kitchen is simple and welcoming, complete with a window seat adjacent to the pool for the little people of the house to help with the cooking or simply download their day's school activities. The upper level of the house captures the three bedrooms and associated bathing facilities, principally within the roof space. These simple rooms enjoy the manipulation of natural light and a refined, pared back material palette.
It is refreshing to enter a house where you can see that every inch is used by the family. There are no "special event" spaces in this house. This is a lived-in place, loved by its family. Not an inch too big, not an inch too small. It is just right.
Products and materials
Roofing

Kraftmetals Astroseam.
External walls

Daniel Robertson bricks, 75 percent Hawthorn Black and 25 percent London Blend.
Internal walls

American oak veneer panel to stair walls.
Windows and doors

Skyrange steel windows.
Flooring

White American oak floorboards.
Lighting

XAL Minimal 60 system strip lighting, Stilo 60 suspended strip lighting and Loggy wall lights.
Kitchen

American oak timber veneer to cupboards; gloss polyurethane cupboards, painted Dulux 'Black' and 'Whisper White'; stainless steel benchtop; Stone Italiana 'Nero Puro' benchtop; Miele appliances.
Bathroom

Rogerseller semi-recessed and wall-hung basins, Parisi Mono wall-hung pan; Stormtech strip drain; Kaldewei Centro Duo bath; Geberit Swissfix concealed cistern; Bisanna floor and wall tiles.
External elements

Better Tiles glass mosaic 'Topaz' pool tiles.
Credits
Architect

Nobbs Radford Architects
Sydney, NSW, Australia
Project Team

Alison Nobbs, Sean Radford
Consultants

Builder James Morrison Construction
Engineer Barrenjoey Consulting Engineers
Heritage John Oultram Heritage and Design

Site details

Location Paddington, Sydney, NSW, Australia
Site type Urban
Site area 201 m2
Building area 195 m2
Category Residential buildings
Type Houses, Residential

Project Details

Status Built
Design, documentation 2 months
Construction 12 months

Source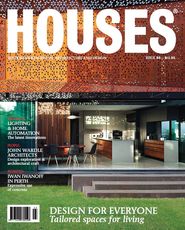 Related topics