You never quite know what lies behind the traditional facade of a Paddington terrace. Occasionally there might be a tantalizing glimpse through an open front door or from a back lane. Sometimes, however, a small detail can give much away. Such is the case with the extensive alterations undertaken by architect Anthony Gill in combining two terraces into a single family house. The careful placement of finely detailed, custom-made, aged brass house numbers and the immaculately restored individual facades themselves hint at a level of subtlety and thoughtfulness that immediately captures your attention and reveals itself to be a driving force in the design of the home.
The clients' brief, according to Anthony, said that "the new house needed to cope well with their large, busy family, it had to join the two distinct properties seamlessly, and could in no way be 'over-designed' or fussy." The house experienced an ongoing evolution of design, documentation and construction extending beyond two years. Much thought and consideration, indeed care, has been given to the creation of calm and serene spaces, unassuming yet with a distinct sense of elegance and refinement, held together by the simple composition of internal and external volumes and the control of light and materiality.
Two main ideas are essential to the concept of the house. First is the void over the dining room. Pivotal to the planning of the house, the void acts as a central organizing element both formally and experientially. To the left the kitchen and adjoining sitting room flank the courtyard; to the right is the living room. The staircase abuts the east wall and is placed outside the void, creating a vertical winding circulation route terminating at a suite on the third floor with unexpectedly beautiful views over Paddington rooftops. Within the void space, natural light enters primarily through large sliding timber doors at ground level. The success of this move is apparent in several ways. The quality of light coming into the space is controlled and modulates softly upwards past a gracefully suspended David Weeks mobile light, a visual centrepiece for the house. The passage created around the void acts as a circulation path leading to bedrooms and provides visual connections for the family between floors. It is a space that also invites you to linger and reflect, surrounded by the warmth of timber finishes, white plaster walls and light.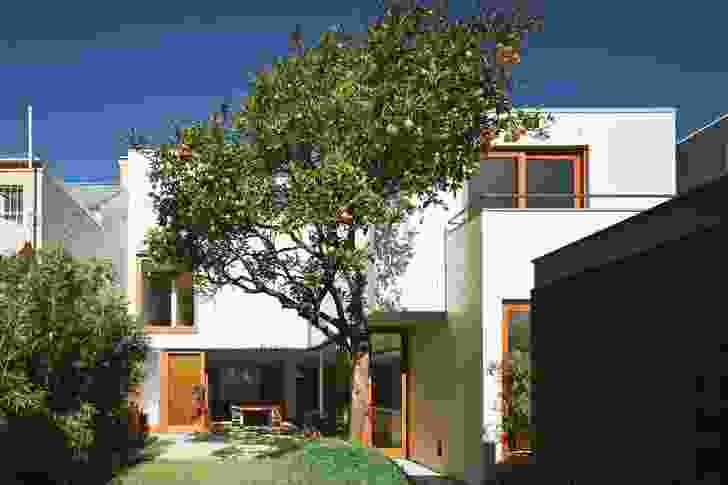 The second main concept is that of "wall" and within this are two important themes: texture and opening. Uncommon in contemporary Sydney architecture, yet important to the success of this house, is the deliberate use of bagged and painted brickwork, which simply and directly exudes a textural quality that smooth render and paint cannot. It is somewhat reminiscent of an Iberian sensibility, recalling the white-wall houses of José Antonio Coderch as well as those of the Sydney School. As a result, the experience within the courtyard is that your visual and tactile responses are heightened by the animation of light on the uneven rough wall surfaces. A sensation of weight is created by brickwork suspended over large openings.
Coupled with this is the sparse but selective placement of windows on external walls. Anthony remembers convincing the client to have what is essentially a blank wall on the upper level above the dining room and that a framed view of their much loved orange tree would be more meaningful and engaging than seeing it from every internal space. This theme is consistent throughout the house. The location of windows within rooms allows controlled views to the court and rear yard, and large sliding windows in the bathrooms and kitchen open into private spaces, extending the house outward to the full width of the site. There is a sense of spatial luxury usually hard to obtain in terrace houses.
The Paddington House is a crafted, subtle and delicate response to brief and program created by the overlay and fusion of materiality, volume and light. The result is a strikingly confident but self-effacing house. It evokes a sense of calm, ease and charm commonly attributed to the idea of "home," belying the effort, skill and dedication required to attain such elusive qualities.
Products and materials
Roofing

Pre-weathered zinc from Craftmetals.
External walls

Boral bricks, bagged and painted.
Internal walls

White set render, painted; Amercian oak panelling, clear finish.
Windows and Doors

Amercian oak window and door frames, finished with Sikkens Cetol HLS and Filter 7; Chant aged brass hardware.
Flooring

American oak tongue and groove flooring.
Lighting

David Weeks Studio hanging mobile; Erco internal and external lights; Louis Poulsen entry light.
Heating/cooling

Daikin ducted air conditioner.
Kitchen internal walls

White set render, painted Dulux Antique White USA.
Kitchen flooring

American oak floorboards, Synteko finish.
Kitchen joinery

Poliform joinery, gloss white with custom pulls; SS back bench and scullery; Calacatta Extra marble island benchtop and splashback; American oak quarter-cut veneer custom joinery.
Kitchen lighting

Agabekov strip ambient lighting; Erco task lighting.
Kitchen sinks & tapware

Vola tapware; Franke Kubus island sink and integrated sink in scullery; Zip HydroTap in scullery.
Kitchen appliances

Gaggenau oven and cooktop; Liebherr refrigerator; Miele dishwasher; Qasair exhaust fan.
Kitchen doors & windows

American oak timber external sliding window with Chant aged brass hardware.
Kitchen furniture

Artek K65 high chair.
Bathroom internal walls

Vixel tiles.
Bathroom flooring

Vixel tiles on concrete slab with screed.
Bathroom joinery

American oak vanity and cabinetry, custom-aged brass hardware; mirror splashbacks and medicine cabinets.
Bathroom lighting

Agabekov strip ambient lighting; Erco task lighting.
Bathroom tapware & fittings

Vola tapware.
Bathroom sanitaryware

Agape Flat 80 and Spoon basins; Agape Spoon bath; Kaldewei Centro Duo bath; Duravit Happy D toilet.
Bathroom doors & windows

Natural anodized aluminium external sliders.
Source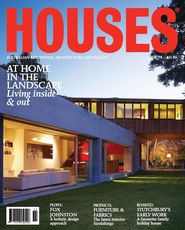 Related topics