Paddington Reservoir Gardens are quite unique in Australia – inhabited "ruins" as public space.
The original damaged reservoir structures have been stabilized and re-imagined as a much needed and clearly loved urban park and community venue in inner-city Paddington. When the jury visited on a sunny Sunday, the gardens were being enjoyed in myriad ways – as adventure playground, meeting place, retreat.
The architects changed the original reservoir structures only "as much as necessary but as little as possible" in very appropriate and successful accord with Burra Charter principles. Rather than, as briefed, capping and sealing the remnant historical reservoir structures, the architects made the inspired move of dropping the main park level below street to the original base levels of the western chamber, and adapting the columns and walls as space-making devices around the sunken gardens and pond. The eastern chamber has been conserved as a flexible new community space. New lightweight roofs are visible from street level, announcing the presence of the gardens and guiding visitors to the main entry points and into the accessible boardwalk system.
Paddington Reservoir Gardens are a great example of an inspired approach to heritage, architectural originality, advocacy and collaboration with a supportive Sydney City Council, also to be congratulated for supporting great design and thereby public education and amenity.
– Jury citation
Credits
Design and project manager

City of Sydney
Sydney, NSW, Australia
Project Team

Tim Greer, Julie Mackenzie, Trina Day, Roger O'Sullivan, Wolfgang Ripberger, Tamara Frangelli.
Consultants

Architect Tonkin Zulaikha Greer Architects, JMD Design
BCA consultant Blackett Maguire + Goldsmith
Builder Brisland
Certifier Advanced Building Approvals
Electrical consultant Haron Robson
Graphic design Jelly Design
Heritage consultant Warren Smith & Partners
Landscape JMD Design
Planner City Plan
Remediation consultant MPL Health Safety Environment
Structural consultant SDA Structures

Site Details

Location Oxford Street, Paddington, Sydney, NSW, Australia
Site type Urban
Category Landscape / urban
Type Culture / arts, Outdoor / gardens, Public / civic

Project Details

Status Built

Source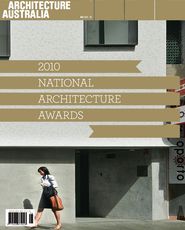 Issue
Architecture Australia, November 2010
Related topics