Built in the spare bedroom of Ray and Charles Eames' small Los Angeles apartment in 1940, the Kazam Machine was an unimpressive-looking contraption. Cobbled together from two-by-four, plaster, electric coils and a bicycle pump (all smuggled into the building after dark), it was designed and built by Charles to allow him and his wife, Ray, to experiment with the three-dimensional moulding of plywood. Initially they focused on furniture and pure sculpture, testing the capabilities of the machine, veneers and adhesives, but after a visit from a doctor friend at the end of 1941 they turned their attention to the prototyping of a leg splint for the US armed forces. By 1942 the splint was in production, and with an eventual production run of over 150,000, the Kazam bankrolled the Eames studio, ensuring access to the materials, cash flow and technology vital for the innovations of their subsequent work.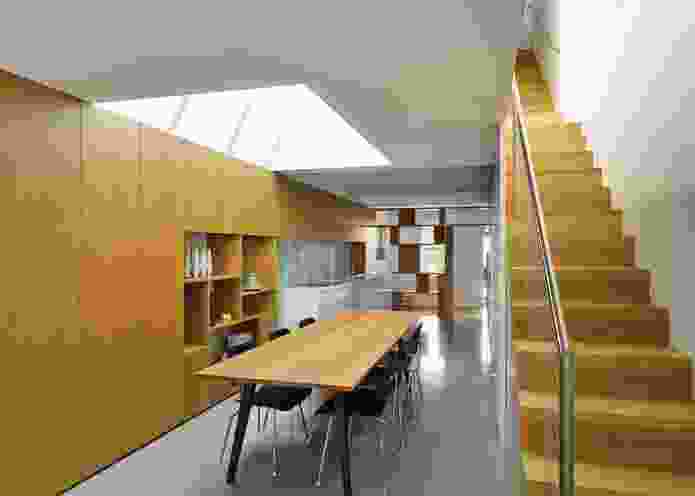 The prototype is a fixture of contemporary architecture, particularly architecture with a strong interest in modernism. If individual or bespoke architecture is an entirely unique response to a particular place, time and circumstance, prototype architecture consists in a series of ideas which, through testing, honing and selective interpretation, provide a choice of elements that can unite project types – small projects with larger ones, a house with an institution, a piece of furniture with a city plan.
Bennett and Trimble's small-scale interventions at Paddington Terrace in Sydney are a nice example of this kind of thinking in action. The result is a piece of architecture that not only elegantly resolves issues encountered in all terrace house refurbishments – how to bring light into a deep, narrow footprint, connect indoor and outdoor spaces and integrate modern comfort and technological convenience with the structural and dimensional constraints of a 150-year-old building – but does so in the prototypical spirit, using the project as a means to explore ideas beyond the realm of the project itself.
Following a course from earlier projects such as Elizabeth Bay Apartment, the scheme starts as a simple diagram of removal and insertion: removal of walls and insertion of a new floor, skylight and furniture. Consistent with earlier projects, there is also a fascination with joinery, both in the details of its fabrication and as a means to unite the project conceptually and materially.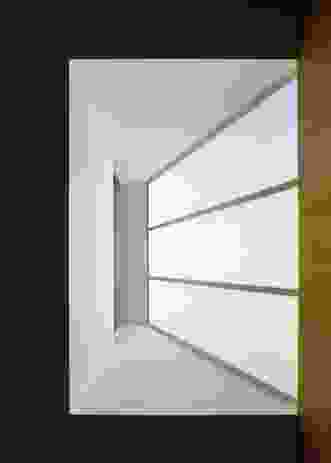 At Paddington Terrace the primary architectural gesture is a continuous timber element that starts as a portal and screen, flips and folds to become a kitchen, and eventually slims out to hold the electronic paraphernalia of the living room – television, music system and the like. In the process it also allows for the unknowable and largely uncontrollable mix of structure, plumbing and linings inevitable in any old building refurbishment. It is a playful piece and clearly one that brought the architects joy. As a screen it operates as a threshold, a framed entry point through which one steps up and into the clean lines of the "new" house.
Perhaps most interestingly, the location of the screen only a few metres from the front door creates an intimately scaled anteroom. When we visited, this space held a resplendent Christmas tree and copious presents, but the owners spoke of it as also being a lovely place to sit, a room without a name that allows a view of, and engagement with, the street on one side and the domestic world on the other. The articulation of the screen plays with this idea of view, in some places framing shelves and cabinets, in others drawing our eyes to certain elements in the room beyond, and elsewhere surprising us by reflecting back the room we are in through the unexpected use of mirror.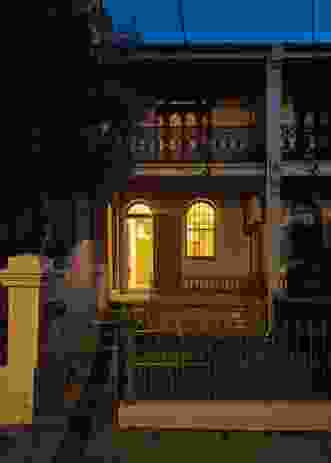 This sinuous element in the design reveals a second preoccupation – that of the diagram. Regardless of project type, Bennett and Trimble uses the exploded axonometric as a representational tool. Be it the practice's winning entry for the Gold Coast Cultural Precinct Ideas Competition in 2009, or a bathroom refurbishment, the careful line-drawn axo defines the parameters of the scheme. Thus at a formal level something in the proportion and geometry of the screen element in Paddington Terrace can be discerned at the scale of a facade in Bennett and Trimble's Newcastle University Student Housing Masterplan.
It can also be seen, more directly and strategically, at Macquarie University, where the architects have reworked the idea of a single adaptable joinery element to create a 160-metre-long plywood desk that twists, folds, expands and contracts in a seamless loop to create an assortment of learning spaces or carrels (individual, collaborative, team-based) in the university's former library building.
But for me it is the unexpected, almost accidental front room that most stays with me. As we walk back through the quiet tree-lined streets of Paddington I am left pondering the impact on street life of the reorientation of the terrace that occurs, almost without exception, as these houses are repurposed for contemporary life.
Perhaps there is something in this idea of the screened anteroom – a lens and filter between the public and private realms – that might allow these two worlds to continue to actively coexist. Another piece of plywood for the Bennett and Trimble Kazam Machine, perhaps?
Products and materials
Doors

Galvanized steel doors from Skyrange Engineering.
Flooring

Polished concrete; European oak timber boards.
Lighting

Euroluce Easy Kap downlights; Euroluce Wan Spot spotlights.
Kitchen

White polyurethane joinery and rift-cut European oak shelving by Adam Standfield Cabinet Making; Gaggenau oven, dishwasher, wine fridge and cooktop; Sub-Zero fridge; Qasair rangehood; calacatta marble splashback from Artedomus; KWC Eve mixer.
Bathroom

Bisazza glass mosaic tiles; Villeroy and Boch Subway toilet; Duravit Scola basin; Kaldewei bath.
Heating and cooling

Airconditioning from Osmond Air Services.
Source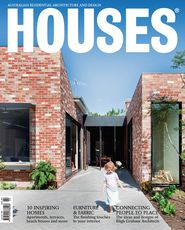 Related topics