Empires thrive by absorbing and including others. This is true in many ways, and very evident in art. Romans strove to exemplify and then outdo their forebears in civilization, the Greeks. The ways in which the American cultural imperium builds on British roots is revealed – at a distance – by a recent house on a coastal headland in the Otways in southern Victoria. In an era in which almost every one of the headlands on our island continent seems doomed to be surmounted by an overblown ranch house, it is significant that one dream house inspires such reflection. The reflection arises because architect Ben Milbourne based his design on the classical model of a square divided three ways into nine equal sub squares: "… mathematical, abstract, four square and without apparent function, and totally memorable …" wrote Colin Rowe in his seminal essay on the persistence of this figure from Andrea Palladio through to Le Corbusier ("The Mathematics of the Ideal Villa," 1947).
Ben, the founding director of Bild Architecture, floated a nine-square plan onto the dunes, elevated its divisions in glass and then dragged the controlling point of a roof extrusion into one corner. The result is an intriguing hybrid between two models. Ben's design treats the dunes of the headland as waves and the square floor and basement plinth as a raft breasting these waves. This is very much in the steady manner of Rowe. His roof, however, is inspired by Peter Eisenman, when, aiming to outdo the Brits, he designed Fin d'Ou T Hou S and tilted the grid into the ground. Those intent on discovering its maintained symmetries must (conceptually) bury their heads in the sand and look upward. The simple expression of power has become a parlour game for those in the know. Nudge, nudge.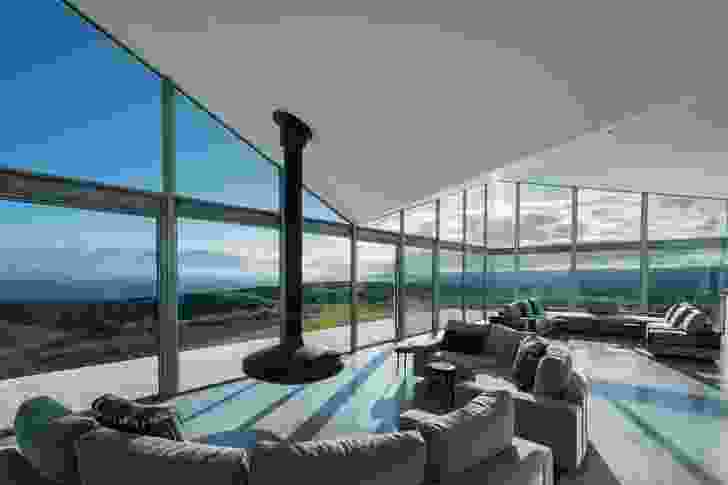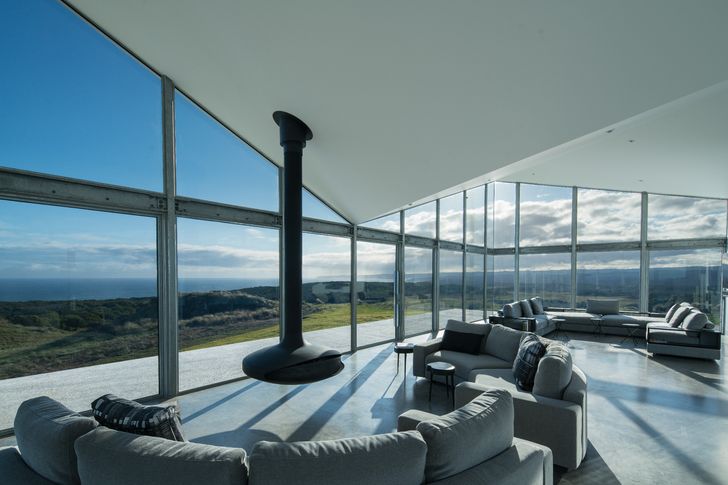 In Ben's mind the nudge lies in the independent resolution of the roof. For him, this refers to the way Hans Scharoun floats the forms of his concert hall in Berlin above a steady ground plane. The simple sandwich of planes used by Mies at the New National Gallery (1968) next door is rejected. Milbourne set his team the challenge of finding the roof extrusion system that best suited the spaces being nurtured below, and the office explored ten options, subjecting each to ten design tests. Three of the seven-by-seven-metre squares along one face transit from the entrance space to a snug wrapped around a fireplace, and then on to a dining/kitchen. Two squares to each side of this contain bathrooms and bedrooms. The central, unroofed square is a courtyard and the final square is a swimming pool.
The dragging of the roof profile offsets the mullions in what is, as far as practicable, a glass box subdivided by glass partitions. The mullions are set apart by differing amounts; within the ideal form inscribed in my mind, there were subtle rhythms at work. I counted eight surfaces that suggest spatial differentiation from above my head, while the floor plane runs flat and logical below. Without this careful overhead modulation into sub spaces, this could have been one of those intimidating panoramic glazed boxes that are the epitome of the alienation from nature caused by too full an embrace. A lesson taught by glass houses everywhere.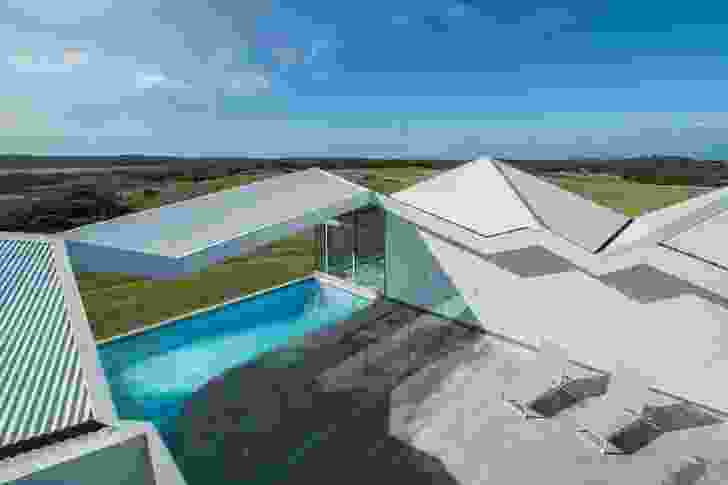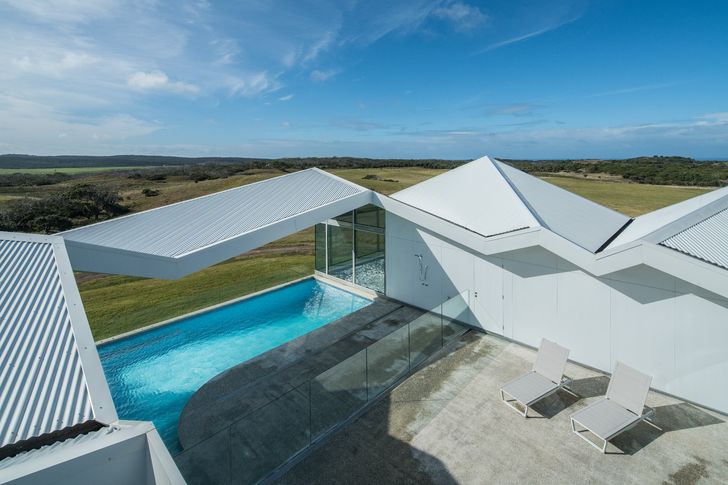 Of the nine squares, one three-sided glazed square containing the main bedroom is allowed to rise up to almost double volume, punctuated by a sky-watching roof light. The roof extrusion here conceals an upper-level eyrie, from which neighbouring headlands can be watched. The eyrie is reached by an external stair from the courtyard. The roof profile folds over the pool as an open canopy, providing shade in summer, but also capturing the view of a distant inland ridge of trees.
The blowsy ranch houses on neighbouring headlands set no limits on their encroachment into the landscape. As you drive onto the Otways headland there is a glimpse of Ben's bounded figure riding the grassy dunes. If it were a flat-roofed box, the house's elevation would show no hint of the geometrical purity that is at work. From a distance the folded roof takes on the look of one of those hats that falls out of a cracker at Christmas. It makes a crown, the points of which hint at the subdivisions within. Serendipitously, this long prospect to the ambiguously zigzagged figure is framed at close quarters by a cylindrical water tank, also a bounded figure. Both the "tank" and "crown" look as if they could be picked up and moved. Both fulfil their geometrical origin, but both are contained, finite. They make limited claims on the landscape.
Leaving the site, we pass an estate agent's board advertising a seaside mansion, replete with an indoor pool. It could be any headland, anywhere. On the board, alluringly lit spaces beamed their presence into a twilight still glowing from a lurid sunset. This is an image almost too good to be true.
Products and materials
Roofing

Lysaght Custom Orb in Colorbond Coolmax; Webforge fibre-reinforced plastic roof decking in 'Grey'.
External walls

James Hardie Scyon compressed fibre cement sheeting in Dulux paint.
Internal walls

Gyprock plasterboard in Dulux paint; western red cedar; ceramic tiles from De Lucia Tile Gallery.
Windows

Custom hot-dip galvanized steel-framed windows from 3D Glass; Viridian Energy Tech insulating glass, clear.
Doors

Custom hot-dip galvanized steel-framed doors from 3D Glass; B&D Panelift Icon door in 'Nullarbor Smooth'.
Flooring

Burnished concrete.
Kitchen

Miele ovens and induction cooktop; Schweigen concealed rangehood; custom stainless steel benchtop, sinks and coolroom.
Bathroom

Caroma Marc Newson toilets and Titan outdoor showers; Astra Walker mixers and shower sets in 'Matt Black'; Stormtech shower grates; Sawo sauna heater.
Heating and cooling

In-slab hydronic heating with air-sourced heat pump; Fujitsu bulkhead airconditioning; Lopi Fireplaces Gyrofocus suspended fireplace.
External elements

Exposed aggregate concrete, 80 percent quartz, 20 percent bluestone aggregates; Stormtech linear grates.
Other

Custom concrete pool; Solar PV and battery system from City to Surf Solar.
Credits
Architect

Bild Architecture
Melbourne, Vic, Australia
Project Team

Ben Milbourne, Evie Blackman
Consultants

Builder Roberts Builders, GreenCon
Engineer MacLeod Consulting
Environmental engineer Northco Systems
Environmental management Beacon Ecological

Site Details

Location Cape Otway, Vic, Australia
Site area 720000 m2
Building area 300 m2

Project Details

Status Built
Design, documentation 12 months
Construction 12 months
Category Residential
Type New houses

Source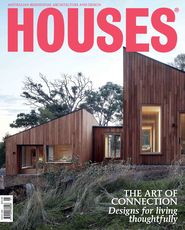 Project
Published online: 22 May 2018
Words: Leon van Schaik
Images: TM Photo
Issue
Houses, February 2018