REVIEW DAVINA JACKSON PHOTOGRAPHY ANTHONY BROWELL, PATRICK BINGHAM-HALL, ELLIOT COHEN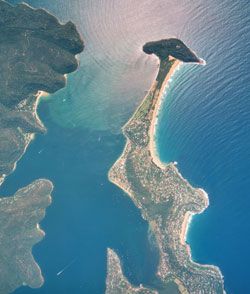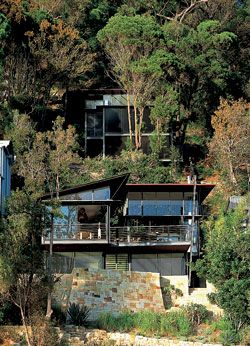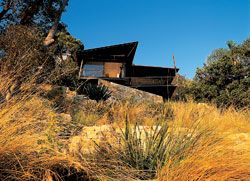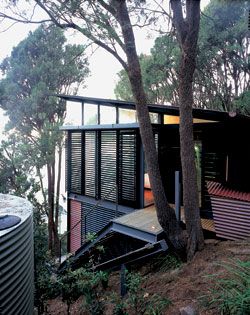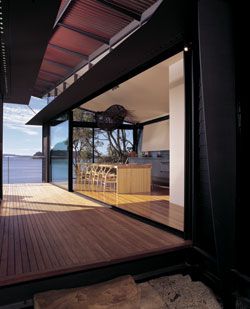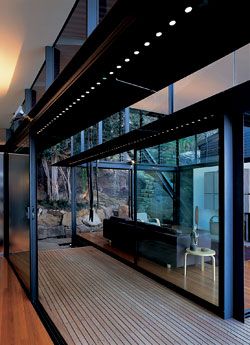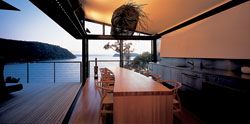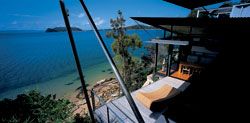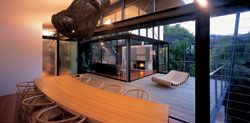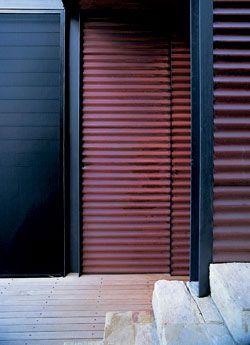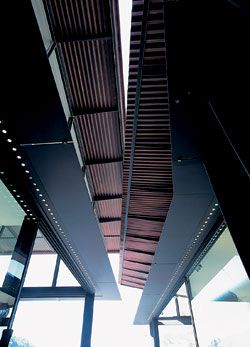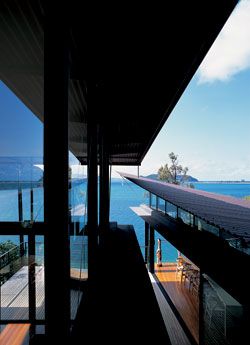 SYDNEY'S GREAT MACKERAL Beach, on the western shores of Pittwater Harbour and accessible only by ferry, is a village strung along the narrow interstice between bush-clad sandstone cliffs, a grassy river flat and a dinghy-littered beach interrupted by a long jetty. On the high side of this picturesque hamlet, a row of unusually steep building sites has long challenged a succession of Sydney architects including Alex Tzannes, John Andrews and, in the latest case, Rob Brown.
Back around 1980, Mackeral's cliff was the focus of a Land and Environment Court commotion when Peter Stronach of Allen Jack + Cottier was forced to defend cladding his two-storey Miller house with dazzling white corrugated Colorbond. Outraged neighbours told newspapers that AJ+C should respect a local convention that house colours should blend with the natural tonal context of eucalypts and sandstone. They noted that most nearby residences were painted khaki green or ranch-house brown, in the mode of the seventies. Stronach, however, was an ambitious emerging architect and a yachtie who would not be dissuaded from his crisp, nautical steelwork.
Now Rob Brown has added his answer to the Great Mackeral styling debate. For client-neighbours Dougal and Marcia James-Robertson, he has delivered a trio of glass boxes cantilevered off the perilous hillside - with side wall claddings and roofs in a new material, Stramit's corrugated copper, that already appears simpatico with the bush.
That choice of copper adds a price premium to the steel alternatives, but politely prevents Brown's fifth facades from spoiling the Pittwater panorama enjoyed by occupants of houses on higher ground. Similarly, his steel and aluminium frames in shades of black powder-coating cause the house to optically recede when viewed from ferries approaching the jetty.
At the base of Alcatraz - the builders' nickname for the site - are massive sandstone retaining walls reminiscent of primal monuments. Built to a depth of 3.3 metres, these "imperial walls" of irregular stonework are held together with recessed mortar to emulate ancient European, Asian and South American dry-pack techniques. They are made from the rubble created by excavating the cliff with hand tools. Digging machines could not be operated on this 50-degree gradient, so the site-work phase caused all-day cacophonies of chipping, which Brown says "sounded like Carrara".
As well as providing an awesome sense of imminent ascension when visitors arrive, the walls reformat and contain the base of the site to establish a platform for the main building, and allow a narrow terrace off the guest suite on its lower floor. They also frame an arrival narrative reminiscent of Japanese scroll gardens. Meandering paths and steps, edged with white gravel, rise up the hill and around the rear of the main structure to a breezy deck between two transparent, steel-framed living pavilions. Higher still is the owners' private pavilion, also assembled with glass, black frames, sandstone and corrugated copper. It is accessed either by a scramble through the newly planted garden or by taking the inclinator.
The two-storied lower building has a basement guest suite and study topped by a kitchen/dining pavilion and a living pavilion; these are visually connected across the unroofed teak deck. On the north-east corner of the main balcony, a site-specific lighting installation - a fibre-optic cruciform reminiscent of crossed barbers' poles - blinks at night in homage to the Barrenjoey Lighthouse seen across the bay at the tip of Palm Beach peninsula.
The rooms are furnished with exceptional pieces designed by Rob Brown's partner, the international furniture designer Caroline Casey, along with Scandinavian pieces sold by her Sydney agent's showroom, Anibou. Casey's triumph is an elegant silver ash dining table, with a swerving and tapered top that is 4 m long and 60 mm thick. Built-in cabinets are hung from the walls.
Philosophically, the James-Robertson beach compound would have aroused Martin Heidegger, Gaston Bachelard, Christian Norberg-Schulz and other mid-twentieth-century questers for metaphysical meanings of dwelling in the house-world. Because, more than most of the residences that these scholars would have encountered under Europe's grey skies, Brown's ensemble on a Sydney hillside brilliantly illustrates their phenomenology of dwelling between the earth and sky. In the Heideggerian "mode of beholding" (a term recently used by Kenneth Frampton), humans are destined, between life and death, to visibly wander across the horizontal zone between air and terra, while they strive emotionally towards invisible vertical interactions between the planet's core and the cosmos.
Part of Heidegger's fourfold theory can be seen in Stronach's aerial yacht-tree house of 1981, but Brown nails all the highest romantic ideals of dwelling in this site-facilitated adventure. Imagine the screenplay: our protagonists search for the grail, suddenly encounter forbiddingly monumental walls surmounted by sparkling eyries of not-there glass, then discover a meandering, unpredictable path up to the light and finally take the ultimate platform to survey the paradise won.
DAVINA JACKSON IS A SYDNEY WRITER AND CONSULTANT ON ARCHITECTURE AND URBAN DEVELOPMENT. SHE HAS RECENTLY CONTRIBUTED TO PHAIDON'S
WORLD ATLAS OF CONTEMPORARY ARCHITECTURE
(2004) AND
10 X 10_2
(2005).
Project Credits
Architect: Dawson Brown Architecture— principal architect Robert Brown; project architect Aaron Cook, Hernan Alvarez. Civil consultant: Murtagh Bond Structures: Buro. Landscape consultant: Bangalley Earth and Waterscapes. Interior designer: Caroline Casey Design. Quantity consultant: D. R. Lawson. Builder: Bellevarde Constructions.