Parallel Nippon: Contemporary Japanese Architecture 1996–2006
Ahead of its Brisbane launch, Hayley Curnow reflects on the Parallel Nippon travelling exhibition of Japanese architecture, held in Perth, June 2013.
Co-organized by the Architectural Institute of Japan (AIJ) and the Japan Foundation in cooperation with Perth's Gallery Central, Parallel Nippon comprises 112 architectural works built between 1996–2006 by some of Japan's best contemporary architects. Selected by a curatorial team led by Riichi Miyaki, professor at the Graduate School of Media and Governance in Keio University, the projects range from large-scale infrastructure facilities to small private residences. The travelling exhibition opened in Japan in 2006, and will continue its world tour until 2016; by which time these projects will not only have been displayed internationally for a further decade, they will have grown increasingly important as the exhibition proceeds.
The title, Parallel Nippon, suggests "multiple Japans", a notion clearly exemplified through the diversity of projects underpinned by the thematic titles of City, Life, Culture and Home. Occupying the lofty volume of Perth's Gallery Central, the exhibition crisply communicates the architectural works via presentation panels of text, photography and drawings, with a select few works accompanied by intricate scaled models.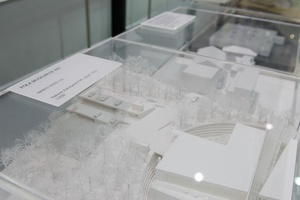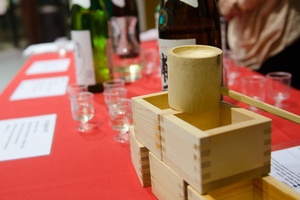 Architect and co-curator, Thomas Daniell, presented an associated lecture to contextualize the exhibition. Referencing the "bubble years" and "lost decade" of Japan's economic history, and the nation's subsequent socio-political climate, he framed the background against which these works were created in an illuminating presentation. He contemplated the polarities of Japan's cultural aesthetics; the silent, serene associations of nature, versus the chaotic and "artificial" aesthetic associated with bustling city life in Tokyo. Through numerous built examples, Daniell defined two main streams of Japanese architecture: the "white school" with its precise, machined aesthetic, and the "red school" exemplifying visceral, handmade qualities.
The dichotomy was beautifully illustrated. The "white school" was depicted via the minimalist designer flagship stores of Omotesando Avenue, buildings by Toyo Ito and the ultimate "white-box" of Takashi Yamaguchi & Associates' White Temple in Nantan, while the "red school" was demonstrated via Terunobu Fujimori's vernacular Too High Tea House and the works of Wang Shu and Kengo Kuma, displaying the inherent qualities of rusticity and humility.
Framing the renowned work of Tadao Ando as a fusion of the two schools, or "pink" architecture, Daniell examined the opposing and intersecting aesthetics as perceived in Japanese architecture. To highlight these disjunctions, the architectural works of Parallel Nippon were exhibited in pairs, enabling comparisons to be drawn between each cluster.
The collection ultimately aims to illustrate the innovation and virtuosity of Japan's architects, showcasing ambitious structural feats, experimental fabrication and the speculative nature of architecture in regard to social commentary within the diverse character of a nation. Parallel Nippon creates a dialogue around how we frame a city, reflect a culture, influence lives, and regard "home." Exposed to an international audience, this collection of architectural work is influential not only in showcasing the aspirational achievements of Japanese architects, but in framing the discipline of architecture – as architect/author Riichi Miyaki says – as "representing a concentration of human creativity."
Parallel Nippon
Gallery Central, Perth
8–28 June 2013
Artisan, Brisbane
9–31 August 2013
More information