A hotel is the latest program to be added to the mix at Paramount House, a multifunctional hub of Surry Hills grooviness. The complex already contains a high-end co-working space, a bar and retro cinema, private offices and a purveyor of specialty coffee and the next in line is a rooftop recreation club. With Paramount House Hotel, the owners broke out of the iconic former Paramount Pictures distribution centre (built in 1940) and into the site next door. Breathe Architecture's hotel reworks a less architecturally dramatic (but still heritage listed) brick warehouse. Thus, Paramount House is expanding, reaching out its tendrils, meshing with and enhancing this gritty industrial and increasingly hip part of town.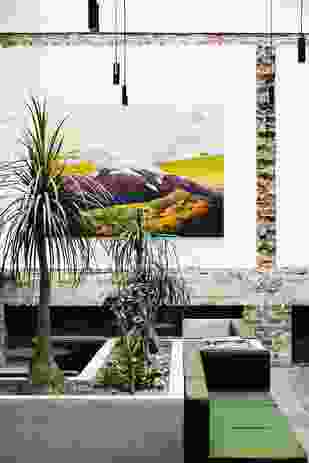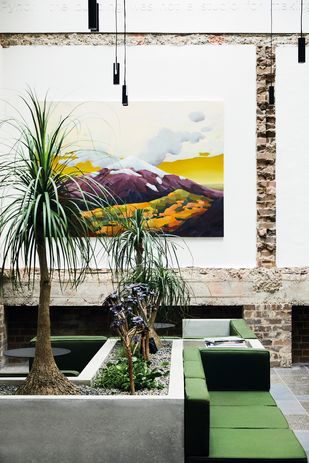 Hipness is important to Paramount House's owner, Ping Jin Ng, as demonstrated by the patience and care with which he assembled the leaseholders. He was prepared to wait for the right tenants, even if it meant losing rental income in the meantime. When it came to a cafe provider, he went to the owners of the highly regarded Reuben Hills cafe nearby, Mark Dundon and Russell Beard, whose names are behind many iconic hospitality establishments in Sydney and Melbourne. The hotel was a concept developed by the trio as co-owners, with Dundon and Beard running it. (The three also went in on a Los Angeles branch of Paramount Coffee Project, effectively bringing it home to Hollywood, and that cafe was under construction as the hotel was being designed.) Breathe's connection to the job comes via Dundon and Beard, who had both worked with the practice before, and also on the design strength of Breathe's first multiresidential project, The Commons, in Melbourne's Brunswick.
The restoration and renovation of the Paramount Pictures distribution centre (led by architecture firm Fox Johnston in collaboration with many others) was clearly an exercise in rawness – demolished parts leave open scars of jagged brickwork among the plaster render, leaving both its history and the story of its transformation exposed. Breathe's project is also about revealing the historic fabric. Rather than align the new walls with the existing columns, they are out of sync, highlighting the old timber structure by letting it stand alone, and then integrating it with bespoke joinery to form seats or study nooks. Every one of the twenty-nine rooms is different, and not just because the distorted trapezoid of the existing footprint made that inevitable. The material palette is a mixture of contrasting (black-painted steel) and complementary (patinaed copper). Even the loose furniture is a combination of new and second-hand pieces. As with all work by Breathe, the environmental sustainability aspects are embedded without fanfare. The copper internally is left uncoated to avoid toxic chemicals in its manufacture. All the fabrics are made from natural fibres. All the suppliers and designers are Australian.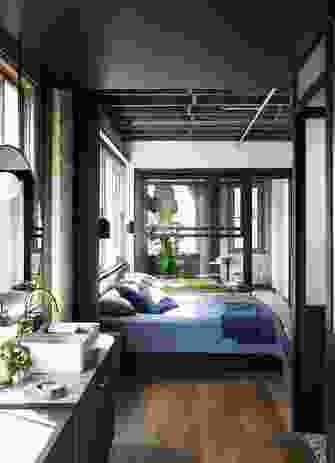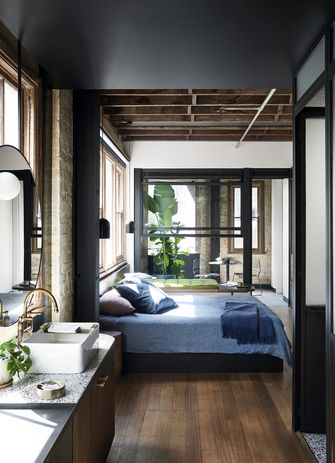 It is Breathe's first hotel. Architects are rarely asked to do their first of a project type (most clients want to see a proven track record) but first timers are often more original and also more enthusiastic about the work. Ignorant of the pitfalls, they can shoot for the moon. So what does Breathe bring to this hotel that is not normal for hotels? Reclaimed timber floors, for one thing. By providing acoustic panels to the ceilings of the lower floors (made from 85 percent recycled plastic) they were able to avoid generic hotel carpet.
The hotel has no front door at the street; the entry is via the atrium inside Paramount House. There is also no signage outside the building. This is something that goes back to earlier collaborations between Dundon and Breathe on hospitality projects in Melbourne. For instance, tiny cafe Brother Baba Budan in Melbourne has no sign, but instead antique chairs hang from the ceiling forming a memorable image. The distinctive feature of the hotel is the exterior cladding of the addition. Above and adjacent to the existing warehouse is a zig-zag pattern of copper tiles, brick-like, referencing Art Deco chevron designs. The historical reference relates it to the Streamline Moderne styling of the Paramount House building without aping its form or details. The copper extends higher than Paramount House, a kind of street beacon that gives the urban corner a greater sense of enclosure, without overshadowing the neighbours (it's on the southern side of the street). Breathe Architecture's founding director, Jeremy McLeod, says that when the copper was first installed, it was alarmingly shiny, but that it soon took on a weathered patina that suits the context nicely.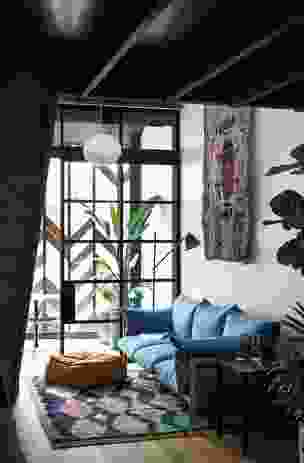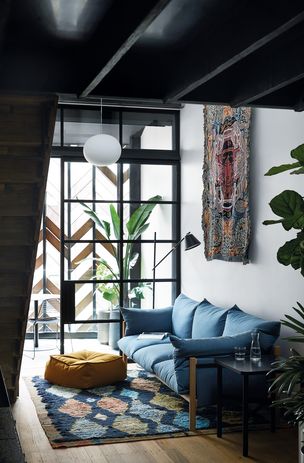 Hospitality – the word means both an industry segment and being kind to guests. After walking through Paramount Coffee Project, guests arrive at a reception desk with beer taps at one end. "The first question isn't, 'Can I have your credit card?,' it's 'Would you like a drink?" says McLeod. Prolific travellers, Dundon and Beard had been thinking of opening a hotel for some years. They knew what they liked in a hotel and what they didn't. Conceived before Airbnb was a thing, they wanted to avoid anonymity and to embed the guest in the place, its culture and its climate (thus every room has a balcony to enjoy Sydney's weather). It makes sense to omit kitchens when the people running the place are hardcore hospitality enthusiasts – they want you to get out and explore local cafes and restaurants, the city's street life and bars. So instead of kitchens, they give guests this location, this local hotspot (renowned restaurant Longrain has been across the street since 1999), including the venues inside Paramount House next door. If you want to stay in your room and eat, you can get the food from the area delivered to your room. It is about engaging with the city and offering a diverse range of experiences.
On the day I visited, a couple of weeks before the official opening, the room numbers were still in hand-drawn chalk on black steel door reveals, leftover from the construction phase. I asked the marketing manager what kind of numbers would be installed, and she told me that they were thinking of leaving the chalk. I was surprised, but also impressed. That feels different. That is the opposite of corporate blandness. Like the open brick scars in the Paramount House foyer outside, it tells a story of its making.
Products and materials
Walls and ceilings

Walls painted in Dulux 'Thought,' 'Natural White,' 'Black,' and Porters 'Antique Gold.'. Retained existing brickwork, paint stripped and sealed. Autex Cube acoustic ceiling panel in 'Savoye.'
Windows and doors

Steel-framed custom glazing. Existing timber-framed windows. New aluminium-framed windows. Zepel Fabrics curtains in 'Allusion' sheer and 'Hemp' blockout. Shaw Palm Beach blinds. Hardware by Pittella and Assa Abloy.
Flooring

Recycled Tasmanian oak. Bathrooms and lobby are natural terrazzo stone tile by Signorino. External floor tiles by Robertsons. Carpets by Super Tuft. Exposed structural steel, mild steel linings and custom fittings.
Lighting

Fixed lighting in suites and common areas by Anaesthetic, Volt Lighting, Artemide, Special Lights. Loose lighting by ISM Objects.
Furniture

Guest room furniture from Jardan. Rugs from Jardan and Loom. Box bath by Wood and Water. Timber stump stools/side tables by Stump Co. Indoor and outdoor Baso tables by Something Beginning With.
Bathroom

Box bath by Wood and Water. Custom-designed joinery. Tapware and accessories by Consolidated Brass. Sanitaryware by Caroma, Roca and Reece. Custom-designed mirrors made by Middle of Nowhere. Tiles by Signorino and De Fazio Tiles and Stone. Custom steel accessories.
Other

Art throughout the hotel curated by China Heights Gallery.
Credits
Design practice

Breathe Architecture
Melbourne, Vic, Australia
Project Team

Bonnie Herring, Jeremy McLeod, Bettina Robinson, Dan McKenna, Mark Ng, Shannon Furness, Emily McBain, Lola Digby-Diercks
Consultants

Acoustic consultant Renzo Tonin & Associates
Brand strategy Matt Vines Consulting
Builder Calida, Promena Projects
Building services consultant Lucid Consulting Australia
ESD Nick Bishop ESD
Facade engineer SDA Structures
Fire engineer Holmes Fire
Graphics The Company You Keep
Heritage consultant Urbis
Planning consultant Mersonn Pty Ltd
Project manager Artechne

Site Details

Location Sydney, NSW, Australia
Site type Urban

Project Details

Status Built
Design, documentation 23 months
Construction 16 months
Category Hospitality, Interiors
Type Hotels / accommodation

Source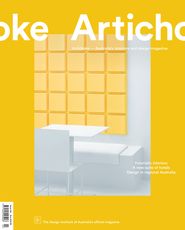 Issue
Artichoke, September 2018
Related topics