Parramatta boardwalk to provide 'missing link' along river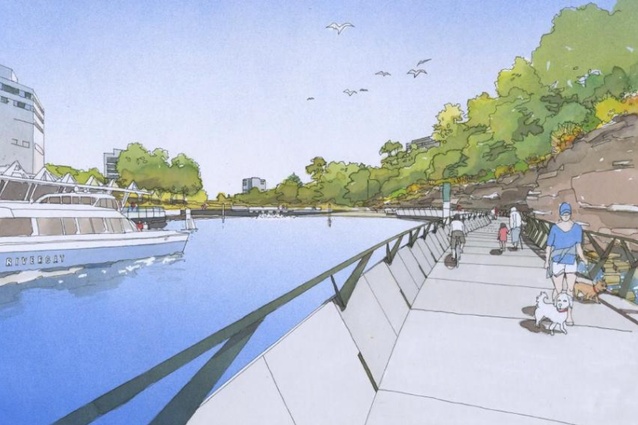 A major boardwalk will be constructed along Parramatta River after state government funding was secured for the project.
The Escarpment Boardwalk will provide one of two missing links along a walking and cycling path on the northern bank of the river, which, when completed, will provide continuous foreshore access from Parramatta Park to Meadowbank.
The project will also include an upper-level pedestrian link between Queens Avenue and Stewart Street.
Designed by Hill Thalis Architecture with Jane Irwin Landscape Architecture and McGregor Westlake Architecture, the boardwalk will be a river-level path, located opposite the ferry wharf in the Parramatta CBD.
A design statement from Hill Thalis Architecture says the project will "build on the site's inherent spatial drama.
"Path widths, materials, alignments and lighting are configured to subtly adjust the atmosphere along the path," the statement reads.
"In this way, the path will gently diminish in intensity as it leaves the city and travels eastwards; conversely, when arriving from the west, the path will progressively build a sense of anticipation as people move closer and closer to the urban area."
The boardwalk is a City of Parramatta project, and builds on the council's ambition to refocus the city to the river and forms part of a wider strategy for the river developed by McGregor Coxall.
The state government has allocated $13.6 million for the project out of the Cycling Infrastructure Fund in the 2018-19 state budget. It is the only piece of cycling infrastructure included in the budget, which shows a total spend of $18.8 million with $5.2 million going to general planning.
"This new link will halve the current travel distance, remove steep inclines and avoid a number of road crossings," said Parramatta mayor Andrew Wilson. "This will provide much safer access for all path users, including students at Macarthur Girls High School.
"It will also improve local traffic flow by reducing the volume of pedestrians and cyclists using the crossing on Macarthur Street."
This project follows on from the completion of the Subiaco Creek Path in Rydalmere; the Baludarri Wetlands Boardwalk, which runs from Rangihou Reserve to James Ruse Drive, and the Lennox Bridge Portals.
The council recorded 400,000 pedestrian and cyclist users of the river foreshore in 2017, and is expecting the number to increase to half a million in 2018.
Construction of the Escarpment Boardwalk is expected to be completed by early 2019.