A Parramatta council planning panel has voted to increase the allowed building height for a site in the city centre at 2 O'Connell Street from 36 metres to 217 metres.
This major adjustment would clear the way for a proposed 69-storey apartment tower to be built on the site, which is located across the road from the heritage St. Jones Cemetery. The tower would be the tallest building in Parramatta, though the change will still need to be approved by the full council and the NSW planning department.
PTI Architecture and Interiors has prepared a reference design for the project, which envisions a staggered four-storey glass podium, and a slim, highly articulated tower form. A second 11-storey tower is also proposed as part of the scheme.
The planning proposal was publicly exhibited from 11 December 2019 to 31 January 2020.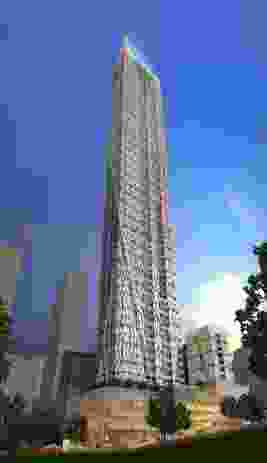 A number of state agencies made submissions related to airspace regulations and the provision of electricity infrastructure while Heritage NSW raised concerns about potential overshadowing of the South Parramatta Heritage Conservation Area and St John's Cemetery, which was constructed from 1790 and established as a cemetery in the 1820s.
However, the council offer's report noted that the overshadowing effects on these sites would be "negligible."
Twelve submissions were received from the community, including eleven submissions from nearby residents and one submission from the owners of the Westfield shopping centre. The main concern raised in the community submissions related to the potential for structural damage to adjoining buildings during the construction phase, while concerns about traffic congestion, overshadowing and loss of views were also raised.
The report also noted "it is not considered that any of the community submissions raise issues that require alteration of the Planning Proposal. Further, several concerns raised therein will be addressed at the Development Application stage through conditions of consent."
Related topics