The Parramatta City Council has announced the winner of its international design competition for a civic building in Parramatta Square.
From four finalists, the jury unanimously chose a transparent crystalline design by a French-Australian consortium made up of Manuelle Gautrand Architecture, DesignInc and Lacoste + Stevenson.
The council required competitors to design a "unique and spectacular" civic building that will be an iconic "hero" of Parramatta Square.
The $50 million civic building will incorporate council chambers, a library/community hub, a customer service centre, space for civic functions and community rooms.
The consortium's design consists of a glass building with a wave-like facade and large LED screens for public art projections. The proposed building partially envelopes the existing town hall, gradually rising away from it to six storeys towards the north-east. A cantilevered structure, containing council chambers, floats above the historic building.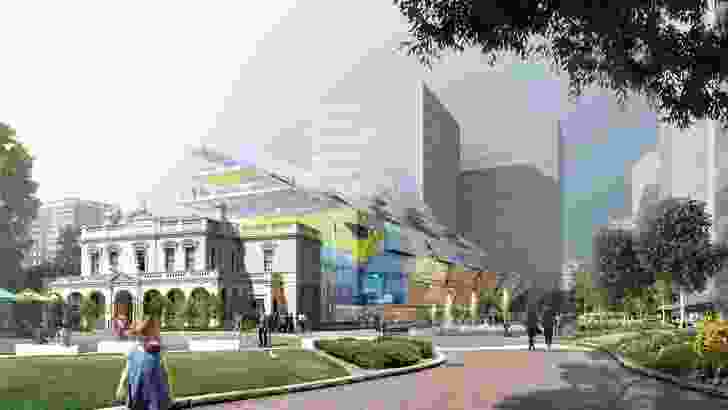 "The design team's vision for public art at 5 Parramatta Square was to make council's civic facilities a canvas for artistic expression in a way we haven't seen before in a public building in Australia," said David Stevenson, principal of Lacoste + Stevenson Architects.
"This design truly cements 5 Parramatta Square as the civic heart of our city," said Lord Mayor of Parramatta Paul Garrard. "The transparency of the glass façade makes the building inviting and open for the community to explore the library of the future, public roof garden, customer contact centre, visitor experience centre, community meeting rooms and technology hub."
On the jury were: Olivia Hyde (NSW Government Architects Office), Bob Nation (National Architects), Kim Crestani (Parramatta City Architect) and Barry Mann (Parramatta City Council).
The council expects to lodge a development application for the building by the end of 2016.
The civic building will be located within the Parramatta Square public domain, designed by JMD Design, Taylor Cullity Lethlean, Tonkin Zulaikha Greer and Gehl Architects. The renewal of the three-hectare Parramatta Square area will be undertaken over six stages and will include at least six commercial, civic and residential buildings.
5 Parramatta Square by Manuelle Gautrand Architecture, DesignInc and Lacoste + Stevenson.
Related topics