Parramatta riverfront: $200m reimagination
A plan for a $200 million transformation of Parramatta's riverfront precinct has been revealed, pushing forward the suburb's conversion into a major hub.
Urban design and landscape architecture practice McGregor Coxall are behind the project, which will cover an area of 30 hectares along 1.5 kilometres of riverfront.
One of the key features of the project is the development of River Square, a multi-purpose public space that will accommodate around 10,000 people for major civic events, and will serve as Sydney's largest public plaza.
A brand new Parramatta Quay will be developed in the first stage of the plan, to coincide with funding provided by the state government to upgrade the Parramatta and Rydalmere ferry wharves.
Parramatta lord mayor Scott Lloyd said that the plan would help the city take advantage of its "underutilized asset."
"The new vision reclaims the river and foreshore as a vibrant public space to be enjoyed by residents, visitors and workers alike," he said.
Parramatta City Council endorsed the Draft River Strategy on 25 May 2015 after displaying the draft to the public in November 2014.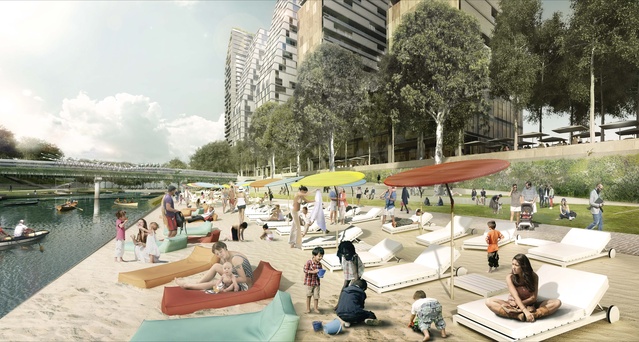 The plan will also see the establishment of terraces and outdoor entertainment areas, as well as improved spaces for activities such as walking, cycling, picnicking and outdoor dining.
An urban park alongside the river is an important element of the plan, with council committing to the Our Living River initiative that aims to make the river swimmable by 2025 by improving the water quality.
The project will be completed in stages over a 20 year period, with funding coming from council, the NSW state government and private sources.
The redevelopment of the suburb's waterfront will take place alongside the $2 billion Parramatta Square project, which will see a 306m skyscraper built, and a host of other large-scale construction projects.
The project's design director Adrian McGregor from McGregor Coxall described the new space as, "a place where Parramatta can celebrate with pride."
"After creating the masterplan for Green Square Town Centre in Sydney I wanted to make a world class riverfront for the people of Western Sydney," he said.