A proposal for a hotel set into a steep cliff face on Tasmania's north-west coast, designed by Sydney-based practice Silvester Fuller in collaboration with landscape architects Aspect Studios, has been approved by the local council.
The proposal comprises a 50-room luxury hotel as part of a larger complex that will include also a 250-seat restaurant, a function centre and a wellness spa at Table Cape. Described by the architects as "part landscape, part building," most of the complex will be set below ground level and covered with a landscaped roof that blends the structure into the rural setting. On the Bass Strait side of the complex, hotel rooms and other spaces will protrude out of the cliff face.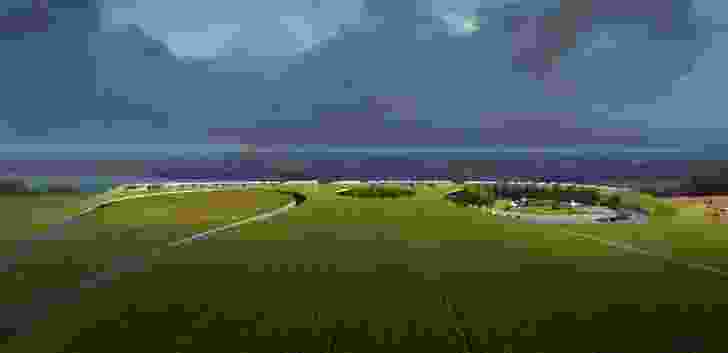 Several sunken courtyards would be set into the "roofscape." The largest, a circular "village green," will offer a space to be used for community functions and a comprise a "generous turfed area ringed by trees and low planting."
In another courtyard, Aspect Studios have laid out plans to create a "contained wetland." In a design statement, the landscape architects described it as "a mixture of permanent and ephemeral water bodies [filling] the court, which [will be] planted with endemic species… A fine network of paths and decks weave around and across the water providing opportunities for people to sit amongst the wetland."

In a design statement, the architects explained that the green roof "allows the architecture to act as an extension of the landscape: low-lying, submissive and respectful of its context, yet definitive in its form and intent."
"In this way both the architecture and the visitor become immersed into the natural landscape in a way that further highlights the stunning natural beauty of the site."
Waratah-Wynard council unanimously voted to approve the development approval application at a meeting on 17 July. The developer Table Cape Enterprises said the project will now proceed to design development and operator and investor consultation. Construction "could commence" in 2019.
Related topics