Canberra before the lake (pre 1964) was an odd place – a scatter of formal public buildings and six garden suburbs in search of a city. Each element was separated by grassy paddocks, and at its centre one descended to cross the winding Molonglo River by means of clanking timber bridges.
Enrico Taglietti, a Milan-trained architect, was invited to come to Australia to coordinate an exhibition of Italian design held at David Jones in Sydney in 1955. Enrico quickly sensed that Australia was a place of opportunity, and learnt that Canberra was being reviewed for major improvements that would enable it to more clearly fulfil its role as the national capital.
Enrico set up practice in Canberra in 1956, with his European training and sensibilities producing distinctive buildings that clearly stood out among the tame Anglo-Australian products of the period. His early buildings in Civic, the Town House Motel (1961, now demolished) and the Center Cinema (1966) featured strong, exaggerated sculptural shapes, and used powerful cantilevered elements. The motel's sculptural panels were by Clement Meadmore, and are now in the National Gallery of Australia. His public commissions included some fine schools, a library and a church, and there were numerous houses, each one distinctive in its way.
The Paterson House, conceived in 1967–68 and completed in 1970, was commissioned by Canberra geophysicist and academic Mervyn Paterson and his Hungarian wife Katalin, a social worker. They had tried another architect first, but Katalin decided that Taglietti could give them a workable, affordable house that was also adventurous architecture.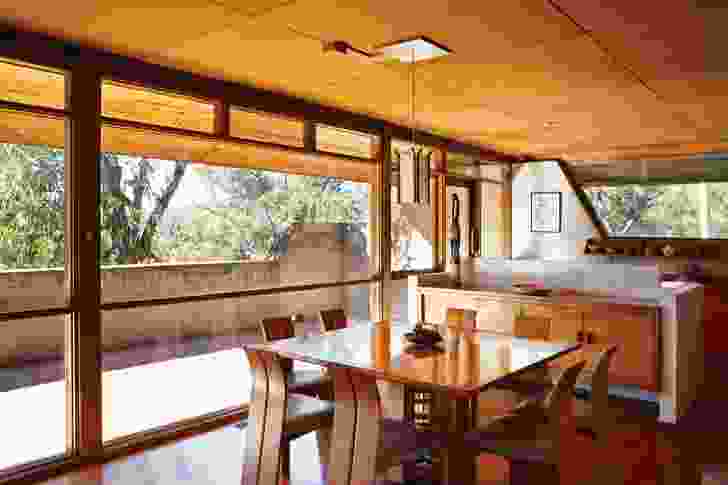 Set in hilly terrain just west of Black Mountain, the house appears fortress-like from the street, a massive rampart of grey concrete bricks (concealing garaging and storage) rising to an indented terrace, overhung by a bold horizontal plane of roof, lined in weathered tallowwood. It is very different from the other houses in the neighbourhood, which are typically standard suburban products with walls of clay brick and pitched roofs of cement tile. Due to its location on an elevated site at the head of a cul-de-sac, and with a bush reserve at its rear, the house is almost independent of the immediate suburbia, detached and above it.
One wanders up a simple grey path set between native plantings to the front door, and through it finds a sequence of curving stairs that lead firstly to a large living space, and then to upper bedrooms and studies. The living space is expansive and volumetrically complex. It extends the full width of the house, as does the private terrace to the east, with which it forms a contiguous space, linked by glass walls and the horizontal ceiling plane, and giving a sense of infinite outlook over eucalypt forest to Black Mountain and the horizon. Blades of brickwork taper upwards and enfold spaces, and create framed outlooks beneath the ceiling plane.
At the north-west corner is a curving glazed wall, whose door opens into an intriguing circular courtyard, framed by arcing panels of cement brick. It is a sheltered winter suntrap, accented by a compact lemon tree with vivid yellow fruit. The outlook towards the bushland reserve at the rear is softened by low hedges of blue-grey miniature Cootamundra wattle.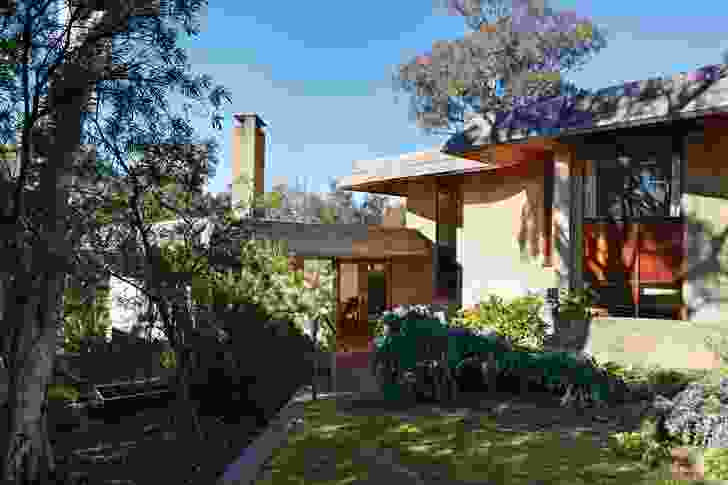 Dominating the sitting end of the living space is a large corner fireplace. The dining area has a fine timber table made by craftsman Chris McElhinny, and beyond is a generous kitchen area, with teak-fronted doors and benchtops of glue-laminated brush box. Everything about the great living space is robust – elegant yet tough Johnstone River (Queensland) hardwood flooring, walls bagged in white cement, ceilings of extra-thick Canite squares, a kitchen of substantial construction with a vast metal rangehood. It is all in good shape, even after more than forty years of family use.
All the other domestic spaces are compact and intimate; they are resolved to exactly perform their specific roles. From the rear, the appearance of the house is more romantic, less forbidding: it presents as a melange of strong masonry forms. There is a distinctive chimney and generous cantilevered roof planes with canted fasciae. The house is flanked by two neighbours, but thanks to clever planning and suitable planting these are not visible.
Taglietti's design, while enjoying European origins, shares some objectives similar to the organic principles espoused by Frank Lloyd Wright, and Walter Burley and Marion Mahony Griffin. It is firmly part of the land, the design has a strong horizontality, and its key interiors link with the landscape. Its exterior, of grey cement and weathered timber, sits comfortably in the Australian bushland setting.
One must congratulate the Patersons for commissioning and conserving such an interesting house. In Australia we have substantial mechanisms for listing our significant buildings, and for chaperoning applications for proposed changes to them. Yet there are no formal mechanisms that regularly confirm that such buildings remain in existence, and in reasonable condition. Indeed, if they are not in reasonable condition, there is no framework that guarantees their ongoing wellbeing. In the case of the Paterson House, we have to hope that its next owner will appreciate its qualities, and will conserve and enhance its attributes. This will be essential if future generations are to enjoy the distinctive Taglietti design, and learn from it of the challenges and possibilities in domestic architecture in Canberra in the late 1960s.
This review of the Paterson House is part of the Houses magazine Revisited series.
Credits
Architect

Enrico Taglietti and Associates
Canberra, ACT, Australia
Consultants

Builder Meli and Eglitis
Engineer Keith Sellick

Site Details

Location Canberra, ACT, Australia

Project Details

Status Built
Category Residential
Type New houses

Source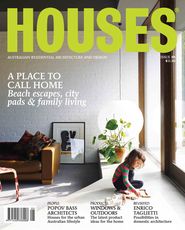 Issue
Houses, October 2012
Related topics