An interactive sound pavilion, 80hz: Sound Lab, has been installed at the State Library of New South Wales. It allows visitors to experience paintings from the library's collection as a soundscape.
Designed by Sydney-based architect and designer Thomas Wing-Evans in collaboration with DX Lab, the library's experimental design research group, the small structure comprises a black timber frame clad in anodized aluminium shingles. It occupies the forecourt outside the Mitchell Reading Room in the Sydney CBD.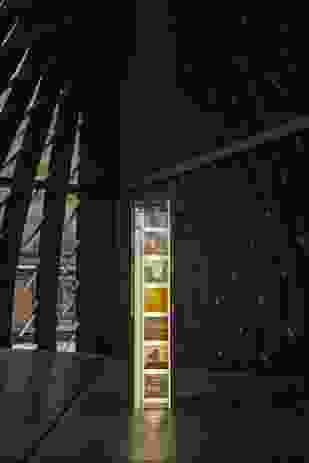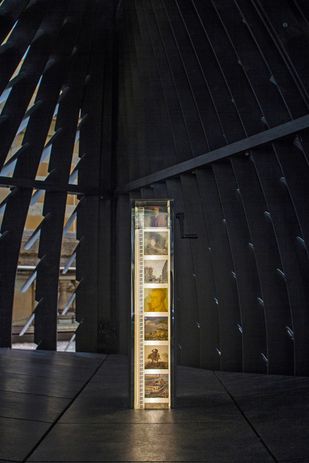 Wing-Evans collaborated with Sydney sound studio Sonar Sound to develop a sonic tool that translates visual information into sound. "The sonic tool works by identifying different tones, complexities and colours in works, as well as metadata like location and date, and then a soundscape was developed for each painting based on these parameters," said Paula Bray, DX Lab Lead.
Inside the pavilion, 44 works from the library's collection of landscape and portrait paintings are "displayed" that visitors can move through using a crank. Speakers hidden in the floor and the corners of the space play sounds that were digitally composed using data extracted from the paintings.
"Beyond its acoustic qualities, my intention was to create a structure that provides shelter while allowing visitors to feel rooted in the city and the natural elements," said Wing-Evans, who developed the pavilion as part of the DX Lab Fellowship. "From above, the open shingles completely overlap, keeping the rain off while allowing daylight to enter into the space."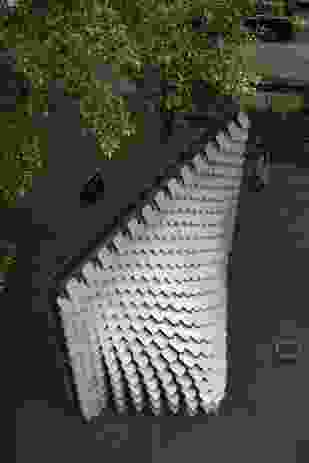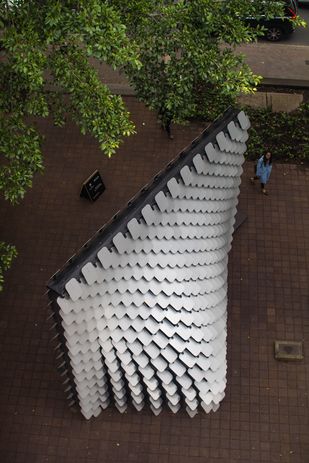 The pavilion is visually permeable, with people outside the structure able to see in. Wings-Evan said this "was key for making the space welcoming."
"At night, audio-reactive lighting pulsates through the cladding, attracting visitors to experience the State Library's painting collection in an entirely new way."
The State Library of NSW is undergoing a $15 million refurbishment designed by Hassell. The first stage of the project, upgrades to the Western Gallery, were completed in October 2018. It has allowed the library's collection of landscape and portrait painting so go on permanent display for the first time. The collection dates from 1790 to today and includes views of Sydney, the harbour, streetscapes and rural townscapes.
80hz: Sound Lab will be at the library until 26 October, before it tours a number of regional sites across NSW.
Related topics