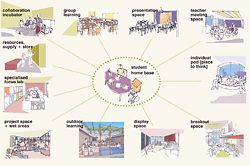 State and territory governments continue to be responsible for providing, upgrading and maintaining school facilities. They have recently pursued a vigorous renewal agenda, in part to compete with the increased resources now available to the private school sector. They wish to be able to offer public school students an equivalent or better experience to the private sector to overcome a drift away from state schools.
Thirty percent of Australia's students now attend private schools, with numbers increasing annually by a percent or so. Private schools are also investing very heavily in new infrastructure – there is a shift in trends where private school expenditure in Australia is now ranked third in the OECD as a percentage of GDP and only ranked twenty-first in public school funding.1 From 2005 to 2008, the Australian Government is providing $1 billion through the Investing in Our Schools Programme (to be increased by a further A$181 million).2 Community involvement is a central feature of the Investing in Our Schools Programme – parents and other members of the school community must be involved in the decision to apply for funding and the state governments are not involved. The Investing in Our Schools Programme funds smaller-scale, new projects that are additional to existing capital works programmes administered by state and territory governments.
Trends in pedagogy
All states are implementing significant related school building programmes. For example, the key objectives of the Victorian Government's Building Futures strategy include promoting individualized learning, creating settings for innovative teaching, incorporating new technology, being environmentally sustainable and supporting community involvement.3 One of the key issues in these new school designs is that of team teaching. This model is used in many schools but there is still some resistance to it, partly because of the 1970s open-plan experience. The difference in 2007 is the availability of information and communications technologies (ICTs) and the high focus on teacher professional development. This is coupled with designs that recognize that discrete pedagogical settings in these flexible learning environments need to be acoustically and visually screened. (See figure 1.) These settings should also provide for a range of pedagogies, including directive, collaborative, applied, communicative and decision-making.4 (See figure 2.) In the knowledge-age era – where students are engaged through technology-rich and collaborative learning, with teachers who are more accountable and engaged in continuous professional learning – team teaching points to future directions.
To achieve this successfully in the classroom requires a rethinking of the egg-crate model that has been extant since the industrial revolution. Wireless and mobile computing devices have at last provided the means to liberate teachers from the constraints of the bounded classroom. The significant collaboration they achieve outside the classroom can now be extended through pedagogical practice in team teaching.
In the mid-1970s a restructuring of the Australian Capital Territory's school system created a new stream of senior colleges (Years 11–12).5 For example, the Lake Tuggeranong College (completed in 1990) is one of only a few senior colleges fully integrated with the community, boasting a range of facilities such as a theatre in the round seating 270 people, state-of-the-art sound and lighting facilities, drama, dance, art, ceramics and photography studios, an 80-seat lecture theatre, industry quality media and multimedia facilities, a large, well-equipped gymnasium and associated sporting facilities, a joint-use library, a solar vehicle workshop, a student lounge, a canteen, table tennis facilities, and PlayStation and video game machines.6 Across Australia there is an array of arrangements, as each state system is autonomous. These programmes are pursuing age-related facilities design, which will result in a mix of learning environments organized around Years P–9 schools, P–6 primaries, 7–9 middle schools and 10–12 senior colleges. Other age-related subgroupings include P–2, 3–4 and 5–6. In some states primary schools will have an early learning centre located on the campus, as research shows that early intervention programmes for children at risk will result in much better long-term outcomes.
In the middle years, the special needs of Years 7–9 students are being considered. This curriculum focuses on learning that is always engaging, self-directed and co-constructed, collaborative, outcomes-based, flexibly constructed, ethical and open to negotiation. Further, it also aims to develop students who are flexible thinkers and cooperative team players. It seeks to nourish responsible and independent learners who have an understanding of their own learning and who are ethical citizens able to look at problems in a global context.
Regional trends in schools planning and design
Some states are now exploring Public Private Partnerships (PPPs), such as the procurement of nine schools in 2004 in NSW.7 These are now completed and another tranche of schools is being procured as this article is written. Queensland has followed NSW's move into the PPP procurement of educational infrastructure through its recent Southbank Institute expansion and redevelopment project.8 This A$542-million project (over 34 years at 30 June 2005 prices) will see many thousands of square metres of new and redeveloped space.9 The Institute is seeking to offer a more collaborative approach to teaching and learning. This socially oriented, peer-to-peer, collaborative and student-centred approach requires flexible spaces in addition to computer labs and teacher-centred classrooms. The plans are seeing a radical restructuring of the floor plate to take account of these emerging constructivist and problem-based pedagogies.
In the schools sector, Queensland (the "Smart State") has a policy that will see every classroom in the state upgraded through its Smart Classrooms initiative in an A$1 billion schools capital works programme.10 This approach brings together the future perspective and the momentum established by the 2002–2005 "ICTs for Learning" strategy to build the classroom of the future: the "smart classroom". "The strategy establishes ICT as the bedrock of 21st century schools, where new technologies spark greater interaction between students, teachers, parents and guardians. Through Smart Classrooms, schools will cement new technologies into the core of education, alongside English and Maths."11 In Victoria the Department of Education has implemented a Leading Schools Fund (LSF), which supports its Schools Blueprint.12 The blueprint addresses "diverse learning needs", the "teaching-learning relationship" and the idea of "continuously improving schools". The LSF provided support of A$500 thousand to each of around 90 schools on a competitively tendered basis, where schools were required to present arguments as to why they should be awarded the funds. The criteria included change management strategies for whole school reform, meeting learner needs, pedagogical approaches, curriculum development strategies and proposed physical school learning environment changes.
Many schools have opted for flexible learning centres based around collaborative learning concepts. Planning and design guidelines for DoE Victoria were written in support of these projects along with a number of case studies.13 (See figure 3.) More recently the Victorian Government announced a $1.9 billion four-year programme to build new and refurbish existing schools over the next four years.14 In South Australia two innovative schools were completed in 2003 – the Mawson Lakes Primary School and the Australian Science and Mathematics School.15 The ASMS was conceived as a science- and mathematics-focused school for the senior years (10–12) within the campus of Flinders University in Adelaide, South Australia. The school fosters professional relationships with the Faculties of Education, Science and Engineering, the Professional Teachers Associations and the Curriculum Policy Directorate with the SA Government Department of Education and Children's Services. Its main aim is to provide leadership in regenerating the teaching of maths and science and it makes extensive use of "best available resources", particularly ICT.
The ASMS encourages learning and problem solving within individual and group contexts, through collaborative working relationships and flexible teaching and learning groups. It develops individual learning plans containing multiple entry points and pathways fostered by teacher and student interests, producing a wider and deeper understanding. It takes an interdisciplinary approach to curriculum design, teaching and learning, supporting an "inquiry" approach and "constructivist" learning. The floor plan has no classrooms and is based around a problem-based collaborative learning model.
Western Australia over the past decade has invested heavily in new schools at a premium standard of design and construction, and this continues in 2007–2008.16 It has developed an architectural design panel of preselected school designers to plan its next round of schools. It, too, has explored flexible and collaborative learning and is doing away with the traditional egg-crate classroom in its high schools and senior colleges. Schools in Canning Vale and Mindarie and Kinross College are visited by teachers, facility managers and architects from across Australia (as is the South Australian ASMS). These schools have set a benchmark standard for Australian schools. They have also come at a premium cost, which the WA Government is prepared to underwrite to provide exemplary facilities in its public school system to effectively compete with the comparatively well-funded private school sector.
The future
While all three sectors – schools, vocational education and universities – are under-funded by OECD standards, with Australia lying around tenth in the OECD countries by total education funding related to GDP, much is still going on in the design of learning environments.
State school systems and private schools are coming to terms with what mobile communications, wireless networks, access to the internet, personalized learning, team teaching and peer-to-peer collaborative learning all mean to new and emerging pedagogies and curriculum development.
In particular there is a willingness to understand what all this means for the transformation of the traditional, industrial-age, teacher-centred "egg-crate classroom" model of schooling, which has prospered for nearly 200 years. It is through high levels of collaboration, consultation and inclusive design processes, where architects learn more about pedagogy and teachers more about design, that a common "spatial literacy" can emerge that will inform the design of future learning environments.17
Dr Kenn Fisher is Director, Learning Futures, Rubida Research (www.rubida.net), an adjunct Associate Professor in the University of Melbourne's Faculty of Architecture, Building and Planning and a Senior Research Scholar in the University of South Australia's Faculty of Education.
pedagogical
activity
pedagogical attribute
process steps
behavioural premise
spatial icon
delivering
Formal presentations
Instructor controls
presentation
Focus on presentation
Passive learning
Prepare & generate
presentation
Deliver to an audience
Assess understanding
     
Bring information
before the public
Instructor lead
Knowledge is in one
source


applying
Controlled observation
One-to –one
Master & apprentice
alternative control
Informal
Active learning
Knowledge transferred
via demonstration
Practice by recipient
Understanding
achieved
Learner -centered
Apprentice model

creating
Multiple disciplines
Leaderless
Egalitarian
Distributed attention
Privacy
Casual
Active learning
Research
Recognise need
Divergent thinking
Incubate
Interpret into product /
innovation
Innovation or
knowledge moved
from abstract to a
product

communicating
Knowledge is dispersed
Impromptu delivery
Casual
Active learning
Organise information
Deliver
Receive & interpret
Confirm
Share information
Provide quick
exchanget

decision making
Knowledge is dispersed
Information is shared
Leader sets final
direction
Situation is protected
Semi-formal to Formal
Passive / active learning
Review data
Generate strategy
Plan
Implement one course
of action
Make decisions
Fig 2 Linking pedagogical activities to spatial settings: Categoric pedagogical practices have associated space types.
Related topics