Dear Angelo, you suggested I write you a letter of sorts, as an intimate critique of your building, in lieu of taking a measured and distant position about it. The latter, you said, would offer little to the reader or the critic that couldn't otherwise be extracted from the glamour photography accompanying the review; you also wished to learn something through this process. So at your request, following are my enjoyments and criticisms of the Pelican Street apartments in Surry Hills, Sydney.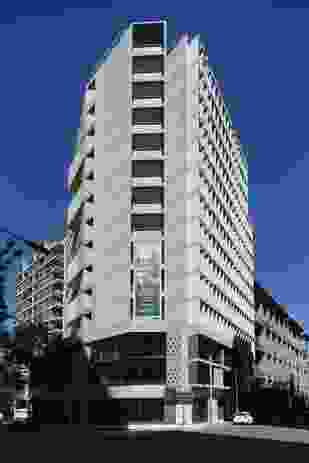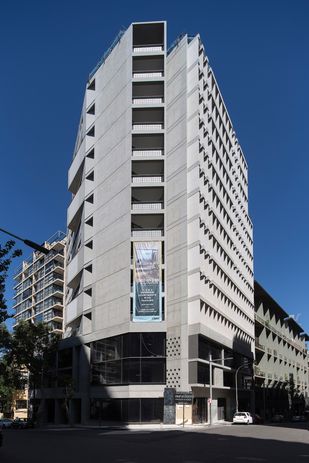 I admit, the thought of reviewing Pelican Street was intimidating – what would I have to contribute to a critique of marketable apartment floor plans, efficient cores and slab spans, plot ratios and development yield? While obviously part of the remit of your practice's rigour, such pragmatics never entered our conversation. The notes I made of our discussions were of fundamentals of architecture, of things that have always existed: walls and rooms, light and privacy. These are the acts of architecture discovered in your building.
Our time at the building consisted mostly of pausing to observe what you described as "the nature and potential of the site manifest in form and space." Only our conversation (with interludes of poetry and translations from Ancient Greek) breaks the beautiful silence of the rooms that you and your colleagues have crafted. "Architecture is not the preoccupation of my work," you said. "What I 'feel' is what preoccupies me … to discover what is already in existence, the presence of all things." You offer that the act of design is "to discover and act creatively to produce that which is not apparent or easily predictable." It's a beautiful premise.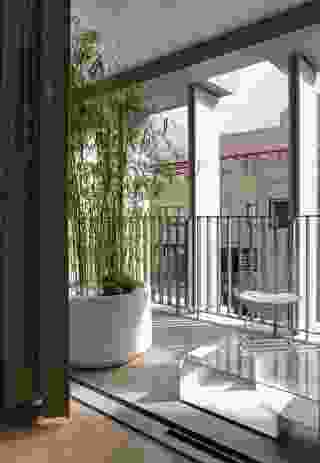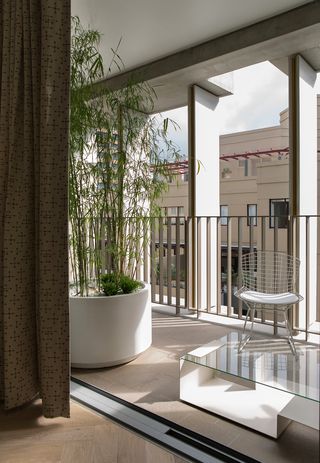 I recall Juhani Pallasmaa writing that the most essential auditory experience of architecture is tranquillity. I reflected on his words as I reclined in the lounge room. The soft plaster walls, gentle illumination and a beautifully remote sense of the urban setting outside evoke a "waiting, patient silence." I was reminded of the great capacity of architecture to shape one's emotions and experience. Could I form an opinion of the building based on this moment alone?
I greatly admire your floor plans. A deft hand is evident in both the drawings and the spatial arrangements. Appropriate calibrations and tweaks that one now expects to find in your plans deliver a gradation of intimacy and enable a range of domestic occupations. You describe in great detail the carefully considered places for personal effects (such as photos of loved ones), a place to share with others, and a place to allow one to be in touch with one's own spirituality. Carefully positioned openings in the solid walls offer balanced interior daylighting, a quality seldom found in apartment towers. Direct sunlight is allowed deep into the apartment plans, capturing a sense of a personal, private light belonging uniquely to each apartment.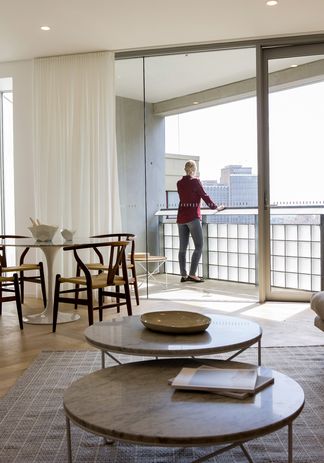 We stood at the crafted steel balustrade of an outdoor room and pondered on what it would be like to live behind the full-height glass facade of the adjacent residential tower, with its glary, overexposed light quality. We saw a resident appear on the balcony. She smiled pleasantly at us, in a way that acknowledged both our presence and maybe her own unfortunate and reluctant loss of amenity due to having no walls behind which to hide.
In contrast, the Pelican Street apartment facade is beautifully dense, of plain concrete structure, sheer walls and brise-soleil (sun blades). This is bold of you and your client, a daring departure in a field that otherwise relies on clear glass balustrades, transparency and sweeping views to sell apartment stock. In doing so, you have avoided the great irony of towers of glass: that they ultimately become opaque elevations of drapes and blinds (that are rarely drawn).
On closer inspection one observes a carefully fashioned weft, finely crafted rebates and precise chamfers, revealing the humanity in the work. I am drawn to the sunlight flickering off bright gold paint held in the rebate of the vertical elements that, in a delightfully unexpected moment, transcends the nature of concrete construction. Both the matt finish of the concrete and the projecting ensemble of outdoor rooms on the prominent corner enable a reading of the building that, as you describe it, "suggests something beyond merely surface." We agree that the form and folly of the building are simply your manner, without need for excuse or justification.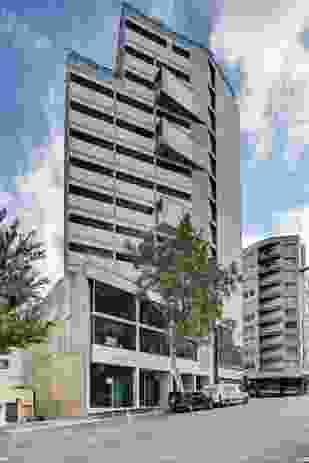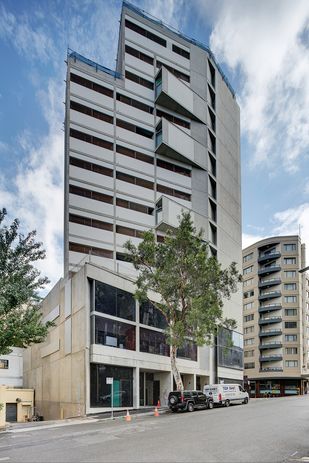 This concrete facade is successful at the upper-level apartment floors of the tower. But what about the amenity offered at street level? I question, for example, how the building performs for the passing pedestrian on a rainy day, in search of footpath shelter or a small recess to provide temporary, partial enclosure and protection from the elements. I also question the obscurity of the residential entrance at the street. You defended the discreet entry by talking about the value of privacy to a residential owner in an urban setting. I accept your point but I also think that a strong (personal) identity is critical to one's sense of home. Forty-eight households come home each day to a subtle recess in the facade and a lobby, albeit stunningly tailored, that also serves as the principal entry and identity of a bank headquarters occupying the first three storeys of the tower.
While my criticisms might seem merely to echo fashionable contemporary rhetoric about acceptable building behaviour and human occupation at ground level, these are critical edges of a building. Thresholds and walls to the street have the potential to contribute to genuine and successful city making and I think need to work harder. I would love to see the generosity of spirit evident in the fashioning of the apartments extended to those who do not have a financial stake in the building.
As we walk back out to the unconditioned air of the outdoor lift lobby, and in that brief moment when the memory of the architecture lingers, like being moved by a piece of music, literature or fine art, I am jolted back to consciousness by a passing sales agent. He announces to us that the one-bedroom apartment we have just exited was sold the day before and then, noticing our raised eyebrows at hearing the considerable purchase price, he exclaims, "We think that is a bargain." And in this moment, in all my mindfulness, I agree with the agent.
Credits
Architect

Candalepas Associates
Sydney, NSW, Australia
Project Team

Angelo Candalepas (design architect), John Wilkin (project architect), Felipe Miranda (project architect)
Consultants

Electrical consultant Halkat Electrical Contractors
Fire services D A Design
Hydraulic consultant Neil Lowry & Associates
Mechanical consultant Dynatech
Principal certifying authority Vic Lilli & Partners
Structural consultant James Taylor and Associates

Site details

Site type Urban
Category Residential
Type Apartments, Residential

Project Details

Status Built
Completion date 2014

Source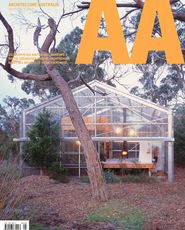 Issue
Architecture Australia, September 2015