In 1929, Mies van der Rohe's high temple of modernism, the Barcelona Pavilion, opened to the public, launching a reductionist typology that has resurfaced around the globe for close to a century. The original Penfolds Magill Estate Restaurant in Adelaide, designed by Allen Jack + Cottier in 1996, is one such septuagenarian homage to Mies, though its recent eclectic refurbishment by Pascale Gomes-McNabb Design challenges the assumption that pared back and puritanical are the only ways to interpret modernity. After all, in the same year the Barcelona Pavilion opened, surrealist artist and native of the city Joan Miró was producing a radical set of collages through which he famously wanted to "assassinate painting." Both works were consummate exercises in abstraction, but where the Barcelona Pavilion created a space of transcendent nothingness, Miró's images seethed with organic vitality and evocation.
This contrast is echoed in Pascale Gomes-McNabb's handling of Magill Estate – a project that imaginatively, almost provocatively, yet always affectionately, challenges its refined architectural envelope. I have never reviewed a design project under the influence of Krug before, but even without the seductive haze of alcohol this project speaks for itself. Like Miró's bravura works, it collages buoyant forms and unexpected materials in joyful defiance of its strictly conceived and constructed frame.
Overlooking the property where Australia's most celebrated wine, Penfolds Grange Hermitage, is produced, the restaurant sits at the littoral edge of affluent suburbia and the foothills. It's an incongruous setting for such hallowed terroir, and one this pavilion exploits with panoramic views of vines in the foreground, a proscenium of puffy McMansions, and the modest skyline of the CBD and a horizon of beaches beyond.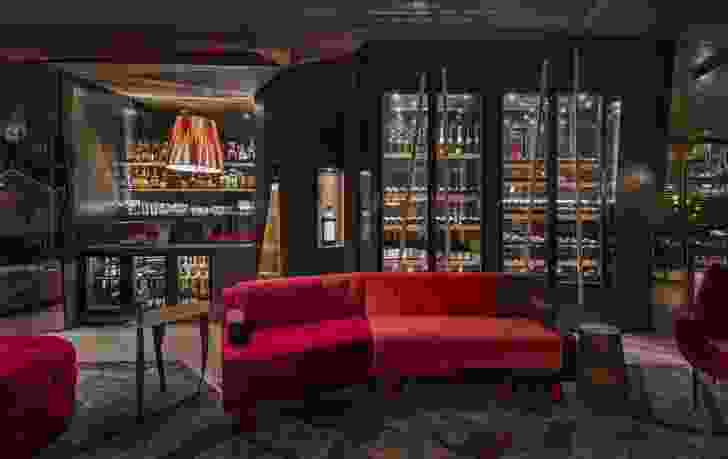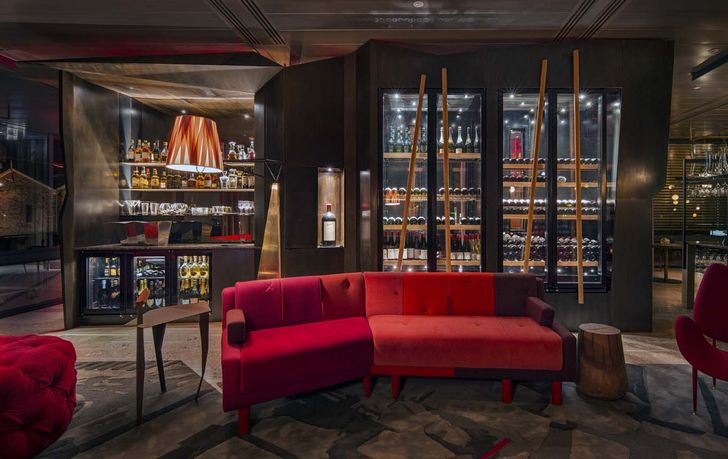 A commendable piece of neoclassicism constructed with care and durability, the building needed less in terms of material and spatial renewal than it did in conceptual and sensory regeneration. Though the brief and duration of the project were long and subject to substantial revisions, the central tenet remained consistent: to embody the Penfolds' ethos and showcase the genius loci of its viniculture, not only in the immediate context of the Grange, but as an attitude across its whole range of wine. Additionally, Penfolds recognized that dining out at the rarefied epicurean level demanded by such quality wines entails a more memorable setting than one of corporate tastefulness. Gomes-McNabb embraced these parameters with characteristic intensity, creating subtly didactic journeys and a lush variety of perceptual experiences in a potentially singular, staid space. The result is as heady and intoxicating as the liquid substance at the heart of the venture.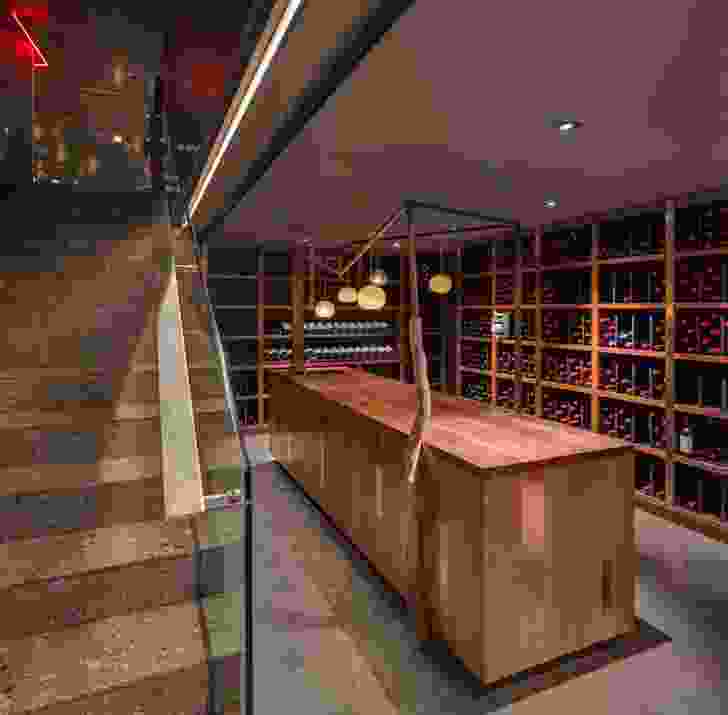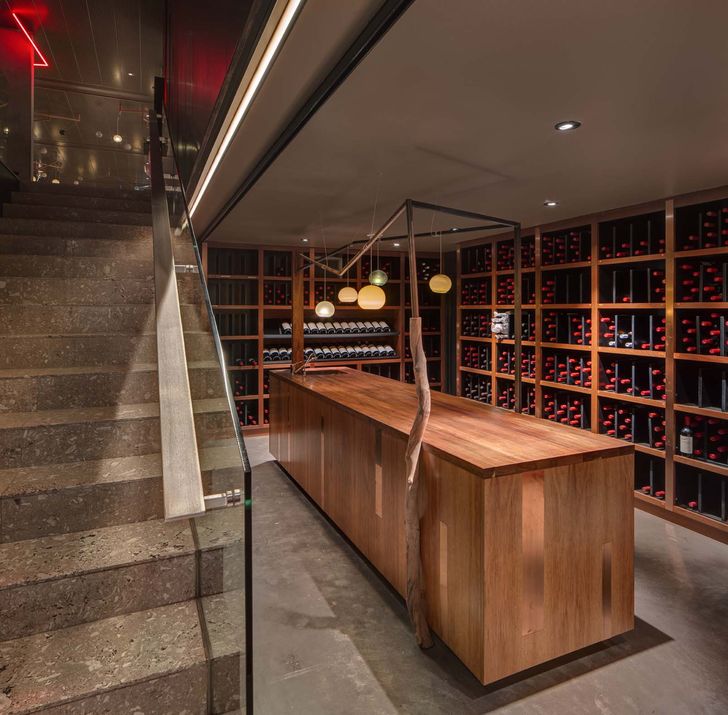 Woven throughout the spaces are numerous references to the physicality of the site and the paths from vine to winery to table. A vast flattened grape of red glass makes the initial gesture – a door handle funky enough to declare this no traditional beef-and-burgundy joint. In the reception, a red neon line glows overhead, tracking the route from vineyard to dining room, and a ruby trace reappears in the thickly ploughed contours of the bar's grey carpet. The pattern is not of scattered marc, but a literal map of the location. Though this aerial plot resurfaces on the etched glazed doors between dining and kitchen, most of the allusions to place and oenological process are more oblique. Cork, timber and metals with a satisfyingly agricultural patina are used strategically, while the concentration of red in the bar and anterooms only – rather than in the restaurant proper – astutely foregrounds the colour of the wine at the right place: where you drink it.
Allegories of abundance and theatricality imbue the design, and echoes of the corporeal, sumptuous interiors of Peter Greenaway's 1989 film, The Cook, the Thief, His Wife & Her Lover come to mind. The sense of layered idiosyncrasy begins with the perky zoomorphic reception counter, its integral trough spilling misshapen heirloom carrots and heritage tomatoes. Its progeny, bluing steel handbag tables, populate the dining space like obedient baronial dogs. With their endearingly cranked legs and timber craniums, I want to take one home. Settling into one of the many sculptural chairs in the lounge area – I count six different types – the sense of choice is initially a little dizzying: seven different tables, a sofa with five fabrics and three different geometries. The waiters' stations, sentinel to each end of the dining space, are ingenious "hides" of steel, copper, timber and mirror, like some vaguely pomo rendition of a seventeenth-century viewing apparatus. For those choosing to spend four to six hours enjoying the mandatory degustation menus, Gomes-McNabb has responded with a plethora of things to look at, textures to appreciate and adaptable spatial configurations to make each visit, each table, feel different and remarkable.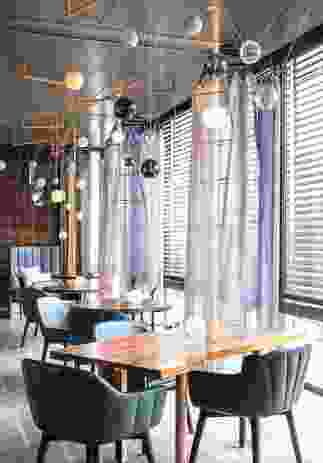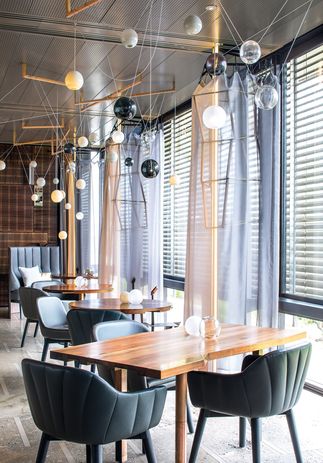 Most dazzling is the lighting. Constellations of handmade glass spheres festoon the space, dancing from timber hurdles that nimbly straddle the original acoustic ceiling. Varying in diameter, opacity and colour, from shark black to pearlescent oyster, the globes glow like a phosphorescent deep seascape. Their reflections in the windows fill the space in a glittering doubling of the twinkling city nightscape. And in a move that would alarm architectural purists, the elegant chromed I-columns of the shell have been converted into illuminated pillars and uplighters. Their machined, masculine aesthetic has been transgendered with diaphanous togas of gauze and metal concertina girdles in a droll reference to the classical origins of hardcore modernism.
Like red wine itself, the reinvention of Penfolds Magill Estate Restaurant will not be to everyone's taste. During my visit, an architectural acquaintance of mine who was there by coincidence remarked, "I don't go much on the Christmas decorations." But isn't that what a place like this should make you feel – that all your Christmases have come at once? It is, surely, the very experience an exquisite, place-infused glass of wine generates. Unlike Miró, Pascale Gomes-McNabb did not set out to "assassinate" the frame within which she was working. Instead she has breathed new life into it, and demonstrated that modernity can be a wonderfully hybrid beast.
Penfolds Magill Estate Restaurant won the Hospitality Design Award at the 2014 Australian Interior Design Awards.
Products and materials
Walls

Perforated panel in Tasmanian blackwood by Briggs Veneers, to rear wall. Silver-backed DecorMirror with polished edges from Viridian. Vinyl graphics custom-designed by Pascale Gomes-McNabb Design.
Ceiling

Cellar ceiling in Resene Metallics 'Gold Dust'. Corridor ceiling in 2-pac polyurethane, high-gloss finish. Clear vinyl printed with pattern custom-designed by Pascale Gomes-McNabb Design.
Columns

Acrylic sheet perspex in 'Frost Polar White' from Mitchell Plastics. Custom mild-steel curtain rail in Dulux black satin powdercoat finish. Création Baumann 211 curtains in 'Sinfonia VI' from Boyac. LED strip lights from Häfele.
Windows and doors

Existing windows. Tasmanian blackwood entry door, stained and sealed with Treatex Hardwax. Feature door handle designed by Pascale Gomes-McNabb Design and created by Mark Douglass. Automatic sliding doors to kitchen and corridor from Dorma. Frameless sliding door with clear glazing, and vinyl graphics designed by Pascale Gomes-McNabb Design. Corridor pivot door in Dulux 'Caviar'. Heritage cabinet uses Simplex glass door hinges from Häfele, and Abloy Classic cam lock from Access Hardware.
Flooring

Existing travertine floor, repolished and patched. Custom carpet to lounge.
Lighting

In dining room: Flos Architectural Compass downlight from Euroluce; hand-blown glass feature lights by Emma Lashmar; and LED lamp by Allan Templeton. In entry/bar lounge: Flos Architectural Compass pinhole light from Euroluce; Red Neon light designed by Pascale Gomes-McNabb Design and created by Rene Paccagnan; Centennial light designed by Pascale Gomes-McNabb Design and created by Mark Douglass; and floor lamp designed by Pascale Gomes-McNabb Design and created by Julian Featherston. In entry/exterior: Flos Architectural external light from Euroluce. Heritage cabinet uses LED strip lights from Häfele.
Furniture

In bar/lounge: Featherston chairs from Gordon Mather Industries under licence. Talking Chair with inbuilt speaker and AV output, upholstered in Mokum Alpaca Velvet in 'Red Coral' and 'Garnet.' Scape armchair upholstered in Maharam Messenger in 'Spice' and 'Mao.' Kelly high-backed armchair upholstered in Kvadrat 'Colline'. Ottoman upholstered in PelleLeathers Santorini Cimento. Stanley stool from Jardan. Tomahawk Kompact stool from Anibou. Habibi side table from Living Edge. Ottomon by Pascale Gomes-McNabb Design, upholstered in Mokum Alpaca Velvet 'Garnet' from Scope Furniture. Banquette seating and Doe high table by Pascale Gomes-McNabb Design. In dining room: banquette in PelleLeathers Santorini Cimento, dining chairs, timber tables and low Doe tables by Pascale Gomes-McNabb Design.
Other

Tasmanian blackwood reception desk, waiter stations, loose rugs, ice bucket, timber ceiling frames and heritage cabinet designed by Pascale Gomes-McNabb Design. Marble bar top from The Marble House.
Credits
Design practice

Pascale Gomes-McNabb
Melbourne, Vic, Australia
Project Team

Pascale Gomes-McNabb, Michelle Skinner, Dinah Lim Fat
Consultants

Builder Schiavello
Joinery Metro Joinery
Lighting Allan Templeton, Rene Paccagnan, Emma Lashmar, Mark Douglass, Julian Featherston
Metalwork Robert Hook
Project manager Synergy (Richard Little)
Timber Charles Sandford
Upholstery Classic & Sports Auto Interiors (Tony McConnell), Scope Furniture, Gordon Mather Industries

Site Details
Project Details

Status Built
Design, documentation 2 months
Construction 8 months
Category Commercial, Hospitality, Interiors
Type Alts and adds, Restaurants

Source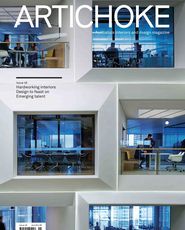 Issue
Artichoke, March 2014
Related topics