It's not about trinkets, or decorations. It's about materiality," says Huw Turner emphatically, swerving to avoid the glossy panel-work of an oncoming Range Rover. Huw is both knowledgeable and deeply passionate about architecture, characteristics that have no doubt helped to shape the highly refined, singular residential work of Collins and Turner, the practice that he shares with his partner in life and business, Penny Collins. Barrelling down the narrow, congested streets of Sydney's well-to-do suburb of Paddington, though, this intensely focused passion is proving to be a worrying distraction. We're in a rush because Huw has a barbecue with some of his old clients to get to and we have just two hours to tour three of his houses. Fortunately, all of the projects are located in and around Paddington and nearby Bellevue Hill. These lushly vegetated neighbourhoods, many of which enjoy spectacular outlooks down to Sydney's famous harbour, are a long way from the kitchen table in dreary London where the Collins and Turner architecture practice began.
Collins and Turner's first commission was for a small retreat in rural Bombala, New South Wales. Penny and Huw were working for Foster and Partners' London office when an opportunity came up to design a house for an old friend in Australia. "We were visiting the owner and he said he was going to try to get Glenn Murcutt to design the house," recalls Penny. "We asked that he let us look at it first." Despite the fact that Penny and Huw were living in the UK, with no actual practice to speak of, the owner agreed.
They managed the process over email, with Penny's architect father handling things on the ground in Australia. "We lived a strange double life,'" Huw recalls. "We dreamt of a shed in a paddock in Australia, when we were up to our necks in building sites in the UK and Germany."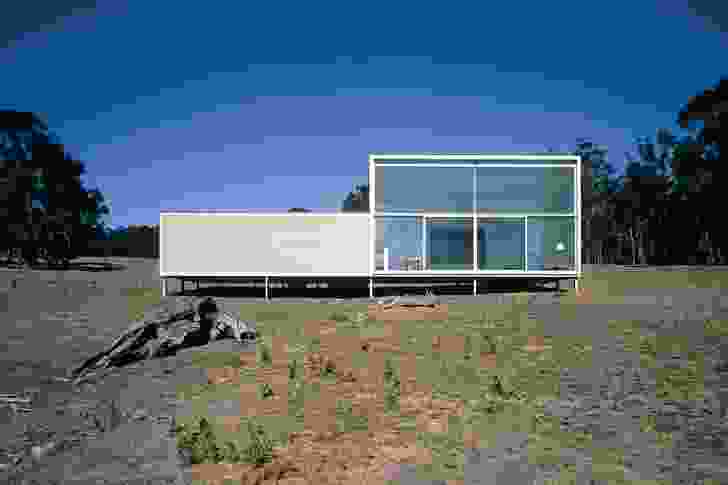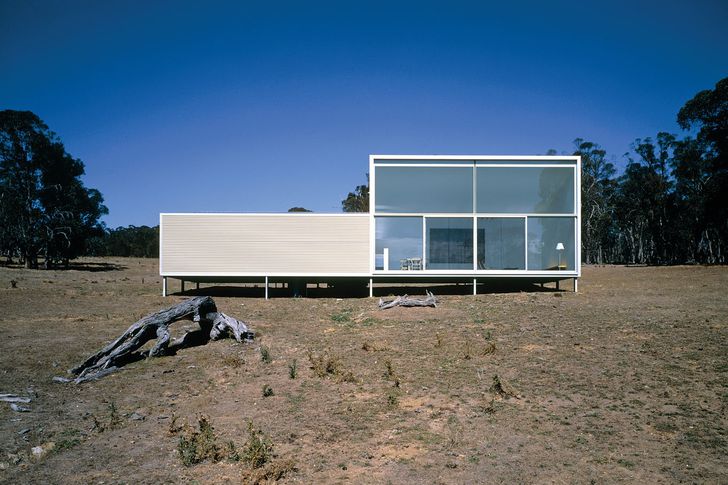 The couple was briefed to ensure the architecture was in keeping with its rural context and, from a distance, it does have an agricultural appearance, reading as a simple white shed on stilts. But while they hired the same builder who worked on Murcutt's famous Magney House at Bingie Point to construct it, this is no "Murcutt-lite." Up close, the building's formal similarities are more camouflage than homage, its crisp interior of white walls and exposed concrete a reflection of cosmopolitan tastes rather than agricultural precedents. The building, in fact, is an abstraction made manifest – a one-room house with two scales of space within it, a built diagram of high space/low space. "So much of it is about what we can leave out of a project," says Huw. "We like projects that have a very singular vision."
The purity of that vision struck a chord – the house was picked up by international media, and soon after the couple was fielding enquiries from all over the world. Rather than build houses in North America and the like, they decided to make the jump back to Australia and by the turn of the millennium they had set up their practice in Sydney. While their first project was blessed with the kind of isolated and romantic rural site that architects and feature editors dream of, they now found themselves grappling with the messy complexities of the city – neighbours, planning codes, and of course existing building fabric.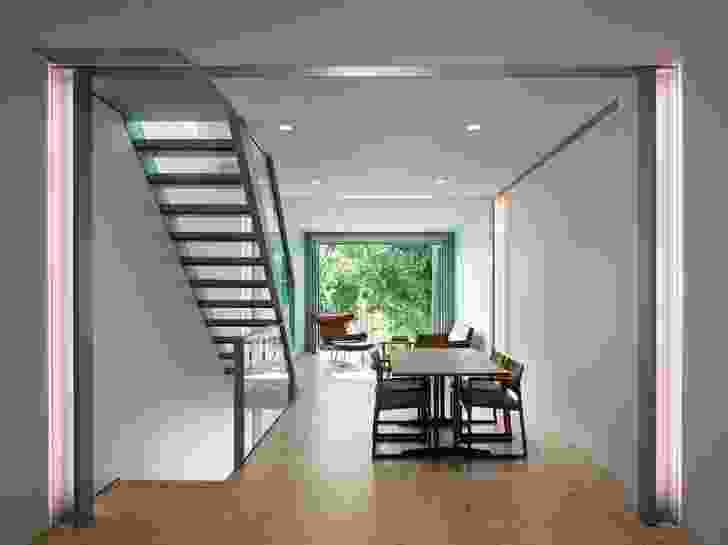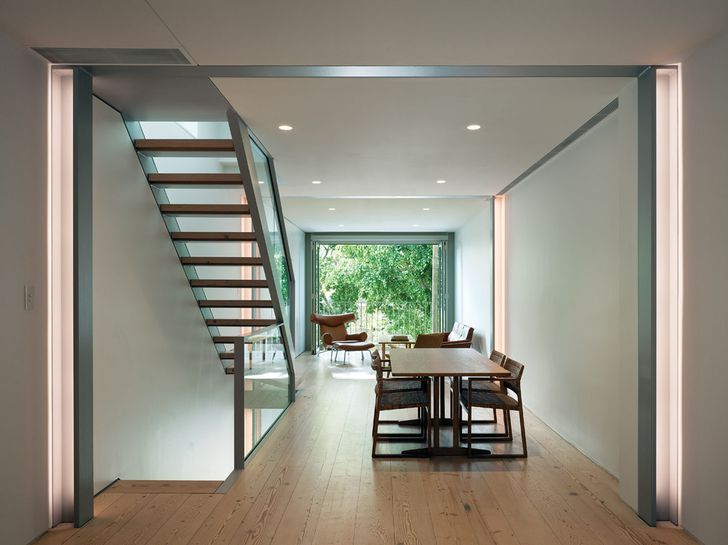 Penny and Huw's projects retained the rationality and environmentally sustainable ethos of the British "high-tech" firms the couple had worked for but they also began to focus on the more haptic, human qualities presented by natural materials. Typical of their output is the Paddington Terrace project, which saw an existing, dark and poky Victorian terrace transformed into a light and airy contemporary dwelling. Most of the building's internal walls were knocked down to allow light and air to filter through the interior. A memory of its original floor plan, though, is retained in the exposed steel structure that both frames the space and demarcates how it was once divided. The coolly rational quality of this intervention is tempered by the use of thick-cut pale Oregon pine as flooring, which both enhances the luminescence of the interior and lends it warmth.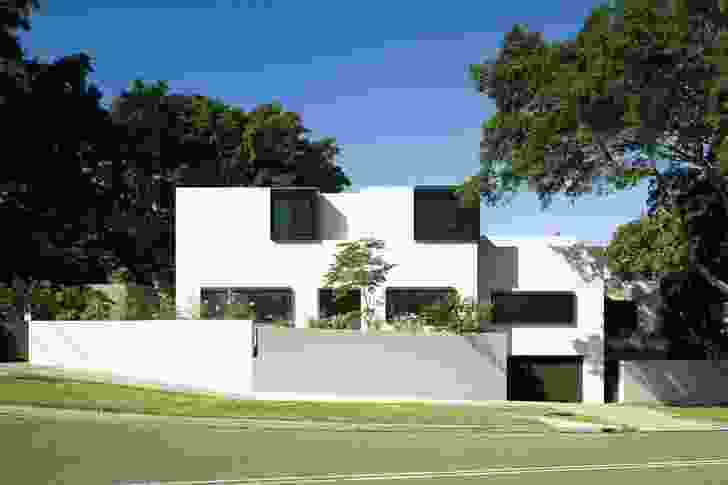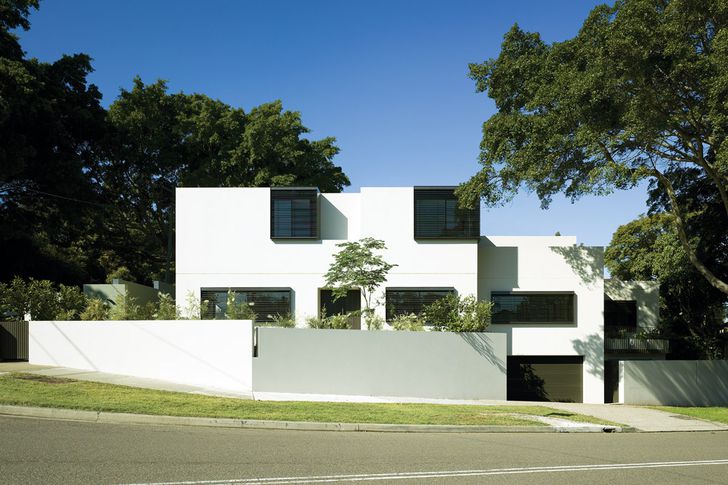 Remarkably, despite the fact that the architects had to grapple with the knotty challenges of heritage overlays, existing building fabric and a dense inner-city location, Paddington Terrace still reads very much as a singular work. This is true of most of the residences that the practice has designed since Bombala Farmhouse, many of which are modifications to city homes. Bellevue Hill House, for example, appears as new but is largely composed of pre-existing structure. In this case the building, a kitsch confection in pink paint and "period" detailing, was blessedly free of heritage constraints. Its bones, however, were perfectly serviceable, and for economical and environmental reasons the practice opted to retain them. The "new" building is a powerful reduction to the bare essentials – a composition of orthogonal volumes and abstractly composed window openings.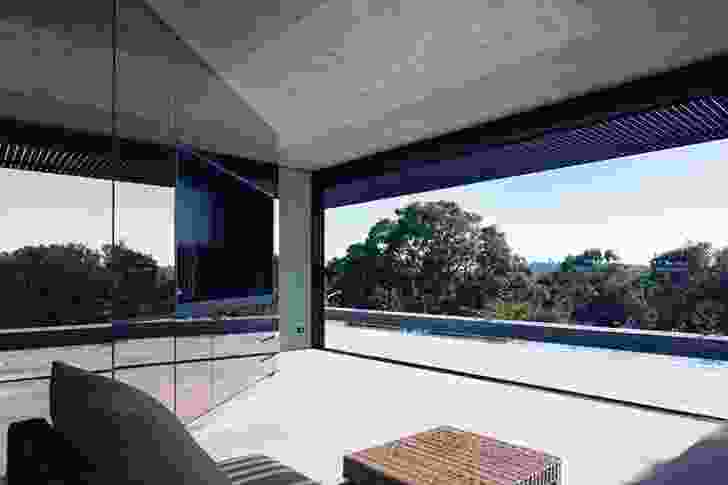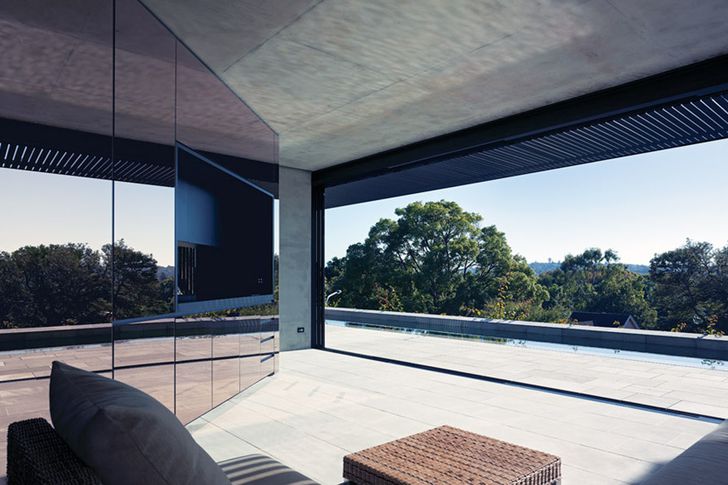 More recently, the practice has had an opportunity to stretch its high-tech muscles again. Kharkov House began life as a commission to improve access to a 1920s-era villa, also in Bellevue Hill. Entry to the house, which is perched on top of a sheer sandstone cliff, could only be gained via taxingly steep stairs or a rickety motorized inclinator. After mammoth excavation work, the occupants not only had a brand new glass elevator to whisk them to their door but also new outdoor living space by way of a lap pool, lawn and cabana embedded in the cliff.
It is the lift, though, that is the star of the show – rather than ending up with clunky, purely functional bolt-on mechanics, the architects sourced something special – a German, machine room-less lift. "The lift came from Germany, the glass from China – it was like a Foster's office project," says Huw. "If we hadn't had those experiences at Foster's and so on, there's no way we would have known how to tackle it." The fact that the lift had no machine room meant the architects could keep its cliff-top entry enclosed in a bespoke glass shell, preserving the original building's spectacular views. The final outcome, with its high-tech elevator and trimly elegant cabana in black and bronze, is a bit Thunderbirds, a bit James Bond – and a far cry from the Fraggle Rock jumble Huw recalls first encountering. From messy complexity, Penny and Huw once again managed to craft clarity.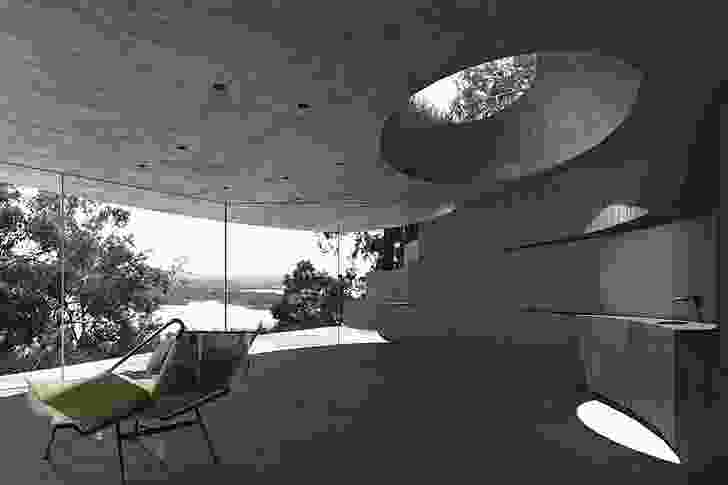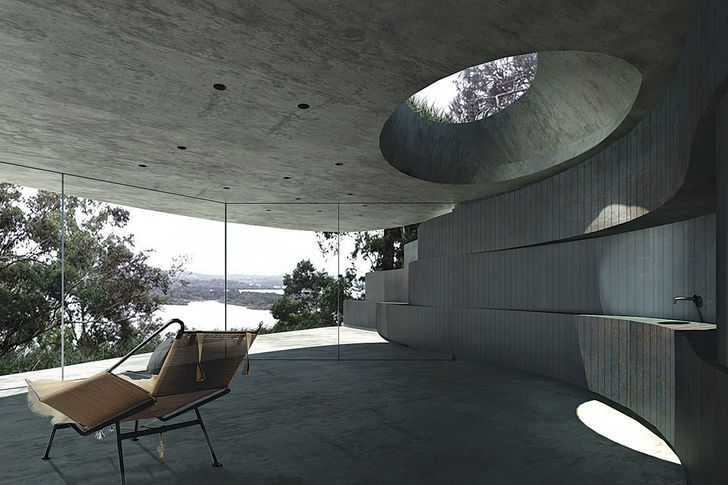 Still, the two can't help but look back wistfully now and then to their first project at Bombala. As Huw says, "We often fantasize about building little farmhouses in the middle of nowhere." Fortunately, they do have at least one project on the boards at the moment that boasts a location as singular as their designs normally are. Named Cave House, it is located in Tuross Head, on the New South Wales coast, on a sloping, bush-clad site with serene views out to a nearby lake. As Huw describes, "We asked the clients to imagine walking through the bush and stumbling upon these rock ledges, the kind that wallabies sleep under, but simply wrapped in glass to become a house." Hunkered down into its setting with a turf roof, the design is the antithesis of "touching the earth lightly." Nevertheless, the building is near invisible in its bush surrounds. In Cave House, unlike Bombala Farmhouse and almost all of the work that has come since, what Collins and Turner is proposing is not singular but radically recessive, an anti-monument. Murcutt's Magney House, ironically, will be just up the road.
Source
Issue
Houses, February 2013
Related topics