Perth development pioneers solar sharing for apartments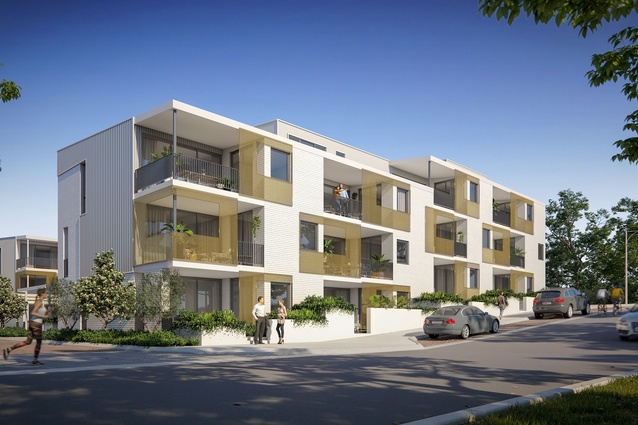 An apartment project planned for Fremantle's White Gum Valley that is pioneering the use of shared-solar technology has received a highly regarded sustainability accolade. Yolk Property Group's Evermore development, designed by Harris Architects, has been recognized by Bioregional Australia as a "one planet community" for its commitment to sustainable living.
Comprising 24 apartments, the two-storey development – slated for completion in early 2018 – will be powered by shared-solar technology, featuring a governance model developed by the Curtin University Sustainability Policy Institute. The technology is forecasted to produce 80 percent of the apartments' power, contributing to a significantly reduced ecological footprint and a 30 percent saving on residents' electricity bills.
As a collaboration between Yolk Property Group, Curtin University, LandCorp, Solar Balance, the CRC for Low Carbon Living and the Australian Renewable Energy Agency, the project will provide groundbreaking research on how solar panels, batteries and monitoring systems can work within strata-titled residential developments.
The "one planet community" accolade is part of an international initiative from the Bioregional network to recognize "practical projects and partnerships" that demonstrate ways of "living within our fair share of our one planet's resources can be easy, attractive and affordable." Bioregional Australia executive director Suzette Jackson said Evermore showed a strong commitment to sustainability, particularly through its shared-solar initiative. "Evermore is setting the bar high with its sustainability and quality of life features and is showing strong initiative in pioneering new technology and applications," Jackson said.
Director of Yolk Property Group Pete Adams said, "We're immensely proud to become part of a network of the earth's greenest neighbourhoods. Our goal with this development is to go above and beyond and lead by example, even if it means treading untested waters, taking risks and trialling new ideas or technology," Adams said.
Evermore will be situated in White Gum Valley's WGV precinct, itself recognized as a "one planet community" by Bioregional Australia, and within the City of Fremantle, which has adopted One Planet Living principles. The WGV precinct, developed by state government agency LandCorp, is designed to be a hotspot for "innovation through demonstration." The precinct also includes the Gen Y Demonstration Housing Project designed by David Barr Architect – a sustainable infill housing concept tailored to millennials – and a Baugruppe-style cohousing development, which is led by former WA government architect Geoffrey London and designed by Spaceagency.
In February 2014, another Fremantle development, Defence Housing Australia's Liv Apartment designed by Hassell, was accepted to apply for the One Planet Living program.