Hayley Curnow visited the Perth Fringe World Festival, curious about our associations with venues of a short shelf-life. What she found were some of the most delightful and evocative temporary venues on the circuit.
Forget your preconceived notions of white fabric stretched heedlessly over metal frames, and picture instead enchanting circus tents bustling with eager audiences and adrenalized performers.
The Fringe World Festival, coordinated by Artrage, brought cabaret, comedy, burlesque, circus, live music and performance art to Perth from 25 January to 24 February 2013. With sixty-three venues, some temporary, others permanent (though repurposed to temporarily host performances), this annual event is progressively redefining the face of performance spaces in the city.
When broadly considering Perth venues, we intrinsically associate our current experiences to the history and identity of the place. These connotations to time, human occupation and the development (or passage) of various "scenes" enriches venues and, in turn, our experiences of them.
These qualities, however, are often not attributed to the transitory venues of Perth. The overriding question of, "why make a venue special when it is not going to be around for long?", can act as a disincentive to establishing any identifiable character for transient spaces. It's easy then to wonder whether temporary venues are as "meaningful" to us as permanent ones.
In the case of the Fringe World Festival venues, it seems that character and transience are not mutually exclusive. Most festivals rely on temporary and non-traditional venues due to their extensive programs. In a refreshing approach that enlivened the city, the Fringe World Festival organizers very carefully considered the aesthetics and experiential qualities of their temporary venues.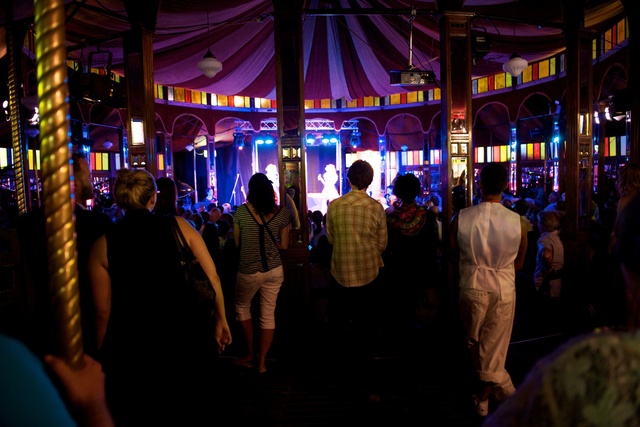 The star venue would have to be Western Australia's own De Parel Spiegeltent, (aka The Pearl). This ornate travelling tent was built in Belgium in 1905, and has functioned as a dance hall and cabaret bar ever since. The Pearl is one of the few remaining Spiegeltents in the world and was proudly acquired by the Fringe World Festival producers as an asset of our state. The richness of this venue is apparent on approach, when you first encounter its exquisite exterior detailing. Inside, further intricacies are revealed, from turned and polished timber, to the canvas roof, stained glass panels, velvet and brocade curtaining.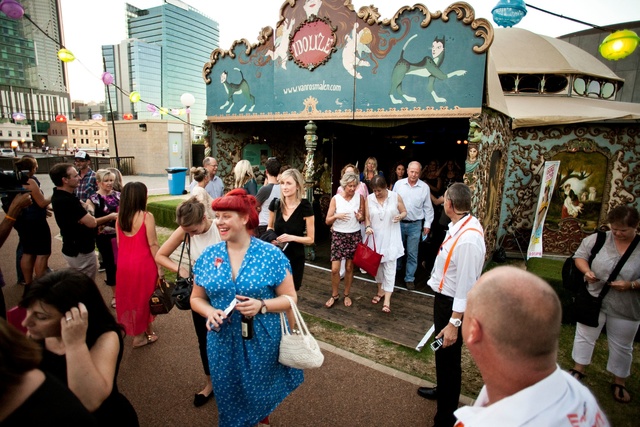 Fringe World's associate director Amber Hasler says that when it comes to temporary venues, "an element of mystique or old-world charm is always welcomed by the public, particularly in a young city like Perth." Other temporary venues include the West Australian Idolize Spiegeltent (visiting from Belgium), the De Parade Teatro 1 and 2, and custom-made pop-up venues from Amsterdam's Theatrefestival de Parade, housing theatre and comedy respectively.
Hasler explains that along with the pop-up venues, Fringe World 2013 also utilizes a number of pre-existing venues that are not traditional theatre spaces. These repurposed buildings, such as the Riverview Hotel, Cheeky Sparrow bar, St Georges Cathedral and North Perth Bowls Club, also contribute to the evolution of our temporary venues, as many of these spaces "have never before hosted an arts event or cultural performance."
Melanie Naumoff, co-creator of the Fringe World closing show 64: A Night at the Whiskey a Go-Go, believes the event has "very much opened up people's eyes to some previously under-utilized city spaces … the trend is broadening the way we think about the possibilities for event spaces, and allowing organizers to think more creatively, often seasonally and more economically, when looking at temporary spaces."
Character and eclecticism is only part of a venue's allure; the rest lies solely in its temporal nature. Pop-up venues initiate a cycle of experience, memory, imagination and anticipation. When the venue is habitable, performances can be attended, the place experienced and the details absorbed. But once dismantled, we can only rely on memories to reform those associations. Until such time as that place is reassembled, we reminisce, with a sense of anticipation.
Gaston Bachelard, in his pivotal text The Poetics of Space, declares, "it is better to live in a state of impermanence than one of finality." Though the philosopher is referring to imaginings of another kind, he beautifully expresses the importance of dreaming, rather than achieving in a consistently fixed or physical way.
Such is the pleasure of reimagining our experiences in these settings, until we can once again occupy them physically. Naumoff articulates these qualities:
"The overwhelming response from the public has been the desire to have Fringe venues operating year round. Regardless of whether this could ever be viable, I think this says something of how the feeling of transience lends to the experience of Fringe venues. While the structures themselves are extraordinary and offer something exciting for show-goers, Fringe World as a whole has quickly become about a particular time, space and feeling."
The flurry of excitement surrounding the event frames us – the audience – as the producer, rather than a passive consumer, of these spaces. We are temporarily absorbed into participating in a world created by the convergence of time, venue (space), and the performance itself. Our imaginations are sparked, associations and memories are formed around these enchanting and elusive venues, and at the end of the festival, we are simply left to wonder when we might next return.