The WA planning minister, Rita Saffioti, has approved a two-tower development for a site adjacent to the Perth Arena, despite it being recommended for rejection by the City of Perth.
The Perth Hub development will comprise two towers designed by Cottee Parker Architects. The first building will be a 32-storey mixed-use tower with 314 apartments and commercial spaces at ground level. The second building will accommodate a 22-storey, four-star hotel with function and hospitality spaces at its lower levels. Both towers will feature terraced "skygardens" on top of the commercial and hospitality podiums.
The development will form part of the Perth City Link area, which connects the CBD and the Northbridge area on land once occupied by a railway line. The most recent development in the area – Yagan Square, designed by Lyons in collaboration with Iredale Pedersen Hook and Aspect Studios – opened to the public in June.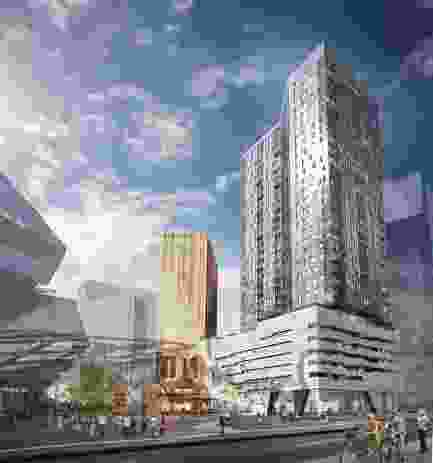 The towers will neighbour the ARM Architecture and Cameron Chisholm Nicol-designed Perth Arena, which opened in 2012.
In an architectural statement, Cottee Parker said the buildings would create "a dialogue between themselves, the Perth Arena and the Milligan Steps through their scale, form, and similar but contrasting architectural languages and expressions."
The materials chosen for each of the buildings are intended to reference the history of the site – the area was once part of Lake Kingsford, one of Perth's Great Lakes. The taller tower refers to the natural history of the site, with a "clean and reflective glass façade, referencing the water surface and colours of Lake Kingsford."
The shorter hotel tower's design is informed by the site's past use as market gardens for the West Perth Markets and later as rail yards, with a facade that is inspired by "the strong geometry of the West Perth Markets roof line, the patterning created by the parallel and branching railway lines in the rail yards, and stacking of trains in the shunting yards, as well as the linearity of the rows and rows of open carpark."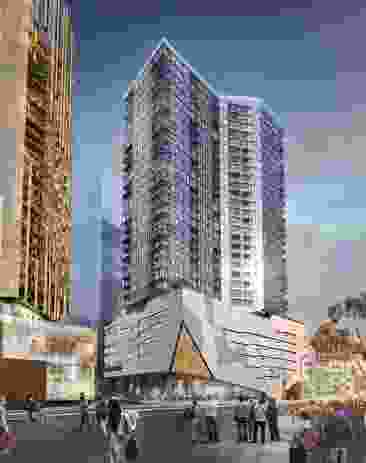 The architects said the design was "contemporary in nature with a material honesty and minimalism through the use of glass, concrete and metallic finishes, to reference the highly tactile history of the sites through textural elements and correlate the varying forms through continuity of the materials utilized."
Both towers exceed the height guidelines for the site. The taller tower is 16 storeys over the guidelines, while the smaller tower is seven storeys over. In a statement, the minister explained that the design was accepted for "creatively redistributing the allowable floor space to achieve an alternate solution for the sites, demonstrating design excellence."
The minister's approval comes after the City of Perth rejected the application in June.
Construction on the project is anticipated to start by mid-2019.