Stuart Harrison: I thought we would start in an obvious place, with your seminal involvement with the Archigram group. Forty-five years later, do you reflect on this period thinking it was crazy or about right?
Peter Cook: I think it's enough to say it was about right, because it was very needed. We were bored with what had gone on before, we thought it was far too narrow-minded, far too solid, we had a lot of ideas. The thing about Archigram that is not often appreciated is that it was a coalition of six different people spanning ten years in age, not from the same college and with different tastes. It had the strength of a coalition. In simple terms, it was a slightly older group and a slightly younger group but with enough overlap to give it the atmosphere of a college studio, being mates with other people but also in competition with them. Everybody did some drawings, some critiquing and some of the boring bits. Then we won a big competition in Monte Carlo and it looked like our fortunes were made, but only three of us wanted to work on this. We worked on it for three years, but it was never built. We were still teaching and it gradually fizzled by and maybe the six different people were more different and on different trajectories. In my lecture last night I started with two slides and said, "One is Peter Cook the young architect, Plug-In City; one here is Peter Cook the old architect, with Kunsthaus Graz" - the difficult bit is what's in between and I didn't go chronologically.
SH: It was more thematic.
PC: Yes, more thematic - I find that more interesting. What interests me intellectually is the recurrence of certain themes. I'm fairly sure of the value of certain moves as I've been too long a teacher and a commentator. When people say to me "Do you still think Archigram is relevant today?" I say "I'm not sure about all those tubular bits of metal", but there are certain issues and responses and what I labelled in the last section of my lecture as "non-solid architecture" – the things that are at the side of normal architectural hardware – vegetation, air, light, inside/outside, the garden, the terrace, the temporary structure, the verandah, the use of new materials. It's not just "there's the wall and there's the thing", it's a different position from the David Chipperfield type of architecture, which is very elegant, very solid and total, and instinctively I'm against that. The reason I showed lots of kiosks last night is that they are very useful portholes onto life, they are a common thing, they are consistent with the Archigram notion of a portable building, the capsule, not being a real building …
SH: You mentioned that you worked a summer in a kiosk and this might have been a nascent moment of Archigram.
PC: It was many years ago that I suggested that Plug-In City was a post-rationalization of being a seaside person. A town goes to sleep in the winter and then as spring comes it opens up, the lights come on, the kiosks open and the people come back and it's twice the size and that, in a sense, is what Plug-In City was about.
SH: About fluidity?
PC: Fluidity and response. It didn't occur to me at the time and maybe that's not the whole story, but things are bred into you from a very early age - why did I go and do architecture? Both my parents were from poor families. My father became an army officer and in the Second World War, when I was a tiny tot, he was responsible for requisitioning large buildings. He was a Quartering Commandant; he was not an architect, he was a soldier. One day he took me to a field near Leicester, where we lived, and said "We'll put it there", and a month later there was an enormous prisoner of war camp. He had decided to build a town somewhere and I thought, that's a lovely game, my Dad had made a town.
SH: And quickly.
PC I'm sure that's part of the game. I started to draw the towns we moved to and lived in, I started to design towns. There was never a dividing line between being a kid and starting architecture at sixteen. I read Le Corbusier at fifteen, which means I've been in the game an extremely long time.
SH: The length of your career and the interest in vegetation made me think of Frank Lloyd Wright rather than Le Corbusier. Wright practised in his eighties and did an enormous amount of work late in his career, as you are now.
PC: We have two buildings on site at the same time, which even twelve years ago would have been unthinkable.
SH: Why do you think you have this interest in the way architecture sits, hides and reveals itself in the landscape?
PC: I'm not sure. I know that I've only once or twice lived in a house that hasn't had a tree out of the window. I have a penchant for those parts of the city that are established inner suburbs of the nineteenth century, where the buildings are substantial, where there probably are gardens, but it's sufficiently urbane. There's an interstitial condition that allows buildings to be substantial, but allows a gap between them.
SH: Like the "marsh"? You talked about this.
PC: The marsh is a more complicated issue. It's as close as I get to discussing abstraction, it has philosophical overtones, by its oddness, its scariness, its ambiguity … what I'm talking about in inner suburbs is a more comfortable thing. The marsh is tricky, the land isn't really there, almost like a megastructure, sufficient structure that it is happening, but the thing is porous. I'm interested in these ambiguous conditions, that's why what fascinates me most about Brisbane is the river. It's the thing that distinguishes it from Melbourne and Sydney. If you drain the marsh too much, you have lost that specialness. I'm not a hand-on-heart contextualist; I'm interested in context because it gives us further information. I'm always claiming that our building in Graz is contextual. It plays a certain game. We knew the site before we designed it, and so we could be quite radical. Sometimes if you don't know the place you just have to play it by the book.
SH: I want to ask you about typologies. You are quite critical of the lack of innovation - where do you think this discussion should go?
PC: I'm not sure, actually. I think I would like to sit down to write about it, it could be the theme of my next book.
SH: The critique is they are too certain.
PC: Yes, back to the critique … when I was a student I was the child of socialist modernists. "There is the sunshine, there is the balcony, there is the apartment, there is the working place, there is the school, there is the creche." That is that, that is there. Then you find your developers, and for different motives – "that is housing, that is shops, that is the bus station" – they both have box-like thinking. But what happens if you want to run a business from your apartment, you want to do sports on the roof, what happens if the Kunsthaus Graz becomes a car showroom? And that is only the beginning of it. Why couldn't you have a kiosk that was an architect's office? Why not? I blame developers for feebleness and my teachers for being religious about it. At both ends we have been bandaging our feet architecturally because we are scared of new typologies. In a way I'm interested in the episodic and the particular, it's a very English thing.
SH: Do you still feel naughty?
PC: Yeah, I like to feel naughty, whether or not I'm actually naughty. There is of course that other dangerous thing, which is the British notion of the tolerated eccentric … so long as you don't get too near the actual business. The English scene has never given me a job.
SH: Except the London Olympic Stadium?
PC: Yes, but that is working with Populous, working as a consultant. I fed some ideas in. They wouldn't have given it to me … you are seen as a tolerated jester, as long as you don't get too near the end game of the process.
SH: The end game being a big building?
PC: Not necessarily a big building. I don't know about bigness, I haven't done enough building to give you a definitive answer. The biggest thing we are doing at CRAB is a 270-metre-long university building in Madrid. It isn't as frighteningly different as stuff I've done before, it still feels like a small building that has grown. I'm getting dangerously into large building territory … again, one is playing with the typologies, it's dimensionally big, but we do certain things to release that bigness to make it humane for people within it.
SH It is a strain through the whole career, the avoidance of the big building.
PC: It is a very real thing. One of the irritations I have with, say, downtown Brisbane is its great big chunks of building, none of them particularly good or bad.
SH: That's similar to Frank Lloyd Wright's critique of New York.
PC: I've never thought of myself as particularly Wrightian. I was brought up on Corbusier but maybe my instincts are closer to Wright. That's an intriguing point. I'll have to give that some thought.
Read Sir Peter Cook's tour of CRAB's Bond University building.
Sir Peter Cook (born 1936) was a founding member of Archigram. He now runs CRAB Studio, London, and is design consultant with Populous. Stuart Harrison is a lecturer in Architecture at RMIT University, a director of HAW, and host of The Architects on Triple R FM. He interviewed Peter Cook the day after his keynote lecture at the Unlimited Asia Pacific Design Triennial in Brisbane recently.
Source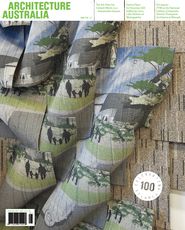 Issue
Architecture Australia, January 2011
Related topics