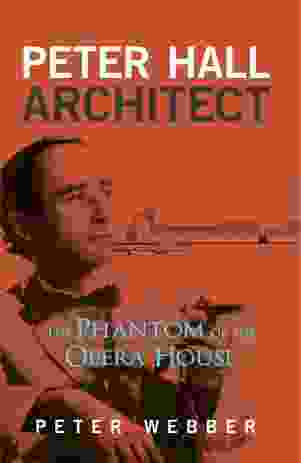 Has Peter Hall's star finally risen? Not quite perhaps, but with the publication of Ken Woolley's Reviewing the Performance: The Design of the Sydney Opera House in 2010 and now Peter Webber's biography, momentum is clearly building. Writing of his former friend and colleague with warmth and empathy, Webber explores Hall's life and career, from his early scholastic successes, to the great promise he showed in the Government Architect's Branch in the 1950s and 60s – including winning a Sulman Medal at age 34 – to his arguably "wrong turn" as the architect who completed the Sydney Opera House. Private practice in the 70s and 80s and an unsatisfying stint in Canberra as Director of Architecture for the Commonwealth Department of Construction and Housing preceded a personal and professional decline in the mid 90s that ended in Hall's early death at the age of 64 in May 1995.
It was perhaps no accident that Hall's demise coincided with the staging of the Unseen Utzon exhibition at the Sydney Opera House, a presentation of Utzon's final drawings that bitterly reawakened old controversies and hostilities. Webber's chapter on Hall's work at the Sydney Opera House is concise, factual and sympathetic, but it is accorded little more weight than other chapters. The inescapable reality is that the Opera House defined everything else Hall did. Undoubtedly the high point of his career, it was also the cause of his subsequent downward spiral. It contributed to the collapse of his first marriage and the destabilisation of his second.
Vilified as the architect who took over from Utzon, the frustration for Hall was that, while Utzon's story was endlessly and usually uncritically recounted, the story of those who succeeded the Dane was almost universally ignored. It is to the detriment of an inclusive history of the great building that this imbalance has endured for so long. For what Hall, and many of his close colleagues like Peter Webber, knew was that the circumstances of Utzon's departure, the huge functional and design problems that were yet to be resolved, were altogether more complex and difficult than most accounts suggest. In 2013, the fortieth anniversary of the Sydney Opera House opening, it is to be hoped that this timely biography will contribute to Hall's eventual full restitution.
Peter Webber, Watermark Press, 2013
Peter Hall Architect: The Phantom of the Opera House
RRP $25 / $22.50 to AIA members from Architext Sydney and Melbourne
This review originally published in the Autumn 2013 edition of Architecture Bulletin.
Related topics