AWARD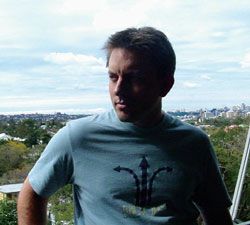 Tim Juckes, University of Queensland
Jury Citation
Tim Juckes submitted assignments from two subjects: Professional Studies 1 and 2. The first concentrated on specification writing and building economics. The second on law, contracts and practice management. The award has been made for the second subject.
The work deals in detail with the problems faced by an architect as superintendent administering an AS 2124-1992 contract, with particular reference to the role and responsibility of the superintendent, the analysis of tenders and the administration of this contract in the areas of progress payment certificates, variations, extensions of time, latent conditions and defective work.
Tim Juckes has demonstrated a sound knowledge of this contract, and also shown that he is able to apply the principles embodied in the various sections and clauses, and to respond to the posed problems in a clear and consistent manner. The examiner's marks and comments on the papers reinforced the view of the jury that this submission was of a very high standard.
COMMENDATION
Nicholas Bandounas, University of Technology, Sydney
Jury Citation
Nicholas Bandounas submitted six assignments covering defects list and final completion, tendering, contract selection and contract accounting, simulated arbitration hearing, hourly rate and fee proposal, taxation for architects and expression of interest. The latter was group work and was not considered by the jury as it fell outside the conditions for the award, although it was acknowledged to be of a very high calibre.
The assignments covered a good range of topics, were well referenced and the questions were well answered. A level of knowledge and a degree of professionalism was displayed in the presentation of the answers and an appropriate number and selection of references was given.