Chilean architecture practice Pezo von Ellrichshausen has designed a "landmark" pavilion in Canberra.
Developer Molonglo commissioned the practice to create the structure for its 14-hectare Dairy Road precinct, located in Fyshwick. The pavilion, titled Less, is intended to be a focal point of the development.
Part sculpture, part water feature, the pavilion will be the end point of a large landscaped area on the site, known as the Green Spine designed by Oculus, which will include a linear waterway in reference to nearby wetlands.
The water will cover a series of five horizontal squares on the ground, each measuring 10.5 metres by 10.5 metres. Rising out of the ground will be 36 columns arranged in a square pattern, which will support a platform raised three metres above the ground. A circular ramp will provide access to the platform. The pavilion will create a water play experience, which will also form a reflective pond that includes fountain jets.
"Water will emerge from the earth, bleed down the Less columns, cascade down the ground plane reflection pond pavilions, and push up through the jets as fountains before gently meandering down the existing stream (or be cast frozen as surface in the dead of winter)," Molongo said in its development application.
"Less will be an architectonic focal point for Dairy Road. It will be a landmark where people meet, pause and play. A point of reference for Dairy Road whether arriving or departing. It will be sculptural and landscape form and it must fulfill the role of providing a connection of the water source to the stream. This could be in the form of a fountain, water pond or cascading water sequence."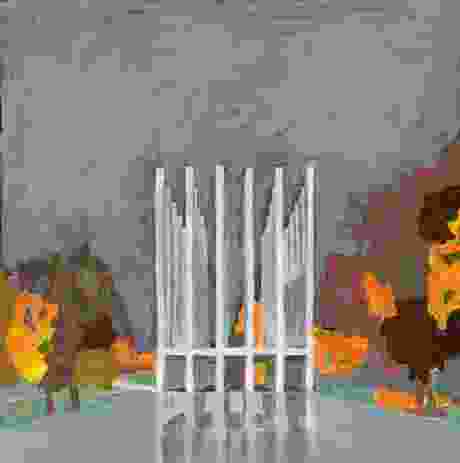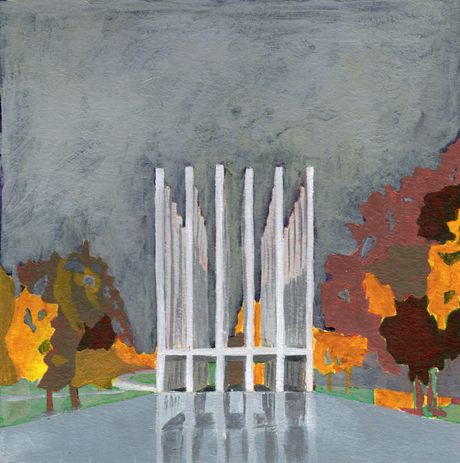 Pezo von Ellrichshausen described their design as "a nameless pavilion; less than a structure, an infrastructure."
"In its monotonous gesture, in its tedious regularity as much as in its lack of direction, bold columns and slender pillars erode any other function than that of framing every other function." said "Naturally, one enters works of art by curiosity, then returns to them because of nostalgia, by morbid boredom or by artless worship."
Dairy Road is a post-industrial site currently undergoing redevelopment to become a mixed-use community. It is home to a number of warehouses, which are being transformed into facilities for printers, distiller, roasters, brewers, start ups and recreation and commercial producers. Residential apartments are also slated for the site.
Craig Tan Architects' refurbishment of Dairy Road Building 3.4 received a Commendation for Commercial Architecture at the 2018 ACT Architecture Awards. Craig Tan Architects and Oculus have also collaborated on the masterplan for the Dairy Road precinct.
Each building refurbishment also includes public domain improvements, including the Green Spine, which runs long the length of Building 3.
Related topics