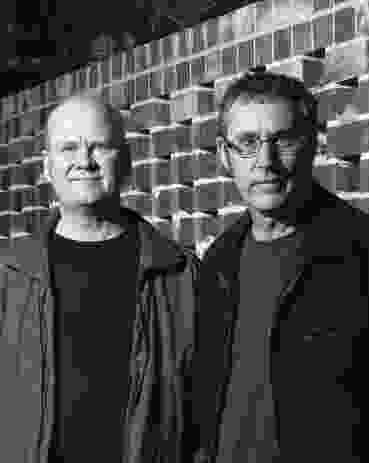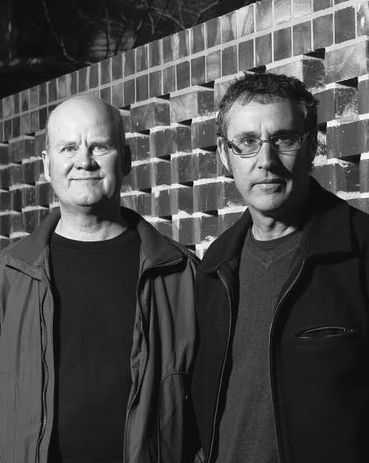 Phil Moore and David Melocco met "a loooong time ago" when they shared office space on Fitzroy Street in Sydney's Surry Hills, near the famous and sadly now defunct Hopetoun Hotel. They formed Melocco and Moore in 1993 and have been producing high quality residential and commercial projects ever since.
Interviewing architects about their work is a fascinating exercise. It reveals things that one can never really glean from websites or self-published media. It also shows that the architect's own view of their work can often be very different from the public perception. A quick browse through the Melocco and Moore website shows a consistent language of bold formal moves and splashes of colour with the occasional quirky twist in plan or section. It's somewhat of a surprise to hear David say that he and Phil each have a very different aesthetic. While each partner takes a lead role in a project that David says reflects the hand of the designer, they review "each other's" work formally or informally around a communal table between their desks. In this way each project takes on a shared, if unconscious, authorship by the practice as a whole.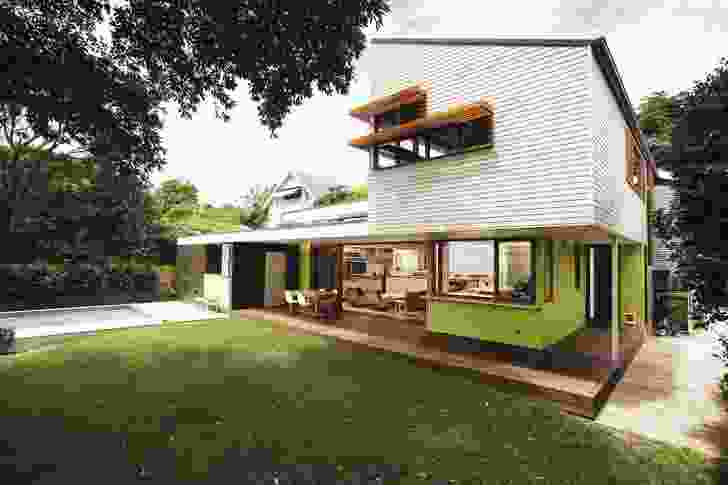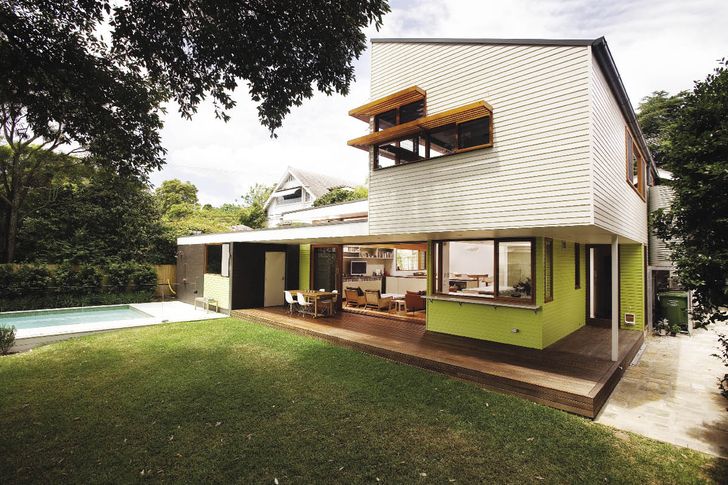 So while there might be subtle differences in the way David and Phil view their own and indeed each other's aesthetic values, each is adamant that "architecture is not putting down form out of thin air. Everything relies on something else." That something else may be any one of a number of issues, from site orientation to client taste, from budget to heritage constraints. The work of the practice is by no means minimalist, yet David and Phil both see the distilling of these issues as a reductive process. One they refer to as the "Coco Chanel 'look in the mirror before you leave the house and take one thing off.'" By this they mean the process of taking early ideas, adding all the detail required to turn an idea into a building (local government controls, engineering information, construction documents, etc.) and as the project progresses looking for ways to let the idea filter through the mesh of constraint.
It is almost impossible to try and explain seventeen years of practice in the few projects illustrated in this article. Current work is clearly an evolution of earlier projects intertwined with the enthusiastic and friendly personalities of David, Phil and their dedicated team. For example, the clear expression of "old and new" in one of their first commissions, the Newtown house, appears years later in the prestigious suburb of Mosman. In Mosman the simple white rendered "box" reads as a more refined evolution of the white painted brick "box" from the gritty backstreets of Newtown.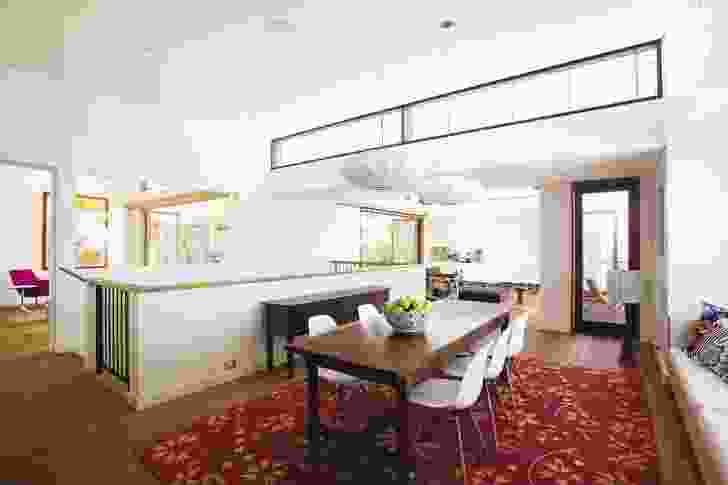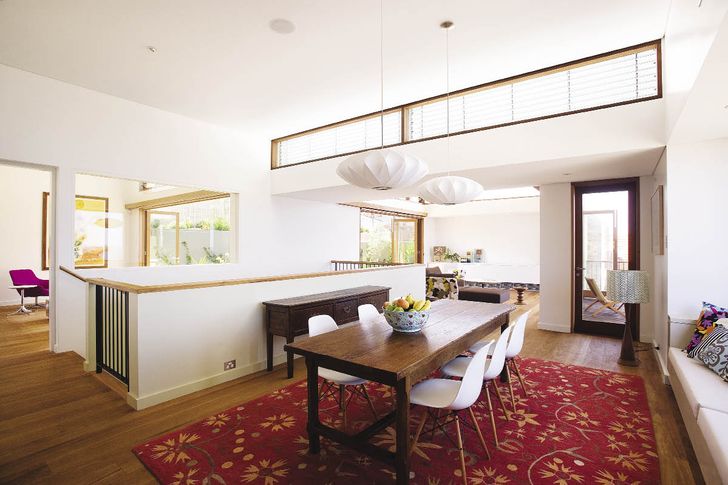 This expression of parts is played out again in the MacMasters Beach House, where "rest and play" are read through the heavy walls of the sleeping zone and the lighter open living spaces. The audacious cantilever of the balcony is articulated as the lightest and most playful zone. It hovers above the slope, providing an enticing spot for a late afternoon drink while watching the waves below. Phil has a background in engineering, which may be why some of the work takes on a dramatic structural expression without resorting to a "high-tech" nuts and bolts aesthetic.
This MacMasters Beach House has a very relaxed character, perhaps obvious in a picturesque bushland setting overlooking the beach. The quality of relaxation seems to find its way into many Melocco and Moore projects. In a denser suburban costal environment, the Coogee House is a series of interlocking timber boxes nested within and cantilevering from a rendered brick base. The cantilevers are clever devices in that they not only provide shade and shelter, but also shift the scale of the house from three to two storeys by casting heavy shadows to the mid-level windows. The spaces created by the overhanging balconies toward the coast and raised decks just above the rear lawn are immediately understood to be for people to rest in and inhabit.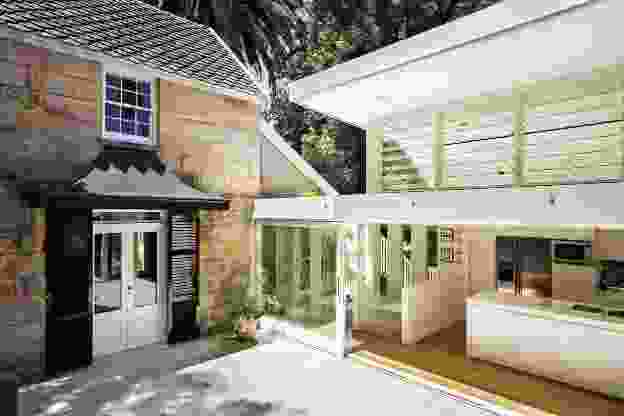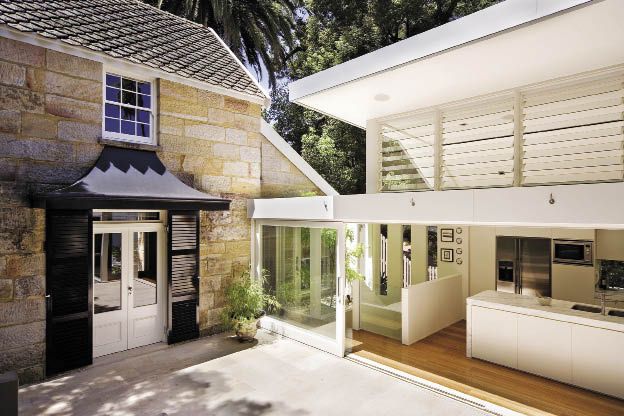 In Sydney's northern suburbs the Roseville House illustrates a key strategy of the Melocco and Moore team; that is, to find ways to work within constraints. This house is located in a Heritage Conservation Area and as such had strict controls regarding scale and appearance from the street. The major extension to the rear is cleverly concealed below the existing gable of the house. It is completely invisible from the street, yet from the rear the asymmetrical extrusion is clearly a bold new work hovering over a new kitchen toward the garden. In a similar fashion, the seemingly arbitrary sculptural roofline of the Hunters Hill House takes clues from the roof of a heritage-listed house. The diagram of separating old and new is played again here in a light-filled living pavilion. During the early phases of design this project came up against some opposition from neighbours, but Melocco and Moore was able to negotiate the project through the complexities of the local council that later awarded it a Good Design Award for Built Environment and a Commendation for Heritage. The project was also commended by the NSW RAIA in 2006.
The dictionary describes the word "osmosis" as meaning "a subtle or gradual absorption or mingling." It is through this mingling of personal aesthetics and project specifics that David and Phil have evolved an impressive portfolio of built work in which only each author can clearly identify his own work. Acknowledging each other's specific way of working and personal nuances requires a great deal of trust and respect, and it is clear that Phil and David admire and value each other. They also have great admiration for their dedicated team, some of whom have been working with them for some time. One member of the office has referred to it as The Hotel California - you can never leave.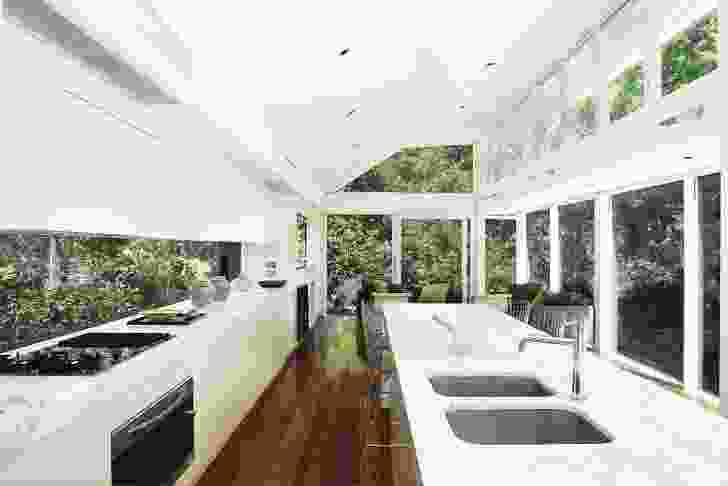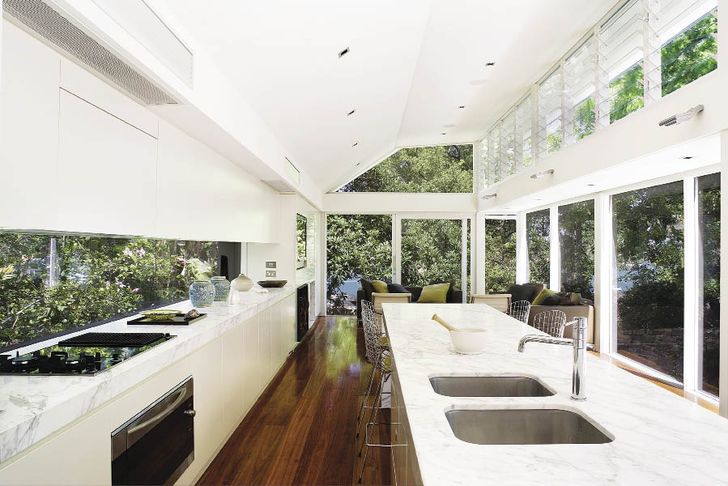 With an unconscious palette of clear planning, bold cantilevers and fresh colours, the Melocco and Moore team approaches every project differently. So much so that neither partner specializes in any particular project type or client profile. The work is divided evenly; generally whoever takes a client phone call follows through with the project. But so subconsciously strong is their working method that their architectural sensibilities have become intermeshed, and whether a project is led by Phil or David, the result will be a collaboration with Melocco and Moore.
This practice profile is from the People series in Houses magazine.
Source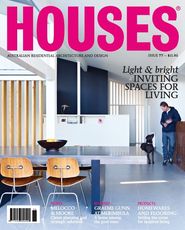 Issue
Houses, December 2010
Related topics