Perth-based practice Philip Stejskal Architecture has produced a speculative design for a medium-density housing project aimed at demonstrating the possibilities of Fremantle's new planning code, the "Freo Alternative."
The practice was commissioned to produce the design by House Lab, a residential project management platform, as part of its new "Concept Spaces" program, which sees the company partner with a different architecture practice four times a year to produce a design that explores issues relevant to residential design.
The Freo Alternative is a planning initiative by Fremantle council to tweak the local planning code to open up alternative, "missing middle" options for residential development.
A website for the plan explains that "The Freo Alternative does not change the density (R-code) or zoning" of Fremantle properties. "If you could subdivide or develop before the Freo Alternative, you can subdivide or develop after the Freo Alternative."
"The Freo Alternative [gives] you another alternative for how to develop your land, but does not take away what you can currently do on your land."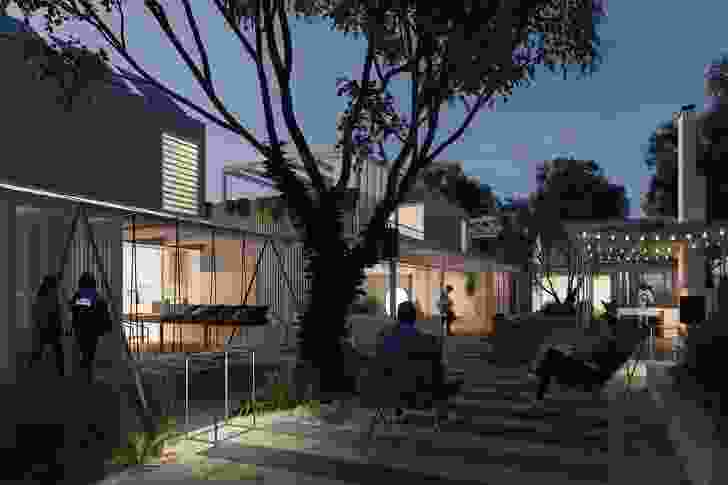 Philip Stejskal Architecture were tasked with producing a middle-density design for a hypothetical 750-square-metre block. Seventy percent of the site had to be green space.
The architects produced a design for three stand-alone dwellings of 120 square metres each. The houses are arranged around a shared courtyard and each also possesses a private garden. The interfaces between the houses and the communal area can be controlled by sliding screens.
Architect Philip Stejskal said, "In approaching this concept, the question was asked, 'How can you offer people accustomed to the autonomy of the quarter acre block a gentle introduction to density?'"
"The answer resides in offering people choice. Designing a micro-community that can be engaged with on the individual's own terms. A private living space with the infrastructure necessary to allow this community to flourish."
House Lab co-founder Chris Rennie said he hoped that the designs would be used as inspiration for people looking to make use of the Freo Alternative.
"By specifying real life products that add functionality to the proposed solution, these spaces become blueprints for others looking to achieve similar outcomes," he said.
Related topics