There is something monastic in the crisp arches, marbled floors and meticulous proportions of this project. It's perhaps no surprise that classicism threads through architect Brad Wray's description – he talks enthusiastically of piazzas and public squares, of forums and facades, of chapels and churches and the comings and goings of people in Italy's great cities. These references to classic architecture make this project's name – Piazza Dell'Ufficio – entirely logical.
The ufficio in question refers to the administration and student welfare functions at Caroline Chisholm Catholic College in Braybrook, around twelve kilometres to the west of Melbourne's CBD. A suburban secondary school might seem an unlikely site for such a finely detailed architectural intervention, but it is just the latest in a string of small- to medium-scale projects Branch Studio Architects has undertaken at the school.
The first was the flyover, a sort of gallery and bridge. Then there was the science labs, the quadrangle, the canteen, the Year 12 area and, most recently, a multipurpose hall, due to begin construction in the very near future. Wray describes these projects as "jewels": they represent an opportunity to focus on discrete projects as part of a larger masterplan.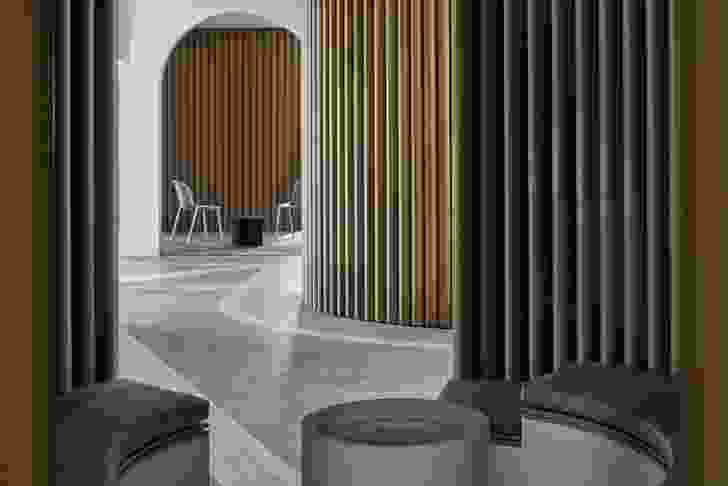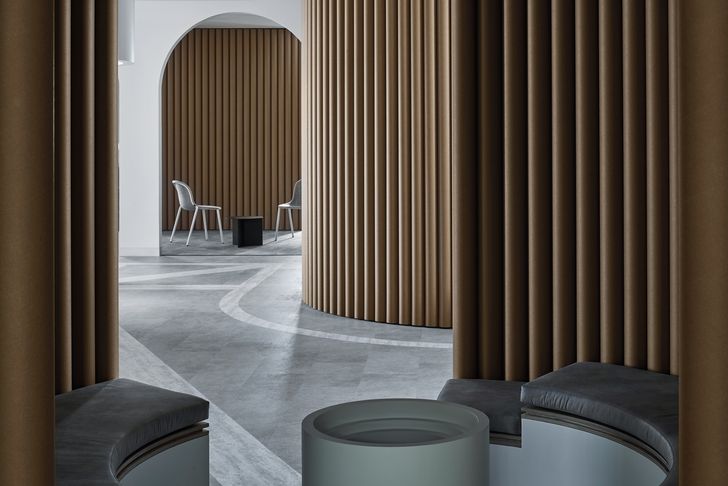 While the projects vary in their scale and design, they are characterized by the practice's material invention – from rope and metal screening to concrete and translucent polycarbonate. In Piazza Dell'Ufficio, the exploration of materiality takes the form of cardboard tubes, stretching from floor to ceiling in geometric curves. They appear, too, as a balustrade for the stairs, their chamfered edges revealing their hollow interiors.
As well as facilitating an inventive design, the cardboard tubes fulfilled the practice's sustainability criterion – sturdy, cheap and compostable, they create an almost modular structure where individual elements can be disassembled and replaced if they become damaged. In situ, they add an unexpected texture and permit rippling plays of light that escape from the narrow gaps between each tube.
The heart of the zone is the open piazza, axial lines tracing across its floor. At the centre is the "clocktower" – two curving banquettes, shielded by cardboard tubes with a central pedestal housing an oversized and sculptural clock. Above, a cylindrical element descends from the ceiling, with concealed neon lights enhancing its geometry. It is perhaps the best example of how Branch Studio Architects' approach has reimagined this space – where once there was a warren of small, unwelcoming places, there is now an open and democratic piazza, where students in need might seek assistance and connect with staff.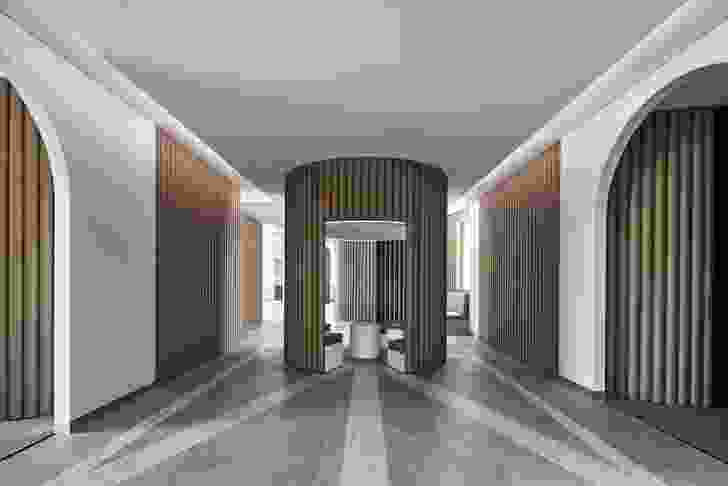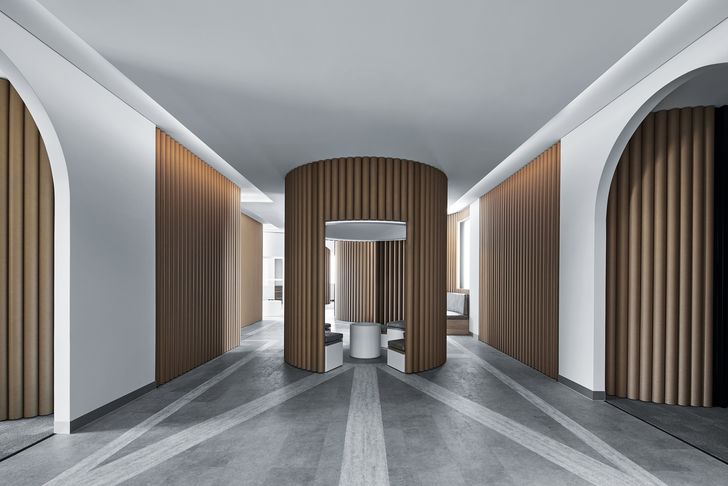 Alongside the clocktower, a bank of tiered, upholstered seating becomes the public forum. It is designed for informal meetings, for exchange between the principal and senior students, or for informal chats with staff. Here, another cylindrical element – an "oculus" in Wray's parlance – becomes a lectern, with a larger cylinder stepping down from the ceiling to compress the space and create a sense of intimacy.
The offices and meeting rooms that extend from this central piazza were designed with flexibility in mind. Offices can become meeting rooms, and vice versa, and there are interstitial spaces that could be equipped with desks or a meeting table as the school's needs evolve. For Wray, seeing staff move into and reconfigure these working spaces is satisfying. For while the pedagogical aspects of schooling have changed a lot in the past few decades, a lot of schools' physical spaces haven't changed as much. Proposing a new and dynamic environment, an environment that has the potential to shape the interactions between students and teachers, is a key objective of the practice's education work.
This space is pared back without being austere; there is a richness and precision in its architecture. It is not the kind of design that relies on swish furniture. Rather, where it really succeeds is at a sensory level, a human level – in its ambience, its light and its rigorous materiality.
Products and materials
Walls and ceilings

Walls and ceilings painted in Dulux 'White on White.' Walls and partitions made from 5-mm-thick cardboard tubes. Ravine range laminate in natural oak from Polytec.
Flooring

Camaro vinyl flooring in 'Burnished Concrete' and 'Glacier Slate' from Polyflor.
Windows and doors

Capral 400 Series aluminium framing in black powdercoat.
Lighting

Mega Bulb SR2 feature pendant and Cache Pendant XL, both from Great Dane.
Furniture

Seats upholstered in Warwick Fabrics Eastwood leather in 'Dove.' Primo KS-192 meeting room chair from K Five. Thinking Works table with custom top. Tati side table from Great Dane. Slit table from Cult.
Other

4th Dimension concrete clock by 22 Studio.
Credits
Design practice

Branch Studio Architects
Melbourne, Vic, Australia
Project Team

Brad Wray, Jax Lam, Nicholas Russo
Consultants

Builder Martin Builders
Fire services Intuitive Consulting
Structural engineer Perrett Simpson
Surveyor Michel Group Building Surveyors

Site Details

Location Melbourne, Vic, Australia
Site type Urban

Project Details

Status Built
Design, documentation 6 months
Construction 6 months
Category Education
Type Schools

Source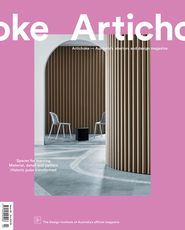 Issue
Artichoke, September 2019