The inaugural Royal Academy of Arts' annual architecture exhibition surveys the career of the Italian architect Renzo Piano (born Genoa, 1937). The last London exhibition of his work was held in 1989, the year he was awarded the RIBA Royal Gold Medal for Architecture. In the intervening period, he has been awarded the Praemium Imperiale (1995) and the Pritzker Prize (1998), elected an Honorary Royal Academician (2007) and appointed a Senator for Life by the Italian President (2013).
"The RA exhibition aims to show how making buildings is a civic gesture and social responsibility," comments Piano. When a 1960s' motorway bridge in Genoa collapsed in mid-August 2018 and killed 43 people, he suggested in a national newspaper interview that Italy's lack of pre-construction site surveys was implicated in the catastrophe.
At the end of August, he demonstrated his own social responsibility by providing city officials and the regional governor with his workshop's designs for a replacement bridge, for their consideration. It was a civic gesture rather than a pitch. A competition has yet to be announced.
At the Royal Academy, two top-lit galleries with walls painted pale grey-blue, separated by a gallery lacking natural light painted charcoal grey, together form an enfilade of three exhibition spaces. Each end gallery focuses on eight building projects, totalling 16 in all, ranging from Piano's early works (1964–72) to Renzo Piano Building Workshop (RPBW, founded by Piano in 1981) projects currently in progress.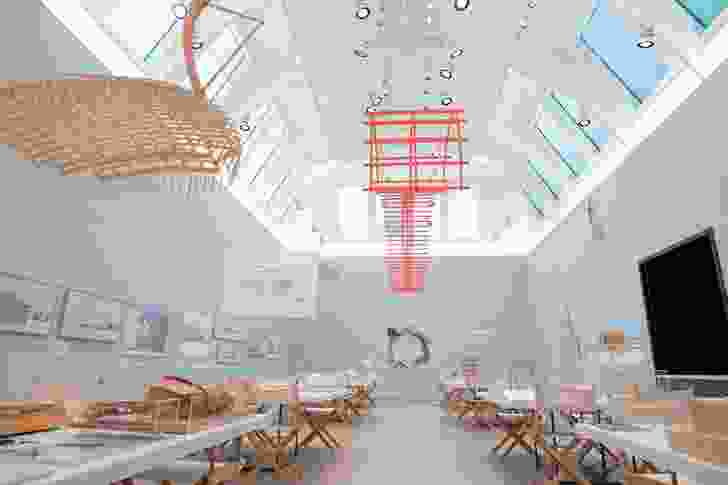 The Centre Georges Pompidou (Paris, completed 1977), whose scale and verve still astound the eye on rounding the corner from the historic Marais streets, and The Shard (London, completed 2012), a tapering glass tower piercing the capital's skyline and visible for miles, tell a complementary tale of two cities. Greek, Italian, Japanese, New Caledonian, Spanish, Ugandan and US projects demonstrate the practice's global reach; it has offices in Genoa, Paris and New York.
Each RPBW project is presented on a separate table, provided with four canvas chairs, to encourage visitors to sit and examine sketches, including Piano's own in green felt pen, architectural plans and elevations, scale models and photographs. Additional drawings and photographs are also displayed on the end gallery walls.
Architecture aficionados can locate projects they wish to examine, from easily recognisable details suspended above individual tables, but non-specialist visitors might find their progress 'hit and miss'. They would benefit from bolder signage identifying projects, in navigating their route through the exhibition.
The central space focuses on Piano himself. Thomas Riedelsheimer's specially commissioned film, simultaneously projected onto two large screens opposite each other, provides insights into his personal sensibilities and architectural philosophy. They were formed partially by his family background in the building industry and his love of building and sailing boats, the latter experience attuning him to fleeting changes in light quality.
A catalogue interview also illuminates his approach to designing buildings, with their intended location of paramount importance: "… if you want to be right, you need to know the place and you need to record the place very clearly in your mind so that, every time you think of the building, even the detail, you can almost put that picture back again".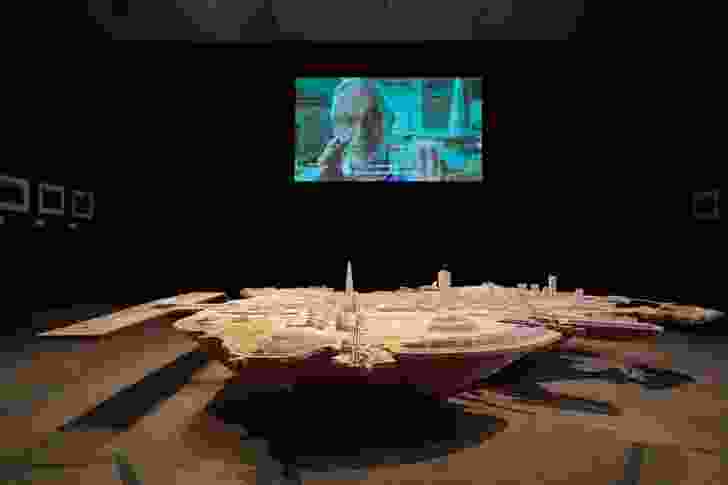 Sixteen photographs of Piano, taken by Gianni Berengo Gardin, and a large sculptural installation of an asymmetric, imaginary island overpopulated with scale models of 102 RPBW projects, strike an uncharacteristic vainglorious note. The exhibition leaflet provides grid references for the island but probably only die-hard visitors would commit to locating and identifying all 102 buildings.
Perhaps, better use could have been made of the central space by displaying more large-scale models of structural details from RPBW projects. Adjacent rooms include a 1:1 scale section of the ceramic rods used in The New York Times Building (completed 2007) and a suspended 1:20 scale model of one of the principal trusses (nicknamed the 'dinosaur') of the Kansai International Airport Terminal (Osaka, completed 1994).
Outside the RA entrance, there's a dramatic 1:1 scale fibreglass reproduction of a die-cast rocker-beam (gerberette), as used at the Centre Georges Pompidou. Designed with Richard Rogers and Gianfranco Franchini, working with Peter Rice (Arup), the Centre Georges Pompidou was Rogers' and Piano's 'breakthrough' project. "High Tech was a way of delegating the aesthetics of its architecture to its engineering and avoiding the difficult question of style and appearance, history and context," wrote the Financial Times' architecture critic Edwin Heathcote earlier this year, adding that Renzo Piano "is still going strong".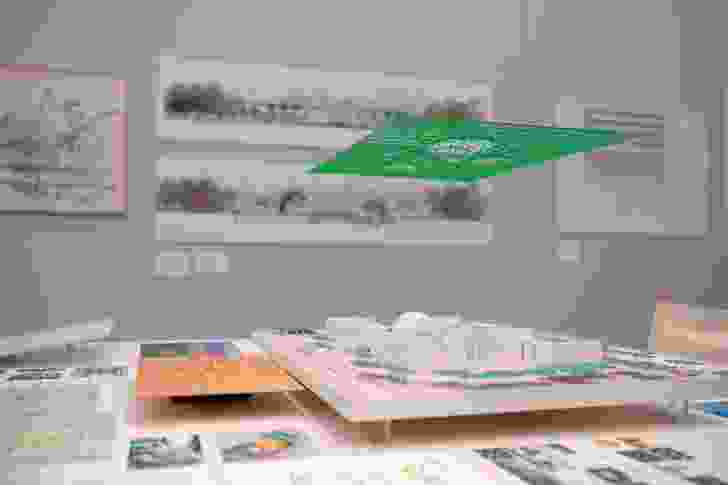 Although RPBW projects are characterised by their visible structures, extreme transparency and public spaces at street level, the form of each building both acknowledges and transforms its context. Piano stepped out from the career-transforming shadow cast by the Centre Georges Pompidou to create unique buildings, each responding differently to its physical and cultural location.
This article first appeared in Architecture New Zealand magazine.
Related topics