The planning of Australian cities since World War II has been vexed and spasmodic, yielding a disconnect between promised outcomes and the ensuing urban reality. Sydney has suffered particularly; attempts at city plans have been compromised by laissez-faire politics, rival ministries and agencies with more power than planning, disregard for the environment, the self-interest of powerful development forces and post-war planning's own disciplinary shortcomings.
Sydney's latest strategy, A Metropolis of Three Cities, has been prepared by a new entity, the Greater Sydney Commission (GSC),1 an initiative of the New South Wales Government. Established by an act of Parliament in 2015, the GSC has more recently been moved into the New South Wales Premier's office. It operates independently of, yet overlaps with, the New South Wales Department of Planning and Environment.2
As a city-scale planning commission adjudicating between state and local interests, the GSC responds to calls for more than a century for an independent metropolitan planning agency. There have already been nine iterations of a city-wide plan, the first in 19093 and the rest post World War II, beginning with the County of Cumberland scheme in 1948.4
A Metropolis of Three Cities, translated into "district plans" and supported by "collaboration areas," has been prepared concurrently with Future Transport 2056, prepared by Transport for NSW, and the NSW State Infrastructure Strategy 2018 – 2038, intended to align land use, transport and infrastructure planning to improve the structure of Greater Sydney.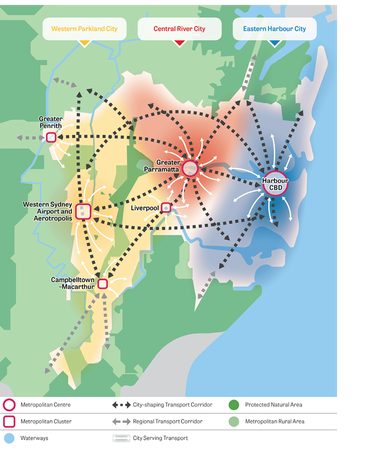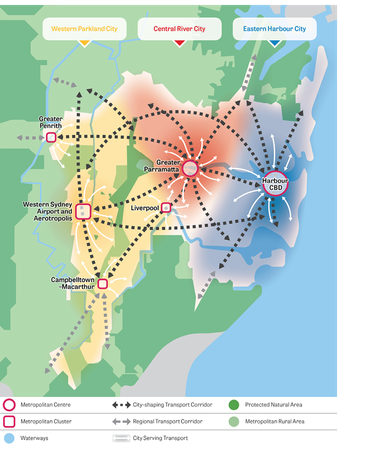 The GSC sets ten directions for Sydney's urban future, supported by forty objectives. Sensibly, these directions begin with "A city supported by infrastructure." They also include old chestnuts such as "A city for people" and new buzzwords such as "resilience." Encouragingly, eight of the objectives fall under "A city in its landscape."5
The plan aspires to three "30-minute cities," with all residents able to reach their nearest city centre by public transport within 30 minutes. These centres aim to "put workers closer to knowledge- intensive jobs, city-scale infrastructure and services, entertainment and cultural facilities … as part of the innovation economy. Managing and retaining industrial land close to centres and transport will ensure critical services are available to support businesses and residents."6
The three cities are designated as the Eastern Harbour City, the Central River City and the Western Parkland City. The Eastern Harbour City is Sydney's existing city centre – its civic, cultural and economic heart. The burgeoning conglomerate at the city's geographic centre comprises the Central River City, encompassing the GPOP (Greater Parramatta to the Olympic Peninsula) economic corridor and taking in the Westmead health and education precinct.
Sydney and Parramatta have been the twin centres of European settlement in New South Wales since 1789, linked by one of Australia's first railways in 1859. But the concept of a parkland city across Sydney's vast west, centred around Bringelly on the back of the airport that is finally under construction at Badgerys Creek, is new.7 The GSC envisages that this new city will "include expansive industrial and urban services lands to the north and east of the Western Sydney Airport… [fulfilling] Greater Sydney's long-term freight and logistics and industrial needs… Increased tree canopy cover will provide shade and shelter for walkable neighbourhoods within easy reach of shops and services. The parkland character will be enhanced by the national parks and rural areas framing the city."8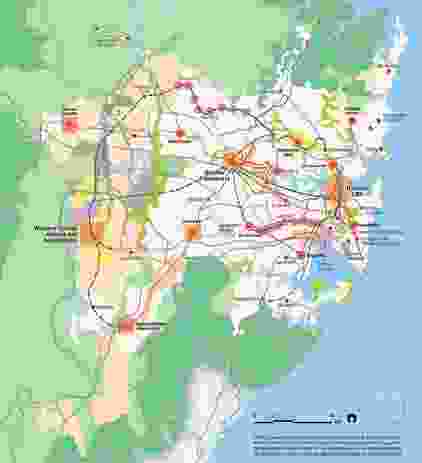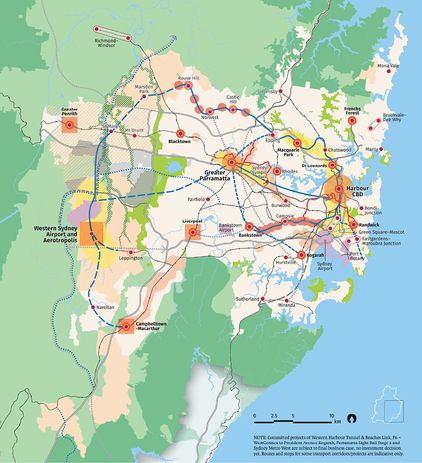 Is this "aerotropolis" capable of becoming a genuine third city, on the same footing as Central Sydney and Parramatta, which have had more than 200 years of compounding investment? What city globally has created a vibrant viable "city" on the back of its second airport? What will be its urban structure, its physical environment and its character? Is it to be the equivalent of a new Canberra planted in the west but without the national monuments – a Trojan Horse for urban sprawl filling the last tracts of the Cumberland Plain?
Australia has been extraordinarily weak at city making over the post-war period.9 Prioritization of the car coupled with the neglect of new rail infrastructure has destructured planning attempts and instead facilitated dispersal of ever more distant dormitory suburbs. So, the Western Parkland City could be a welcome attempt at a truly planned city. It is encouraging that the Western Sydney City Deal – a rare foray by the federal government into city making10 – is a central commitment to the Western Parkland City. This deal, supported by three tiers of government, provides a north–south rail line delivered by a new place-based government planning agency.
But many questions remain. Will the promised rail link be heavy rail or metro? Recent experience of the Sydney Metro spacing has left inner Sydney short of stations between the inner-city and north-west. How can we be sure that the station spacing and urban connections of the Western Parkland City will be international best practice? Our potential to make the best cities lies in our ability to look critically at others' successes and our own past mistakes. Such lessons include those critically analysed by Richard Weller and Julian Bolleter in Made in Australia.11 For instance, observing the current GSC strategy might leave us wondering what justifies the release of any land south of Campbelltown? Given the objectives of the strategy, can this constitute anything other than suburban sprawl?
Rather than a third city, would it not be more inclusive to build upon the polycentric city – an ideal that goes back to the 1948 County of Cumberland scheme and that is reiterated in the 2005 City of Cities?12 Does the concentration on a singular new western city risk a disinvestment in existing centres such as Liverpool, Blacktown and Penrith? Does not the sheer scale of development across the Sydney Basin in the last twenty years reinforce this polycentricity?
There is a crucial difference between a concentration of development, be it residential or office, and a real city centre. Enduring places are founded on a physical plan that guides public infrastructure, which in turn attracts private investment. There is little sign of such critical public direction (including ongoing design leadership) in other new centres, such as Macquarie Park, Mascot, Wolli Creek, Wentworth Point or Rhodes. Lacking a public dimension, these monocultural business parks and high-density dormitory suburbs lack genuine urbanity. The new urban district at Green Square is a demonstration of the scale of public investment needed in real city making. Here, the City of Sydney is injecting $1.2 billion into creating public spaces, streets, parks, social facilities and transport reservations – with scant help from other tiers of government.
The GSC plan insists on zoning to prevent rampant residential development in order to quarantine industrial or employment lands. In relying on this constricting, seemingly outdated mechanism, it risks precluding the vibrant mix of uses characteristic of good city making. In addition, Future Transport 2056, reproduced without question in A Metropolis of Three Cities, is noticeably weak. In it, the New South Wales Government pursues an agenda of motorway mania, with multiple new motorways, such as the M9 and M12, being rolled out without appropriate justification.
There is no doubt that the GSC and its plan are valiant attempts at dealing with twenty-first century urban problems, led by people who are acutely aware of planning's shortcomings. Relying on traditional planning alone has propagated the myth that planning directs investment and conjures up jobs – an attempt to boost its economic credentials within government. This shows the disconnect between planning as process and physical city making delivered by urban projects. Rather, the key to successful city making is public leadership and investment in an urban plan that is underpinned by public transport and civic infrastructure,13 which in turn seed equitable and sustainable population and employment. Optimistically, "Public Spaces" has been added to the portfolio of the just re-appointed New South Wales Minister for Planning, Robert Stokes – a great opportunity for planning to reshape priorities in the making of our cities.
We know that Australia has an intractable problem with sprawl. So, why aren't governments consolidating our existing urban places – those already rich in amenity, transport and public facilities with favourable climates? Given our enormous urban footprints, why should we need to subdivide another square metre of rural or ecologically valuable land, wasting farmland and compromising food security for a growing city?
We need compelling ideas-driven propositions for the challenges facing Australian cities, such as those advanced by Weller and Bolleter.14 In contrast to the stymied approaches of conventional planning, we need to develop the technical city via urban projects that better deliver the improved design of our evolving cities.
1. The GSC has four commissioners, an executive team and its own staff.
2. A New South Wales Premier's press release states that the GSC's remit is to "effectively collaborate across Government agencies and ensure the Government's vision becomes a reality."
3. Royal Commission for the Improvement of the City of Sydney and its Suburbs (1909).
4. The County of Cumberland, a forerunner to the current GSC, is the closest to an instituted metropolitan planning agency that Sydney has had. For more information, see Denis Winston's Sydney's Great Experiment: The Progress of the County of Cumberland Plan (Sydney: Angus & Robertson, 1957).
5. Greater Sydney Commission, A Metropolis of Three Cities (Sydney: Government of New South Wales), 22–23.
6. Greater Sydney Commission, A Metropolis of Three Cities , 6.
7. The official name of the Western Sydney International Airport is the Nancy-Bird Walton Airport.
8. Greater Sydney Commission, A Metropolis of Three Cities , 16.
9. Following the 1968 Sydney Region Outline Plan , there were tentative city-making attempts at Campbelltown and Mount Druitt during the 1970s.
10. In 1991, Deputy Prime Minister Brian Howe's initiative Building Better Cities helped to seed fund light rail, public space and affordable housing in Ultimo Pyrmont – a rare example of cooperation between three tiers of government that included a dedicated project office throughout the 1990s.
11. Richard Weller and Julian Bolleter, Made in Australia: The Future of Australian Cities (Perth: UWAP, 2013).
12. Department of Planning (NSW), City of Cities: A Plan for Sydney's Future , 1 January 2005, apo.org.au/node/93871 (accessed 11 July 2019).
13. See, for example, Paris's metropolitan plan (metropolegrandparis.fr/en), an integrated, spatial plan for the city's central area. The project brings together a large number of institutions and bodies under a single public authority controlled by the state. Unlike the GSC strategy, it includes easily accessible protocols for air quality, mobility and other urban amenities.
14. Richard Weller and Julian Bolleter, Made in Australia.
Source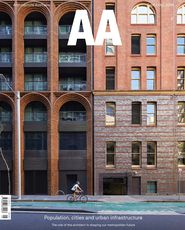 Discussion
Published online: 26 Nov 2019
Words: Philip Thalis, Benjamin Driver
Images: Courtesy Greater Sydney Commission, Jamie Davies on Unsplash
Issue
Architecture Australia, September 2019